Indonesia boasts a myriad of gorgeous islands and beaches, rich biodiversity and cultural heritage, and is one of the most popular places for surfing and yoga retreats in the world. And with so many flights to Indonesia from almost anywhere on Earth, it's an easily accessible destination for any traveler.
Indonesia is the biggest island country in the world. Located in Southeast Asia, it has over 17,000 islands with the biggest and most well known including Bali, Java, Sumatra and Sulawesi.
Having lived in the country, we've created a list of 17 of the best reasons to visit Indonesia. If you know someone who's not sure about visiting Indonesia for a holiday, there's everything from wildlife viewing, for island hopping, for shopping and surfing. And of course, there are plenty of other fun activities as well.
1. Wildlife watching in Borneo
Borneo is one of our favorite reasons to visit Indonesia. The island is actually one of the biggest islands in the world, and boasts one of the oldest rainforests. Its incredible biodiversity is a top tourist attraction, with many unusual creatures seen here that are found nowhere else – like the Bornean orangutan.
Birding enthusiasts too will be mesmerized. Borneo has over 230 bird species, many of which are endangered.
At Tanjung Puting National Park, you'll find big mammals like the Bornean bearded pig, Bornean clouded leopard, Bornean elephant, proboscis monkey, Malaysian sun bear, eastern and Sumatran rhinoceros, as well as a wild abundance of endemic plant species.
You can even book a multi-day houseboat tour through Borneo's rainforest. It comes complete with a guide who will help you search for orangutans and other wildlife.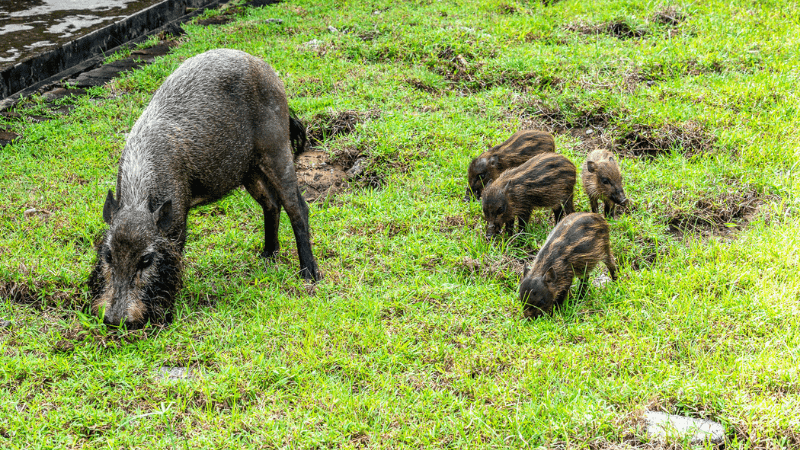 2. Island hopping in paradise
Indonesia has an extensive network of over 17,000 individual islands, which means you could probably spend a lifetime island hopping here. In fact, If you were to visit a new Indonesian island every day, it would take you a little over 49 years to see them all!
Indonesia has island vibes to suit every person. Some islands have a thriving party scene, while others are quite unknown and unpopulated. Some are especially popular for snorkeling.
Some of the most popular Indonesian islands to visit include:
Lombok: known for its vibrant nightlife, beaches and diving
Sumatra: known for its expansive size, rainforests and endangered wildlife
Padar: known for its uniquely colorful sandy beaches (one pink, one black, one white) and turquoise bays
Bintan: known for its high-end resorts
Bali: known for its many surfing beaches
Mentawai: known for being off the beaten track
Raja Ampat islands: known for its underwater splendor, fabulous diving spots, and coral reefs
Wakatobi: known for ecotourism, diving, coral reefs and the Wakatobi National Park
Seram: known for its incredible birding, majestic mountains and for being very unpopulated
Gili islands: known for their pristine seas, party atmosphere, and upscale accommodation and perfect for island hopping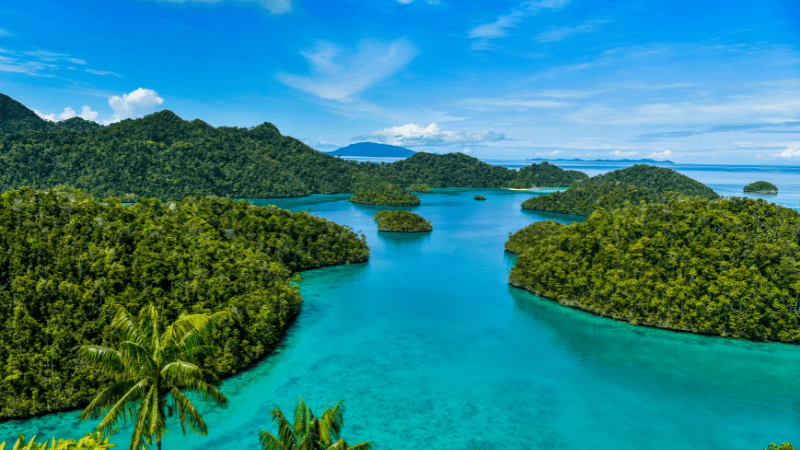 3. Countless beaches
Indonesia's white sandy beaches, turquoise crystal waters and lush tropical surroundings are as close to paradise as you may get. Several are rated among the world's best beaches, like Ora Beach on Seram Island (Maluku).
Whether you want to relax and soak up the sun, snorkel, dive or surf, Indonesia has beaches to match your mood. If sun and sand sounds like your idea of paradise, here are some of the best beaches for beach hopping:
Seminyak Beach, Bali
Gili Trawangan, Lombok
Sanur Beach, Bali
Pink Sand Beach, Komodo National Park
Sunset Beach, Gili Islands
Pasir Panjang Beach, Labengki island, Sulawesi
Tanjung Tinggi Beach, Belitung, Sumatra
Bingin Beach, Bali
Tembeling Beach, Nusa Penida, Bali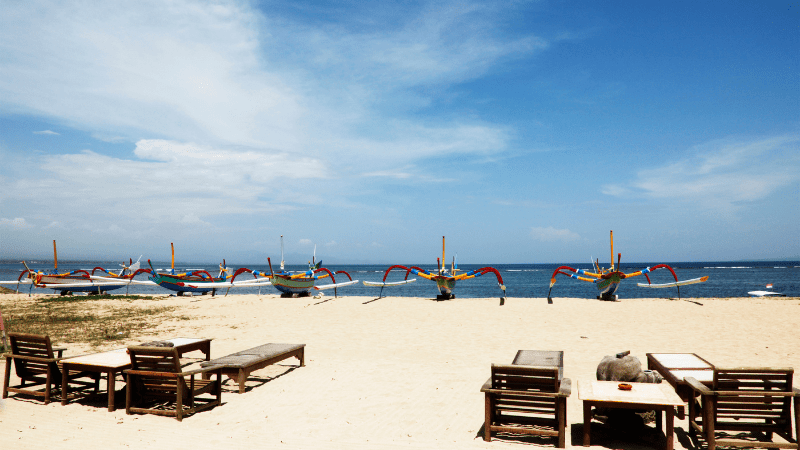 6. Beautiful white crater lakes
The crater lake of Kawah Putih in Java is one of two volcanic crater lakes that make up Mount Patuha. It's located at a high elevation at 2430 meters above sea level, which makes it quite chilly at times.
Kawah Putih is highly acidic, with high levels of sulphur (which can get smelly) and can change color from white with turquoise waters to greenish.
If you're a photographer, don't miss this day trip from Bandung. Although you can't swim here, the unusual colors and scenery are somewhat out of this world.
4. Delightful Indonesian cuisine
Indonesian cuisine is world renowned. Here you'll get to try some of their most famed dishes like sambal, satay, nasi goreng, soto and bakso for a fraction of the price you're probably used to paying.
Indonesia is a melting pot of cultures and culinary traditions, with over 5,000 recipes from its 17,000 islands. One of the most popular activities in Indonesia is to take a cooking class and try making it yourself.
No matter where you go, you'll find everything from street vendors, local warungs, and night markets, to padang restaurants and high-end resorts. Even vegans and vegetarians will easily find many delicious options on offer.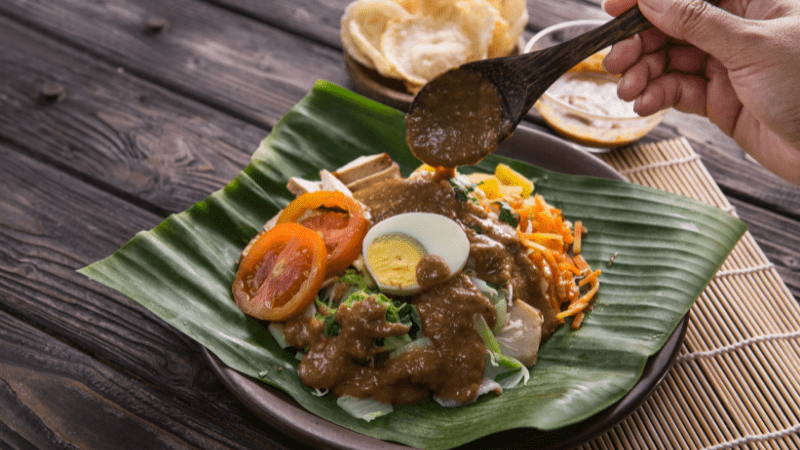 5. Sip tea at a plantation
Indonesia is one of the world's biggest tea producers, with thousands of hectares under cultivation and many smallholder farmers growing mainly black and green teas.
as drinking tea is a very entrenched part of the culture, you'll also find many unusual tea varieties in Indonesia. These include jasmine tea, yellow tea, rooibos tea, oriental red tea, oolong tea and pu-erh tea.
Visit luxurious tea houses to sample different varieties of tea, visit a tea garden, or take a tea plantation tour to learn more about the history and art of making Indonesian tea. Some tours will even go more in-depth and let you try harvesting tea yourself.
7. Shopping in Jakarta
Indonesia's capital city, Jakarta, is a bustling Asian city that's home to over 10 million people. It is also a shopping haven for international brands, locally made batiks and culturally iconic crafts.
With over 150 shopping malls and a range of local markets, Indonesia is known for great affordability while also catering to the high-end market.
Here are some ideas of places to visit for a great shopping extravaganza:
Grand Indonesia shopping mall: this expansive and exclusive mall is a shopaholics dream with 10 levels and over 200 stores as well as various restaurants.
Pasar Baru: this popular local market has been operating for over 200 years and is a great place to find inexpensive textiles, spices or even fashionable shoes.
Tanah Abang Market: one of the biggest textile markets in Southeast Asia, this bustling flea market is renowned for its wholesale rates and bargains.
Glodok Chinatown: Known as the largest Chinatown area in Indonesia, Glodok is where you'll find an incredible variety of well-priced electronic goods.
Ancol Art Market: here you'll find over a hundred local Indonesian arts and crafts vendors, many of whom you'll be able to see in action creating their wares.
8. Watching the Komodo dragons
Komodo National Park on Komodo Island was established to protect the Komodo dragon – the world's biggest lizard. The area has been established as a World Heritage Site and boasts an abundance of marine and terrestrial biodiversity, over 50 world-renowned dive sites, and over a thousands different types of fish.
To reach the park, most people fly to nearby Labuan Bajo or Bima and then take a boat to Loh Liang on Komodo Island or Loh Buaya on Rinca Island. Many people book multi-day cruises through the park, as it comprises 29 volcanic islands and extends 2000 square kilometers.
Popular activities include spotting Komodo dragons (there are about 2500 in the park), diving and snorkeling, hiking, visiting the pinks sands beach, and visiting traditional fishing villages.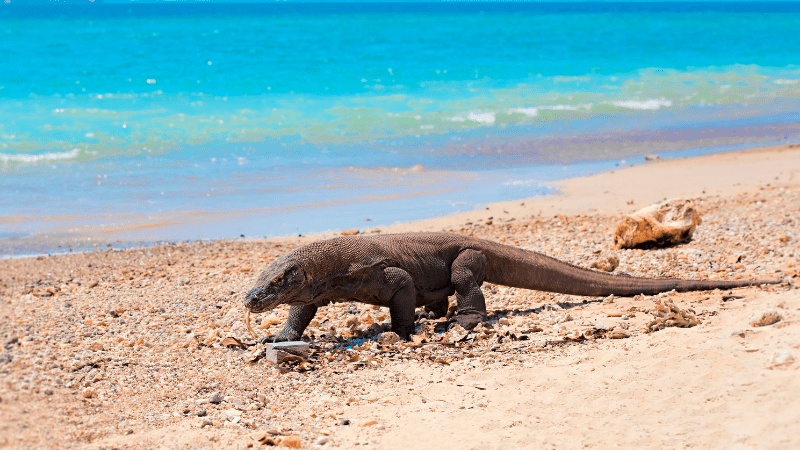 9. Climbing Mount Bromo
It's not every day you get to climb an active volcano. Mount Bromo in the Bromo Tengger Semeru National Park, is one of the most popular tourist attractions in Java, where visitors typically climb the massif to watch the breathtaking sunrise over the sandy plains and other volcanoes below.
If you do plan to do the sunrise trek, be sure to take a flashlight and some warm clothes, water and some sturdy hiking shoes. It's best to avoid the rainy season which can be slippery to hike, so between April and October is the best time to visit.
You can arrange an organized tour to Bromo with a guide, or you can rely on public transport from Surabaya and book local accommodation, depending on your preference.
10. Go diving and snorkeling at Raja Ampat
Situated in the heart of the Coral Triangle and known among divers as one of the world's top scuba diving destinations, Raja Ampat is has one of the most diverse marine environments in the world.
Some of the best known and most popular sites for Raja Ampat scuba diving include:
Mioskun
Cape kri
Sardine reef
Melissa's garden
Manta Sandy
The passage
Blue Magic
The archipelago is remote and tricky to reach, so it's best to either arrange a liveaboard trip, organize a homestay snorkeling tour, or to stay at one of the resorts nearby.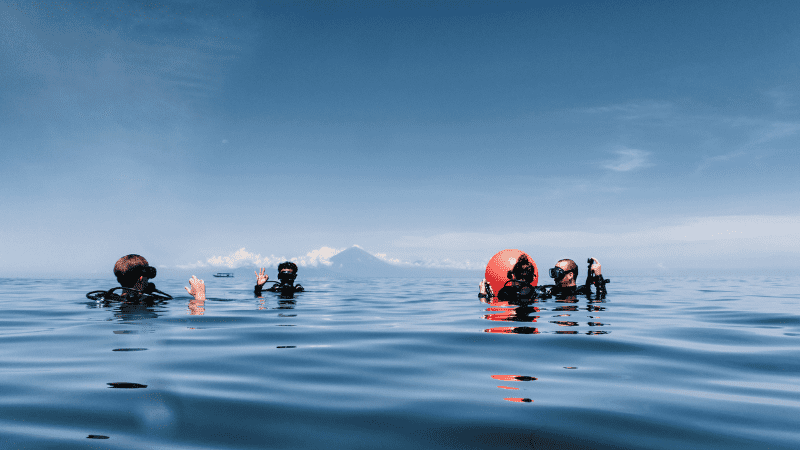 11. Surf some of the world's best waves
Surfers from around the world flock to Indonesia for some of the best waves and surfing breaks – as well as international surf contests. And those who want to learn will find it the perfect place to attend an instructional surf camp or spend a couple of hours taking beginner surf lessons.
Some of the most popular surf spots include:
Kuta Beach, Bali: a great place to learn to surf
Padang Padang, Bali: one of the most famous surf spots and known as the best pipeline wave in Bali
Hollow Trees, Mentawai Islands: a popular shallow-reefed, right-handed barrel that's exceptionally photographic
Desert Point, Lombok: one of the best known waves in the world, this is a popular left-hand barrel that's only for serious and experienced surfers
Grajagan (G-land), Java: a top, left-hand reef break with consistently great waves

12. Soak up cultural heritage at Indonesia's many temples
Before Islam came to Indonesia, the islands' predominant religions were Hinduism and Buddhism. You can immerse yourself in this era by visiting two impressive temples near Yogyakarta. You can visit both of them in one day. Learn more here.
Borobudur
Borobudur is a UNESCO World Heritage Site dating back to about the 9th century and is the largest Buddhist temple in the world. Borobudur's most iconic features include its many bell-shaped stupas. It's worth hiring a guide to explain the detailed stone blocks that detail the legendary episodes in the life of Buddha.
Prambanan
Prambanan Temple is a UNESCO World Heritage Site that was built in the 9th-10th century.
It ranks as the largest Hindu temple site in Indonesia and one of the largest ones in Indonesia. It contains reliefs that show stories from the Ramayana Hindu epic.
Of the 200-odd shrines that once stood at Prambanan, only the 16 main temple buildings have been reconstructed. Still, it's enough to hint at how awe-inspiring this site must have been in its prime.
ⓘ TIP: Speaking of Hinduism, Bali is the only remaining Hindu island in Indonesia, and it's worth visiting at least one of the more important Balinese temples if you're on the island. Unlike Borobodur and Prambanan, these temples are still in use, so don't be surprised if you arrive during a ceremony.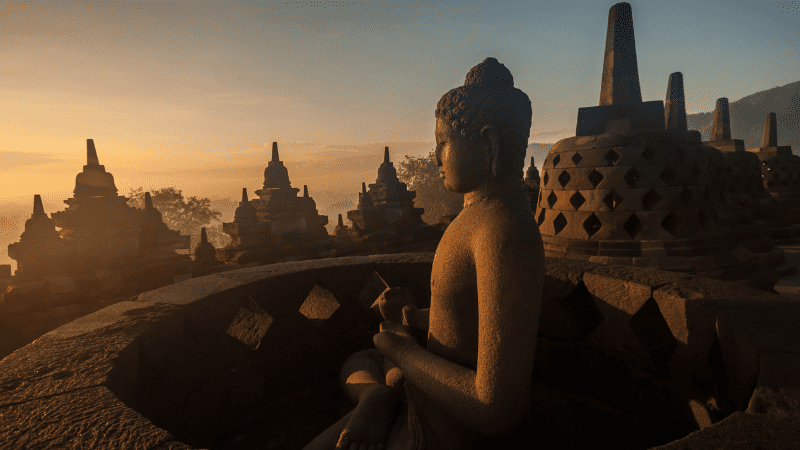 13. Get closer to God at Dieng Plateau
Located in central Java, Dieng Plateau is known as the 'place of the gods.' Located about 2000 meters above sea level, the plateau offers expansive views of rural plantations, volcanic landscapes, temples and colourful springs below.
Thanks to the misty location, sulfurous springs, ancient temples and colored lakes, it's not hard to see how it acquired this name and why the people here once considered it to have godly powers. This is truly a place of natural wonder and cultural significance.
It's easy to take a day trip from the royal city of Yogyakarta to Dieng Plateau. You can walk around the plateau and surrounding hills and witness the golden sunrise from Sikunir or Perahu Hill nearby. Learn more here.
14. Buy a batik in Yogyakarta
Fondly known as Jogja, Yogyakarta (or Jogjakarta) is the only Indonesian royal city still ruled by a monarchy. As a Javanese cultural center, the city has many museums, art galleries and temples. It has also become synonymous with the beautiful batik textiles that are plentiful in this region.
Many travellers go to Yogyakarta to buy batiks and to explore the many other handicrafts of the area such as silversmithing, ceramics, and wayang puppets and the vibrant cultural scene.
Some of the places to visit to view and buy batiks include:
Museum Batik: has a fabulous selection of some of the finest quality and oldest batiks in the world. Buy tickets here.
Leksa Ganesha Batik Gallery: where you can actually visit and meet batik artists and watch them as they work
Mirota Batik: a wide variety of handmade goods from across Indonesia
Nadzar: a great shop for souvenirs (without needing to bargain to buy them), like handmade batik, jewelry, and artworks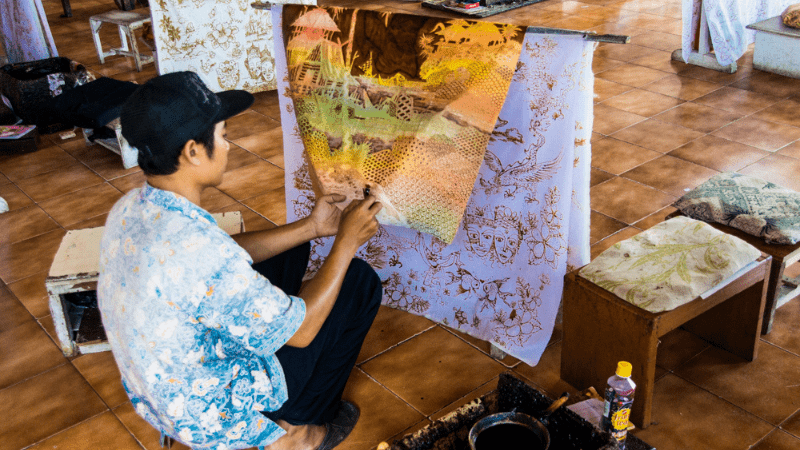 15. Party at Seminyak and Canggu
If you're into the party scene and are keen to mingle with other travellers, then Seminyak and Canggu in Bali are for you. Both of these towns offer a variety of beach bars, restaurants, night clubs and hotels for the partying crowd.
Some of the clubs are more exclusive than others, so it can be a challenge to get in. If you don't want a long wait, hook up with a group or join a pub crawl like this one.
Some of the most popular party places in Seminyak and Canggu include:
La Favela, Seminyak
Potato Head, Seminyak
Ku De Ta, Seminyak
Finns Beach Club, Canggu
The Lawn, Canggu
Old Mans, Canggu
The Sand Bar, Canggu
ⓘ TIP: Canggu has become a hub for digital nomads who can work remotely from anywhere in the world, and there's also a growing co-working and co-living scene there.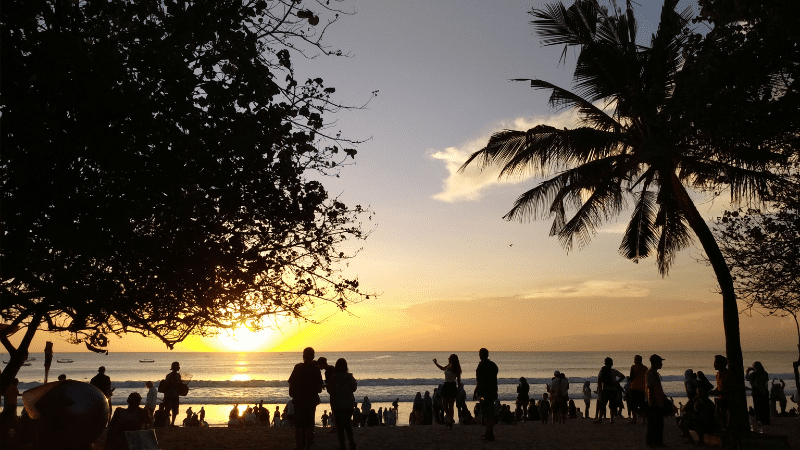 16. Get back to nature at the Sacred Monkey Forest Sanctuary
Wildlife enthusiasts and nature-lovers will enjoy a trip to the Sacred Monkey Forest Sanctuary in Ubud, Bali. There are many points of interest that you can see here, but of course the main reason to visit is to see over 1000 free-roaming primates in their natural forest habitat.
Ubud Monkey Forest lies within the village of Padangtegal, which owns it. The village's residents have view the Monkey Forest as an important spiritual, economic, educational, and conservation center for the village. It's the most popular tourist attraction in Ubud.
We enjoyed exploring the 12.5 hectares of forest grounds and following the trails to see where they led. The paths lead past numerous fountains and statues that will tempt your camera. Other than the monkeys, statues, and fountains, there's also a magnificent temple, Pura Dalem Agung Padangtegal (also known as the Padangtegal Great Temple of Death), in the middle of the sanctuary that dates back to the 14th century.
ⓘ TIP: Remember not to wear anything that the monkeys might snatch, including glasses and jewelry. Also, don't bring any food, because the monkeys can smell it. They WILL grab your bag!
17. Say Namaste! at a yoga retreat
Indonesia is globally known as a yoga retreat destination, with yoga widely practiced and many places offering daily classes or longer, in-depth retreats.
Some retreats mix yoga and surfing, yoga and meditation, or yoga and martial arts. Soulful travellers who are seeking a relaxing and calming experience while exploring islands and beaches, will be excited by the huge variety of retreats.
Final thoughts on why you need to visit Indonesia
Indonesia in Southeast Asia is one of the most visited countries in the world, boasting a myriad of tourism facilities and activities. There are a range of accommodation options to suit any budget and lots of exciting activities to enjoy.
Whether you're into diving, surfing, yoga, cultural history, shopping or just relaxing near the ocean, Indonesia has it all. From walking around volcanoes, to diving in turquoise warm waters surrounded by turtles and rays, to visiting some of the most gorgeous and unspoilt islands on the planet – Indonesia is a land of an abundant variety of wildlife, culture, and natural beauty.
If this post was helpful, please share it with your friends. Are you on Pinterest? Remember to pin this image!