Going for a safari in a new country for the first time can be exciting and fun, and doubly so if Africa happens to be your destination. Not only because it has one of the most beautiful outdoors in the world, but also because all your animal-watching ambitions can be accomplished in this one amazing continent.
This guide on how to choose your perfect African safari, we'll help you plan every step of the way. We know it can be overwhelming, especially with more than half the continent to choose from. So to help you get the most out of your African Safari,we'll answer questions like:
What type of African safari do I want?
What should I pack?
When is the best time to go on safari?
Which country should I choose?
Where is the best place to stay?
And while there's no absolute guarantee that your African safari trip will fulfill every single one of your wildest dreams, this guide will help in ensuring that most of them come true.
How to get the most out of your African Safari
We don't recommend a self-drive or DIY trip for such a memorable holiday. You don't want to come home with regrets of what you could have done, or wondering if you were overcharged because you were a newbie. This is one time when you get what you pay for.
It's best to go through experts who have decades of experience. Consider booking your African Safari with Naturetrek, who have a solid relationship with the trackers, guides and lodge owners.
Another important reason to book through an agent is the 24/7 safari support you get. A great service provider will match the locations to your goals, comfort level, and month you plan to travel. They will recommend the perfect safari itinerary for you and deliver a vacation that you'll treasure for the rest of your life.
You can be assured of having expert trackers and guides, who will answer questions, know where to find the animals, keep you from getting stuck in the mud, and make sure you stay safe. (You don't want to be charged by an elephant, do you?)
ⓘ TIP: The truth is, no guide will be able to guarantee what you'll see on safari, because animals and weather can be unpredictable. But if you're really keen on seeing a specific animal or bird, chances are your guide can take you to specific areas where they're known to frequent.
Setting your goals – What type of African safari do you want?
Unlike a few decades ago when safari vacations first became a hit, African safari trips nowadays can be customized to include your preferred activities within your own comfort zone, particularly since there are several types of safaris to suit everyone from honeymooners and families all the way to solo daredevils.
So, your first order of business should be determining the goals you want to achieve from your African safari journey. Are you backpacking alone? Are you looking for a romantic time with your partner? Or perhaps you're traveling with family?
Deciding the general objectives of your trip can help you choose the type of African safari that'll most fulfill your time. Here are 5 major types of African safaris you can enjoy:
● Overland safari
This is the classic safari, usually what comes to mind when someone talks about going on safari. It's the ultimate way of exploring Africa's wildlife, complete with the pleasures of old-school camping.
Overland safari trips are typically enjoyed in small groups. They're reminiscent of the excursions embarked upon by 13th-century hunters, and there's a real sense of excitement being out in the open.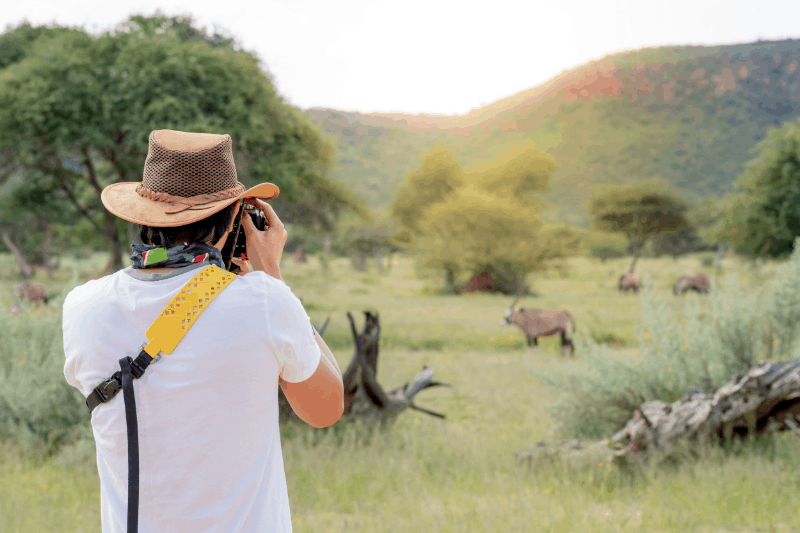 ● Beach safari
Some safari adventurers, especially first-timers, may find the African safari to be a rewarding but exhausting experience. This is because safaris usually require stamina and a lot of get-up-and-go action even if you're doing it somewhere beautiful.
Finishing off your trip with a beach retreat can be the perfect wrap up to your holiday, as well as a great way to make some romantic memories with your significant other. Two of the best places for this are on the coast of Malawi or the picturesque beaches of Seychelles.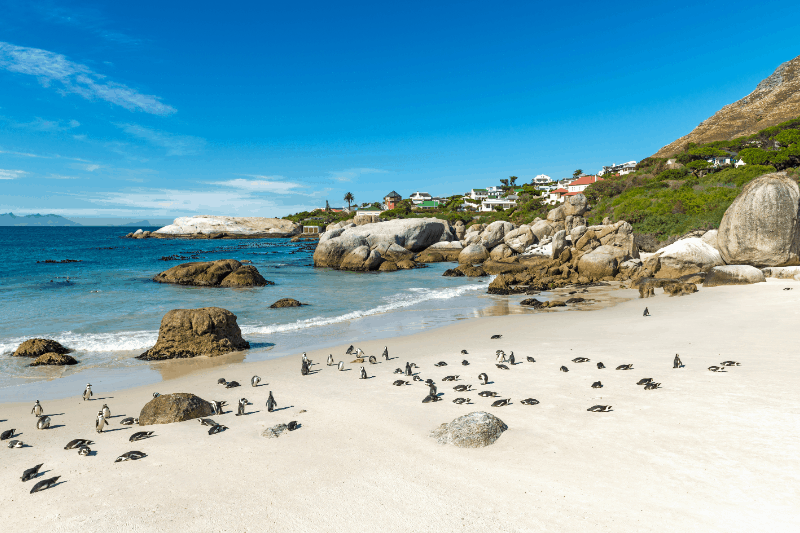 ● Family safari
Traditional safaris, where primitive camping is an integral part of the journey, aren't very suitable for families with young children. But this doesn't mean you have to postpone your African safari dreams until your kids are old enough.
There's really no reason why younger adventurers can't experience the magic of wild Africa. Times have changed, and those hectic safaris which were once designed for fearless travelers have morphedinto something new. Now, a safari can be as mainstream and child-friendly as you need it to be.
Family-oriented safaris can offer convenient accommodation and also include a variety of activities to keep little ones as entertained as the grown-ups.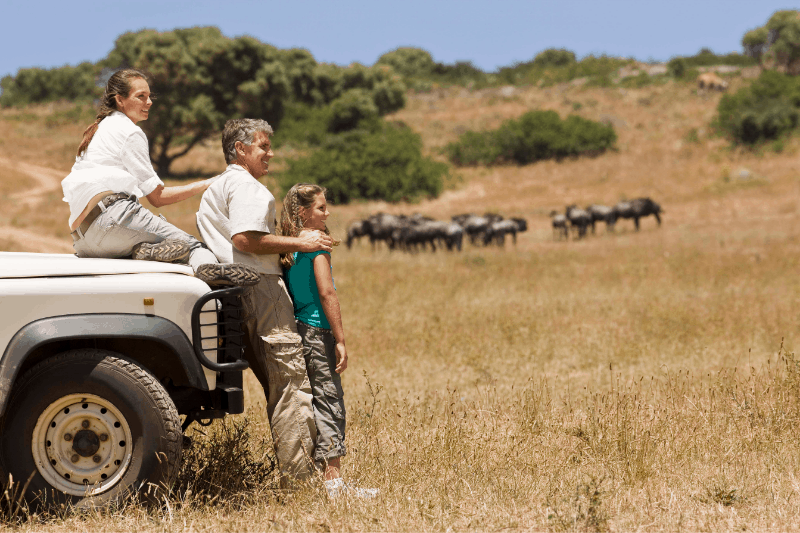 ● Honeymoon safari
There are many options available to make the perfect African safari experience more romantic for newlyweds.
A honeymoon safari package will often include comfortable high-end accommodation choices with breathtaking views, a remote location away from prying eyes and the commotion of other holidaymakers, and of course, a stunning beach.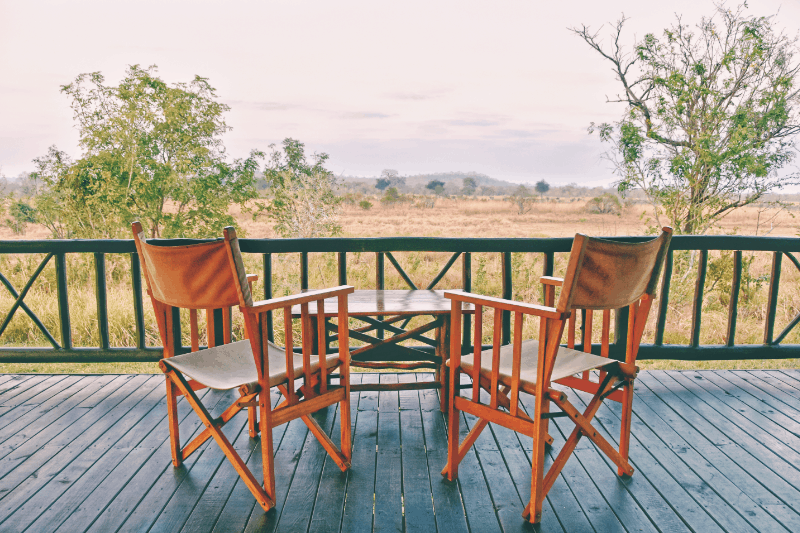 ● Birding safari
What many people don't realize when they book their African safari, is that the birdlife is just as fascinating and extensive as the other wildlife in this continent.
In addition to being home to the biggest game safaris, Africa is a fantastic place to spot some of the most charismatic and rare species of birds. You can see everything from bee-eaters and finches to weavers, flamingos, and ostriches.
Some of the best places for the avid bird watcher include Botswana, Zambia, and Namibia.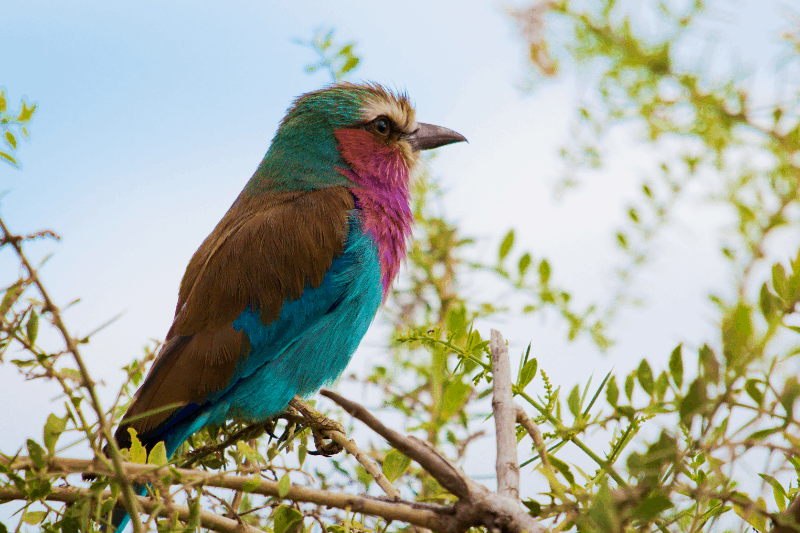 What to pack for an African safari
When it comes to packing for an African safari, 'less is more' is not a good idea. While you can pack lightly on other trips and just buy whatever you need from the local shops at your destination, it's a whole different story on a safari.
Out there, chances are you'll have no local amenities. You'll be exposed to the elements so it's crucial that you carry everything you might need for the day.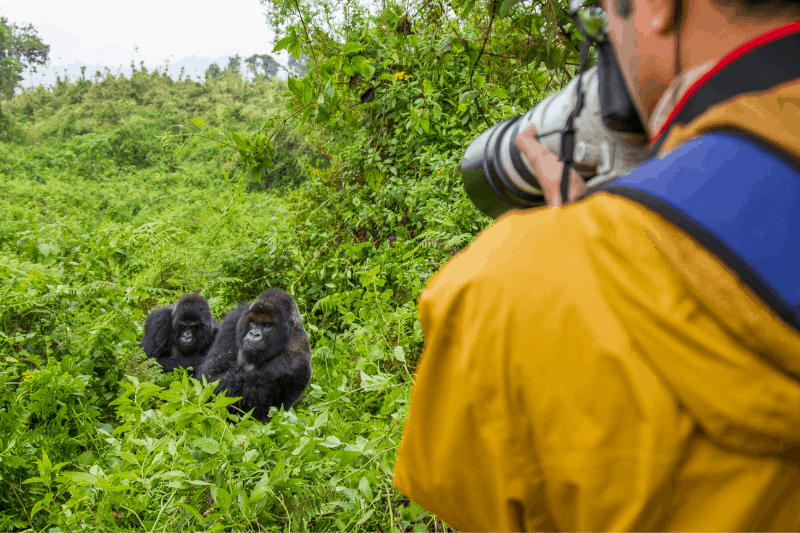 Here's a list of safari must haves to pack for your trip:
● Comfortable walking shoes for game walks
● Windbreaker or fleece jacket for game drives and nights.
● Two pairs of jeans
● Swim suit
● T-shirts for day wear.
● Toiletries
● Medication
● A good African safari field guide.
ⓘ LUGGAGE TIP: If you plan to fly to your resort, the small planes have strict weight restrictions for checked baggage. So forgo wheels and opt for a duffel bag like this one. It will be at least 12 lbs lighter.
When is the best time to go on safari?
The success of any safari experience depends on several factors, but timing is the most important. The dates you choose to travel can make or break your trip. After all, you wouldn't want to arrive in the middle of the Serengeti and discover that the migration herds have moved down to Kenya. That would be heartbreaking.
But with a vast stretch of land that's 4 times larger than the continental US, it can be pretty tricky to say when is the best time to visit Africa. This diverse continent has dense forests, massive deserts, snowy mountains, and lush grasslands.
Remember, places to witness seasonal events get booked months in advance, so it's a smart move to plan your ideal travel dates beforehand. The peak period of July to October sees the highest rates and most visitors, while the green period from November to May, sees fewer people. It's a bit challenging to see wildlife then, but you can still enjoy other activities.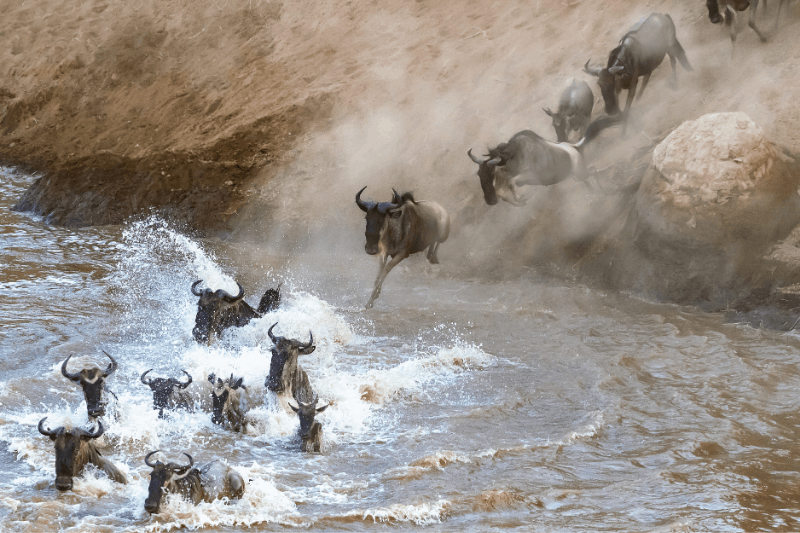 To help you enjoy your trip as much as possible, take a look at this brief overview of the different seasons in Africa:
The Peak Season – this is when the animals are abundantly present and most visible. For example, animals are most plentiful on the Maasai Mara National Reserve during the period of July to October when 2 million animals migrate from the Serengeti National Park in Tanzania.
On the other hand, the Serengeti is better to visit during the December to June period as all the migrating animals are going to be in that area.
Also, in places where water holes provide the best viewing, it's highly recommended to plan your visit during the dry season. Accordingly, in Etosha National Park in Namibia, the dry season is from May to October, which does offer the best viewing experiences.
The Green Season – this is the time when rain brings about plenty of green life. This season is usually the cheapest time to visit a place, so it can be a good idea if you want to cut back on some expenses. This probably sounds nice, but there are a few points to consider.
For example, the more it rains, the more foliage appears. This will make it harder for you to see animals. Also, due to the extra water, animals that usually gather around water holes can easily find water somewhere else, making it even harder to find these animals.
Another thing to keep in mind is that some places, such as Kenya, parks will close to visitors when the green season occurs because the dirt roads become impassable.
The bottom line here is: If you're interested in natural beauty, the green season is an excellent time to go on an African safari, but if you're mainly in it for wildlife, you may want to choose another time.
The Shoulder Season – this time occurs between the two seasons we discussed above, and it's considered sort of a lottery.
Sometimes the animals will stay for a bit longer after the official peak season has ended if there's more food available in the area. But this isn't guaranteed and varies largely year by year.
For example, in the Maasai Mara National Reserve, November is the shoulder season. But if there have been more rains in Kenya during the preceding few months, there'll be more grass to feed on, and the animals on The Great Migration will stay for long past their typical departure date of October.
In fact, this happened in 2016, and visitors who came to the area around early November were able to see significantly more animals than they would have seen had they visited in other years.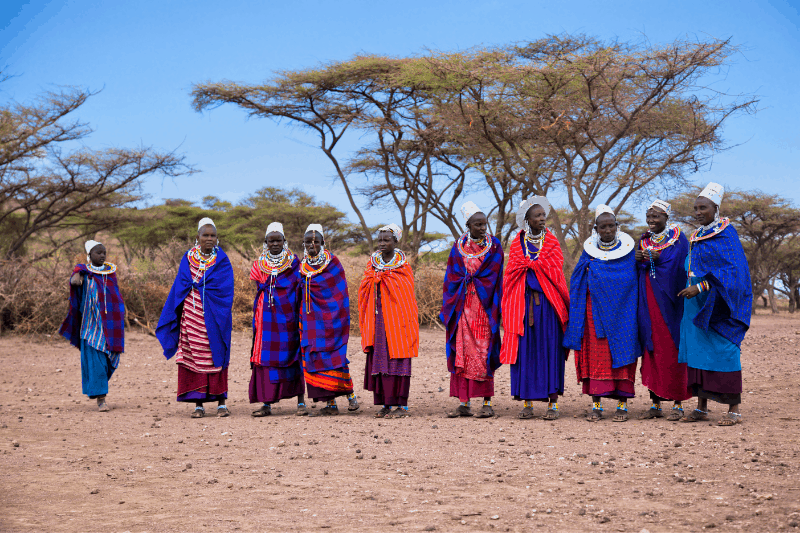 Where is the best place to go on a safari in Africa?
Africa has a safari for every traveler, but with such a large area to choose from, where do you go? Since wild animals are the main target, most visitors look to tick off the Big Five — lion, leopard, buffalo, rhino and elephant.
Many parks boast of these five superstars, but some offer much better chances to see them than others.
Here's a list of the best countries for a safari vacation. We've included their top tourist attraction to help you choose the best place to go on safari.
● Uganda:
The largest population of mountain gorillas and 1100 bird species.
● Tanzania:
The starting point of the Great Wildebeest Migration, Big Five,and over 1000 bird species.
● Rwanda:
Mountain gorillas, chimpanzees, Big Five.
● Malawi:
The warm heart of Africa, Lake Malawi, The Majete Wildlife Reserve, which has over 3000 animals, including more than 300 elephants, 200 hippos, impalas, and bushbucks.
● Kenya:
A focal point of the Great Migration, Nile crocodiles, Big Five. Large animal herds, 1100 bird species, reptiles, amphibians.
● South Africa:
Big Five, African wild dog, cheetah.
● Zambia:
Exclusive walking safaris, hippos, leopard.
● Zimbabwe:
Victoria Falls, Cape wild dog, Big Five
● Botswana:
One of the hottest tourist destinations. Great for Big Five, 900 bird species.
● Mozambique:
Luxurious accommodation, white powdery beaches, romantic getaway.
● Seychelles:
Bright white sand beaches, perfect for honeymooners, Aldabra, a raised coral atoll where almost 150000 giant tortoises reside.
● Namibia:
The largest colony of Cape Fur Seals, elephants, cheetah, lion.
In case you don't have a specific goal in mind, do a bit of research to find out what activities spark your interest, or just contact your African safari experts and tell them what your likes and dislikes on a holiday are. They should be able to help you formulate a plan/route for your trip.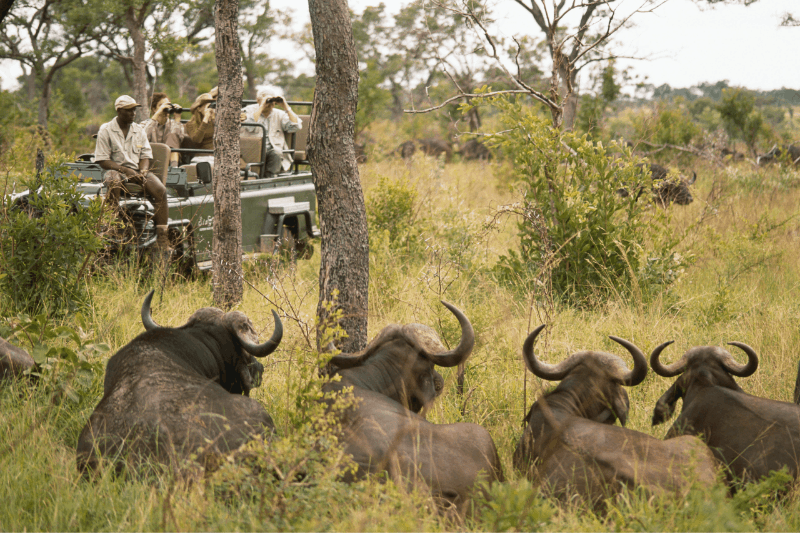 Where is the best place to stay on an African safari?
Knowing when to go on an African safari and what places you want to visit isn't enough to make your trip a success. You also need to figure out where you're going to stay.
Concerning this aspect, there are 3 main areas where you can stay while on a safari:
Within the park – staying within a park puts you right in the middle of the action and grants you quick access to and from the wildlife viewing.
Staying within the park is the best option for the larger parks of Africa, such as the Serengeti in Tanzania. Otherwise, you'd be too far away from areas where the animals gather.
Adjacent to a major park – your second option is to stay within a conservancy adjacent to a major park.
The main advantage of staying in conservancies attached to major parks is that you'd have to deal with far less vehicular traffic. This is because they usually charge an additional fee for entry, so many people refrain from coming in.
This can be especially beneficial during peak season when some parks can become a traffic jam. (Sitting in traffic does not make for a perfect African safari vacation.) In this case, the adjacent conservancy will have just as many animals … but with only a handful of vehicles, you'll have better wildlife viewing opportunities.
Outside the park – The third area to stay is outside a park. If you choose a place very close to a park, you won't actually need to stay in the park. Not only will you save the park fees by doing so, but you can still enjoy animal viewing.
That's because animals don't recognize park boundaries. Chances are good that you'll be able to spot some animals right from the comfort of the camp.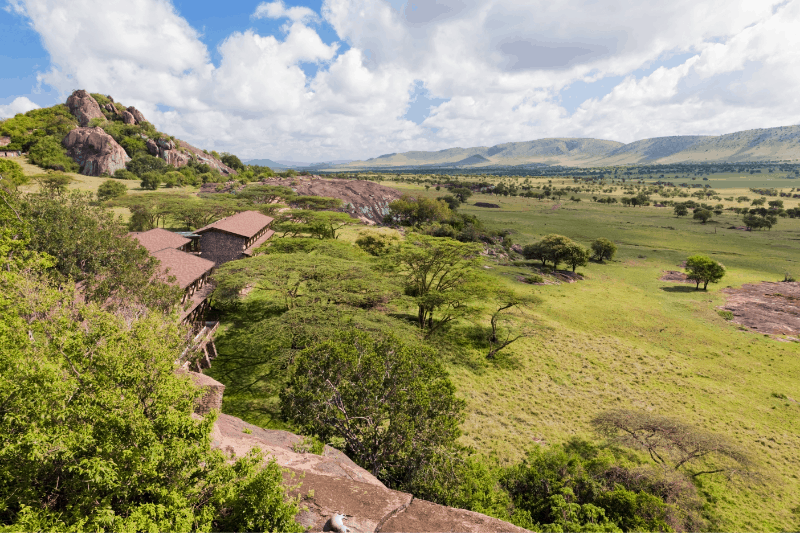 Know your budget
An African safari is all about logistics, as the resort owners have their task cut out in providing high-class services to their guests.
Mind you, they have to offer the best food and supplies in a desolate and remote place. This will cost several times more than offering a similar service in a large city.
African safaris are not cheap, so be sure to discuss your budget frankly with your agent. Once he or she understands your financial requirements, your agent will do everything possible to make your trip a reality.
Choose your travel style
Before you set out, consider your budget, available time, and travel companions. Do you wish to travel on a romantic trip, with friends, or with families and children? And what about your sleeping arrangements?
Your can't have a perfect African safari without the perfect accommodation. When it comes to figuring out accommodation, there are 2 types to consider:
Lodge-style – this style is similar to that of a hotel or some sort of a self-contained chalet.
Luxury tents – this "glamping" option is preferred by many. Ooften larger than most hotel rooms you've stayed in, they can include anything from services such as wi-fi, to luxurious decorations such as a chandelier.
All resorts have a common open-air area where meals are typically served. This tends to be one of the most beautiful parts of any accommodation.
Please note that almost all safari accommodation is full board, meaning they provide all food – 3 meals a day, but drinks can cost extra. Some places do provide access to a kitchen though, so self-catering can be a good option for the budget traveler.
Additionally, many places (particularly tented camps) uphold a minimum age restriction, so you'll need to check with them before booking.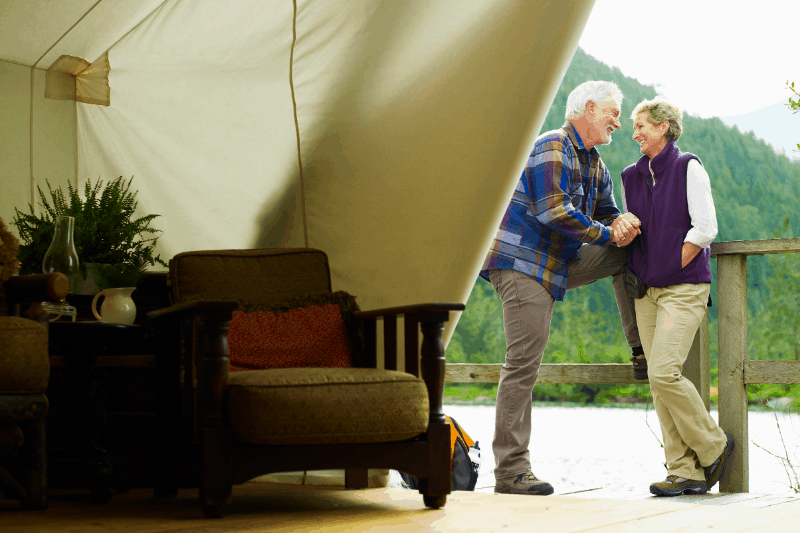 All these are matters of personal preference.
The beauty of this is that you're the one who gets to decide which type of safari is right.
Your safari expert will match your needs to the best possible experience. You'll get the accommodation, location, and activities you prefer, and get the optimum value for your money.
ⓘ TIP: You can also ask your agent to plan a tailor-made safari. This should include a good dedicated guide and a game drive vehicle for exclusive use. But it also can include a variety of unique activities, like hot air balloon rides and transfers by private helicopter.
Tips for the best African safari
Avoid safari destinations that charge in USD. If you're traveling on a tight budget, the exchange fee will add to the cost. One such option is the Kruger National Park in South Africa, which charges in local currency.
Look for camps that offer the most game drive time. As game drives are the heart of an African safari experience, the more time you spend in a vehicle searching for animals, the better.
Be mindful of when you're scheduling your game rides. For game drives, the best times for viewing are the 30 minutes before sunrise and 60 minutes after sunrise, as well as 60 minutes before sunset and 30 minutes after sunset.
Avoid self-driving on a game drive. Instead, stick to local drivers. Local drivers have the most knowledge to keep you safe, they have a network to find the best animal sighting, and they have a reliable support network in case your vehicle breaks down.
Soak in the atmosphere. Every safari is a unique experience, so take time to appreciate all the sounds and smells. This can change your life.
Bring insect repellent. Be mindful of common diseases such as Yellow Fever and Malaria. You can visit your doctor beforehand if you want to get the necessary shots.
Put your phone away. Just carry a camera and binoculars. Disconnect with the world and immerse yourself in nature for these once in a lifetime moments.
Ask about the freight rate. Groups of four or more may be able to book a freight seat on the small planes. They offer an additional 75kg baggage allowance and cost the fare of a child ticket.
Always make copies of your travel documents.
Do not carry large amounts of cash.
If your aim is gorilla trekking, timing is critical. In Rwanda, you'll want to avoid April, May, and November. However, this is a good time to visit Uganda, where there are good discounts to be availed on accommodation and permits.
Ready to go?
Going on an African safari is a once a lifetime experience that's worth every penny. Follow the advice in our guide, and it's going to be a journey that you'll remember and cherish for the rest of your life.
Want to save this for later? Pin it to your favorite Pinterest board!