Gorilla trekking is one of the most profound wildlife encounters you can have in Africa. Seeing these endangered primates up close in their natural habitat is something you will remember for the rest of your life.
Gorillas thrive in the lush jungles of Uganda, Rwanda, and the Congo. But due to the worsening security crisis in Congo, only Uganda and Rwanda are open for tourism. Many tour companies can organize gorilla treks to these countries and will handle everything involved, including a permit. But to get the most out of your adventure, it's best to know some tips for your gorilla trekking safari.
1. Know what to expect from your gorilla trekking safari
Gorilla trekking is a wildlife activity that requires hiking into lush jungles to search for wild gorillas. The activity requires walking through steep paths towards dense forests and rivers until you come across gorillas in their natural habitat. You will be with a park ranger, who will serve as your guide. He will carry a machete to create temporary trails through the lush foliage.
While gorilla trekking is one of the most expensive wildlife activities, it's worth it. Gorillas are fascinating creatures that behave like humans, and seeing them up close and in their natural habitat is an experience you will never forget. In addition, a portion of the money you will pay for the trekking permits will go towards gorilla conservation projects and supporting the development of local communities.
You can spend at least an hour with the gorillas, which is enough time to observe their behavior. You'll see the females breastfeeding, climbing on trees, grooming each other, and doing other activities similar to humans. Some could get rebellious, but the rangers can calm them down quickly, ensuring the safety of everyone.
2. Choose the best time to go
Although you can go gorilla trekking year-round, the best time is during the dry season due to the pleasant weather conditions. In this part of East Africa, there are always two dry seasons and two wet ones.
When is dry season in Uganda and Rwanda?
The dry seasons in Uganda and Rwanda fun from June to September and from December to February. The gorillas are more active and the trails are less prone to slipping during this time, making for a more pleasant trekking experience.
With better visibility and clearer skies, the dry season allows for better opportunities for photography and wildlife viewing. With less vegetation cover, you can also easily spot other wildlife species such as birds, monkeys, and antelope.
The tradeoff is that the dry season is the peak tourist season, and the gorilla trekking areas can get crowded during this time. Additionally, prices for accommodations and gorilla trekking safaris and permits may be higher then.
When is wet season in Uganda and Rwanda?
Like the entire region in East Africa, Rwanda and Uganda experience two rainy seasons each year. The long one lasts from February and ends in May, while the shorter one is from October to mid-December.
You can expect frequent tropical downpours during these periods. Even though the rains don't last long, the trails in the jungle can get muddy and slippery. Plus, the rain and mist can make it difficult to take good photographs and capture clear images of the gorillas and other wildlife.
You should pack a sturdy raincoat and insect repellent if you plan to travel during the rainy season, when mosquitos and other insects are more prevalent.
TIP: If you don't like hiking in the cold, avoid coming in June or July. Because it is winter in Uganda and Rwanda, the hiking will likely be chilly.
3. Know the best places for gorilla trekking
Three countries offer gorilla trekking opportunities: Rwanda, Uganda, and the Democratic Republic of Congo. However, due to safety concerns, the Democratic Republic of Congo is not recommended for tourists.
While Rwanda and Uganda both offer gorilla trekking experiences, there are differences between them. In particular, there's a difference in the price of a permit: Rwanda charges $1500 while Uganda charges $700. But there's a reason for this.
Rwanda is focused on protecting the mountain gorillas. The country issues a maximum of 96 gorilla permits per day, and limits the number of people who can visit a single gorilla family. For this reason, you'll find more exclusive and luxurious gorilla trekking experiences in Rwanda. With a limited number of visitors allowed each day, you can be sure that your encounter with the mountain gorillas in their natural habitat will be a unique and unforgettable experience.
In contrast, Uganda is more focused on tourism than conservation. They charge a lower fee, with larger groups of visitors allowed per day. The country's Bwindi Impenetrable Forest has four habituated gorilla troops, but it can be a harder trekking option.
4. Be prepared for a variety of weather conditions
Both Uganda and Rwanda boast a warm tropical climate with daily temperatures averaging 25 to 29°C. However, it's worth remembering that your treks will take place in mountainous regions. The elevation causes a wider range in temperature, from about 7 to 20°C (45 to 68°F).
Here are some tips to help you prepare for the weather on your gorilla trekking adventure:
Research the weather conditions: Prior to your trip, research the weather conditions of the region you'll be visiting. This will help you to determine what types of clothing to pack and what to expect in terms of temperatures, rainfall, and humidity.
Dress in layers: As the weather can be unpredictable in the gorilla trekking areas, dressing in layers is recommended. This allows you to easily adjust your clothing according to the temperature changes throughout the day. Wear a moisture-wicking base layer to keep you dry, a warm layer for cooler temperatures, and a waterproof outer layer to protect you from rain.
Wear appropriate footwear: It's important to wear comfortable and sturdy hiking shoes or boots that can handle the rugged terrain of the gorilla trekking areas. Make sure they are waterproof and have good traction for slippery or muddy conditions.
Protect yourself from the sun: Bring a hat, sunglasses, and sunscreen to protect yourself from the sun. The sun can be strong even on cloudy days, and it's essential to protect your skin from harmful UV rays.
Pack a raincoat: Even if the forecast doesn't call for rain, it's always a good idea to pack a lightweight raincoat or poncho just in case. Sudden rain showers can occur at any time, and you don't want to be caught unprepared.
By following these tips, you'll be better prepared for the weather on your gorilla trekking safari and can focus on enjoying your unforgettable adventure with these magnificent animals.
5. Book enough time for your trip
Ideally, a gorilla trek will only take 1 to 6 hours on average. It includes the time it takes to trek up the mountain, watch the gorillas, and trek back to the meeting point. But this will also depend on several factors, such as the time it takes to spot the gorillas. In most cases, they will allow you to spend at least an hour with these amazing creatures. Therefore, your trekking adventure will only take one day.
Since you will need to travel for several hours to the location, you should allocate a minimum of three days for your trip. You will spend the first day traveling from the airport to your hotel close to the park; the second day is your trekking adventure; and the third day is for transferring back to the airport.
6. Consider your accommodation options
When planning your gorilla trekking safari, one of the key factors to consider is where you will sleep. Choose a place to stay that is convenient to the gorilla trekking area, within your price range, and that has all the amenities you require.
Overall, there are a wide variety of accommodation options available for a gorilla trekking safari, ranging from rustic and authentic to luxurious and indulgent. Ask yourself which amenities are important to you, such as comfortable beds, hot showers, and good food. Some accommodations also offer additional activities such as bird watching, nature walks, and cultural tours.
Many of the accommodations in the gorilla trekking areas offer stunning views of the surrounding landscapes and are designed to provide a unique and immersive experience. Some lodges and camps are located in the heart of the jungle, providing an authentic and rustic feel, while others offer more luxurious amenities such as spas, swimming pools, and gourmet dining options.
In addition to traditional hotels and lodges, there are also a few unique local lodging options available. For example, some villages offer homestay experiences, where you can stay with a local family and experience their culture and way of life. This is a great way to support the local community and to gain a deeper understanding of the region.
7. Bring a camera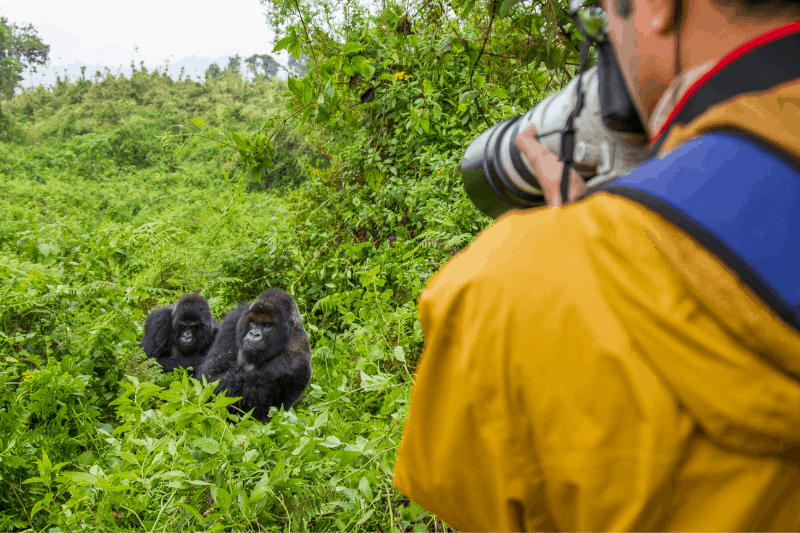 Bringing a camera on your gorilla trekking safari is a must, as it allows you to capture the breathtaking scenery and close-up shots of these majestic creatures in their natural habitat. To ensure you get the best possible shots, there are a few things you should consider when packing your camera gear.
Firstly, make sure to bring a sturdy camera bag or backpack to protect your equipment while trekking through the jungle. A waterproof cover is also essential to protect your camera from rain or moisture, which can be common during the rainy season.
In addition to your camera body and lenses, it's a good idea to bring extra batteries, memory cards with plenty of storage space, and a tripod for stable shots. A zoom lens is recommended to capture both wide-angle shots of the landscape and close-up shots of the gorillas.
It's important to remember to be respectful of the gorillas and their environment while taking photos. Keep a safe distance from the gorillas, and avoid using flash photography, as this can startle them.
ⓘ TIP: Take advantage of the beams of light breaking through the leaves. You can use these lights to highlight the gorilla's eye-catching features, such as its eyes and face.
Why consider a gorilla trekking safari?
Participating in a gorilla trekking safari does not come cheap. But it is worth it, especially if you love wildlife.
One of the benefits is that it helps protect mountain gorillas, which are threatened by poaching and the loss of their habitat. Some portions of the permit fee will help fund the conservation and monitoring of these fascinating creatures in the wild.
In addition, you will be contributing to the local community, which relies mainly on tourism, from the trekking guides to the local operators and workers in the lodges and hotels where you will be staying.
Trekking into the jungle can also benefit you in many ways. Being out in nature helps reduce stress. It can boost your endorphin levels and improve dopamine production, which promotes happiness. Of course, trekking can also improve your overall physical fitness, especially when you trek through the lush jungles. Spending several hours in the thick jungles can give your body a workout, improving your agility, strength, and cardio fitness.
Final thoughts about seeing the mountain gorillas in Uganda and Rwanda
In conclusion, gorilla trekking safaris offer a truly unique and unforgettable experience for travelers seeking adventure and a deeper connection with nature. The opportunity to witness these magnificent creatures in their natural habitat is truly awe-inspiring and provides a glimpse into a world that is both fascinating and fragile.
Whether in Rwanda, Uganda, or the Democratic Republic of Congo, gorilla trekking safaris offer a once-in-a-lifetime opportunity to witness one of the most incredible natural wonders of the world. By immersing yourself in the beauty and wonder of these great apes, you will gain a newfound appreciation for the interconnectedness of all life on our planet.