Have you ever wanted to travel to a place that is truly unique and special? A place where you can find stunning beaches, delicious food, and friendly people? If so, then Saint Martin should be at the top of your travel list.
This is a destination that is not only popular among travelers seeking an idyllic place to unwind on vacation, but also among those who want to uproot and enjoy a more relaxed pace of life. For some people, this has become a possibility through the Caribbean countries Citizenship by Investment program. But for those who aren't in a position to relocate, this is still an amazing place to visit.
In this article, we'll answer the question, "Is St. Martin worth visiting?"
There are plenty of reasons to visit St Martin – from stunning white-sand beaches and crystal-clear waters to duty-free shopping, vibrant nightlife and diverse cultures. Plus, as a dual-nation island with two different cultures and two different vibes, you get a two-for-the-price-of-one Caribbean Island vacation. What can beat that?
Where is St. Maarten located?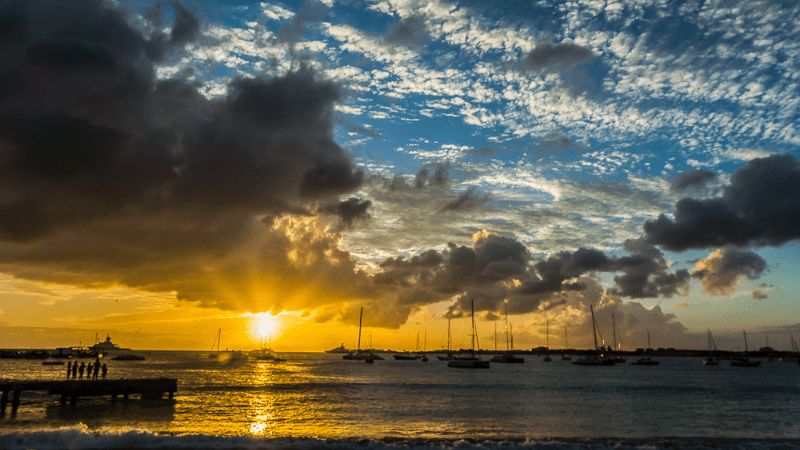 Known as "The Friendly Island," St. Martin island is an idyllic paradise in the Leeward Islands. Since 1648 the island has been peacefully divided since between France (Saint Martin) and the Netherlands (Sint Maarten), making Saint Martin island one of the smallest landmasses in the world shared by two sovereign states (37 square miles). There are no border patrols, regulations, or barriers between the two autonomously administered zones, and they exist in relative harmony.
The two sides of the island claim to be pals, but after nearly 360 years of being neighbors, they have developed a bit of a friendly rivalry. Both the French and the Dutch firmly believe that they have the best places to explore in St Martin. Both St Martin tourism bureaus claim their respective parts of the island offer the finest holiday destinations, the best places to live, and the best places to relax. One thing you'll notice when you visit St. Martin: You won't find any McDonald's or soulless holiday homes here.
What is French Saint Martin like?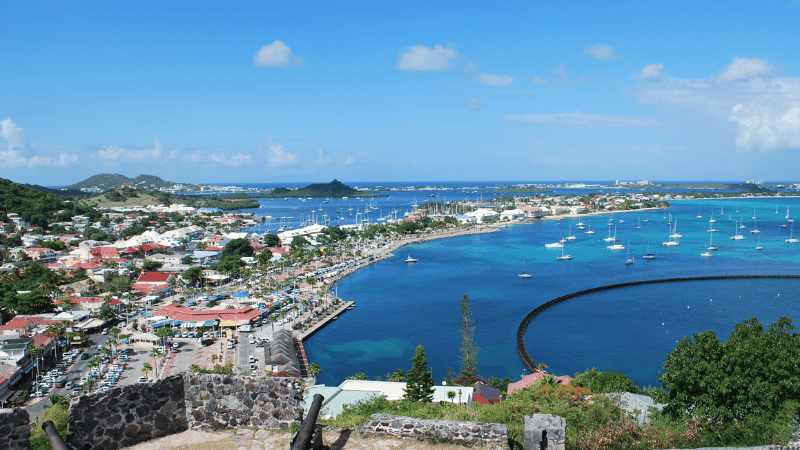 Francophone Saint Martin, on the French side of the island, epitomizes the island lifestyle: fine dining, lovely landscapes, pristine and secluded beaches, and an appreciation for the more pleasurable things in life.
When you visit St.Martin, it will be like the south of France spiced with a dash of Caribbean flavor. Think small market towns, cafes with Parisian-quality pastries, French Caribbean seafood, and a laid-back, boho-chic attitude that's perfect for a quiet, relaxing holiday.
The two largest towns on the French side of St-Martin are Grand-Case and Marigot.
What is Sint Maarten like?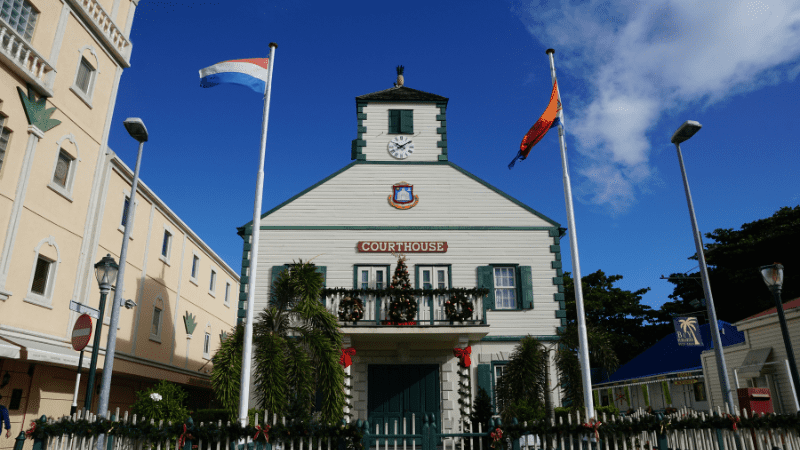 Philipsburg is the most-visited spot on the entire island. As the capital of Sint Maarten (the Dutch side of the island), the cruise port, Princess Juliana International Airport, and most of the island's beautiful architecture and companies are all located here.
Philipsburg boasts a charming boardwalk, upscale eateries, casinos, and nightclubs, and its residents emphasize etiquette. Some of the architecture also has a definite Dutch Caribbean vibe.
Front Street is home to a number of high-class jewelry stores. It can get quite crowded when ships are in port. Cruise passengers come to Philipsburg to do their duty-free shopping.
Why visit St Martin? The beaches
One of the reasons St. Martin (Sint Maarten) is such a prime Caribbean vacation destination is because of its many picturesque beaches. With 37 to choose from, it might seem a bit daunting.
Here are three popular beaches you'll enjoy.
1. Red Bay / Baie Rouge
Lying on the French side of the island, this beach gets its name from the color of the rocks and cliffs surrounding the beach. It is known to be one of the most beautiful and popular beaches on St. Martin island.
The beach is bordered by beautiful villas. You can rent an umbrella and beach chairs, then enjoy the sun and a great view of Anguilla (Flat island).
There is a parking space just above the beach. It fills up very quickly on the weekends, so make sure you arrive early!
2. Orient Bay / La Baie Orientale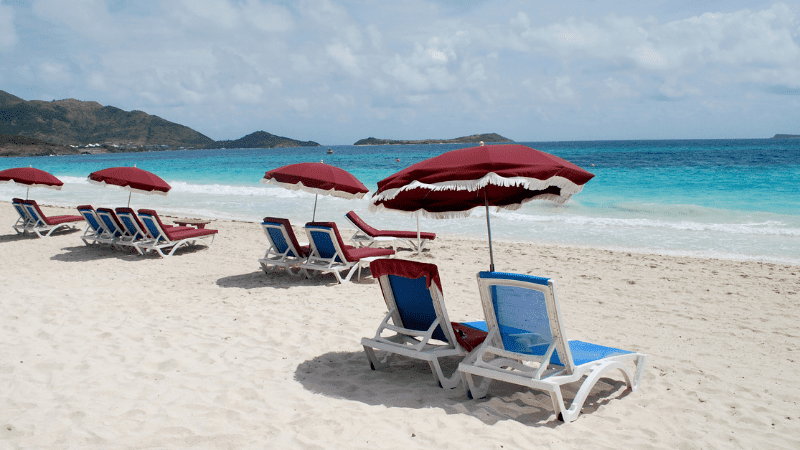 Nicknamed the "Saint Tropez of the Caribbean," Orient Bay, on St. Martin's northeastern coast, is one of the biggest and most popular beaches on the island.
Orient Bay is one of the island's prime spots for St Martin St Maarten surfing, snorkeling, and water sports opportunities. There are plenty of jet skis to rent so you can zoom into the waves. Or you might also enjoy a catamaran ride and experience the thrill as the boat pulls you along in the crystal waters.
Along with watersports, Orient Bay also offers a full range of tourist amenities, from hotels to beach restaurants and shops. This is highly recommended as a great honeymoon spot and a perfect choice for romantic getaways. (There is also a nude beach at the westernmost end, if you're into that.)
3. Maho Beach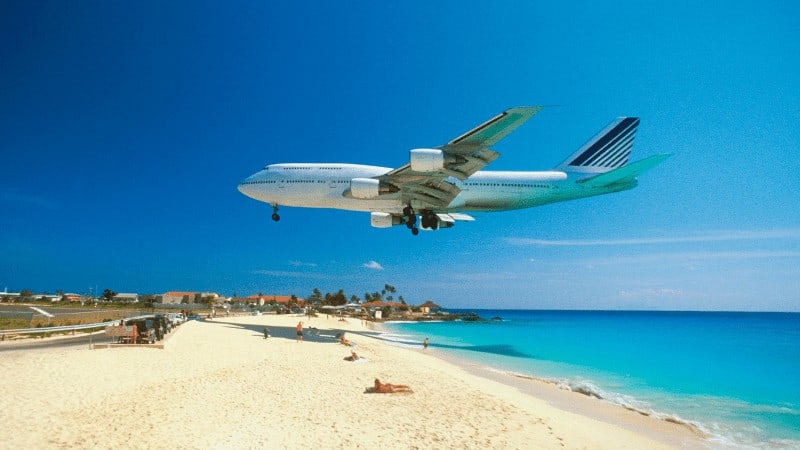 Maybe you've never heard of Maho Beach, but odds are you've probably seen the souvenir postcards that show airplanes flying directly over the heads of beachgoers.
While it may not be the nicest beach in St Maarten, Maho Beach is a dream destination for people who enjoy plane watching. Because the beach is right next to the airport runway, they head here to get an up-close and personal view of aircraft on final approach. It's an especially big hit with the kids.
In addition to watching the aircraft, you can also enjoy other recreational activities like snorkeling, water sports, diving, and hiking here.
Note that the planes fly so low to the ground that you'll have to keep an eye on your belongings, because many items lying on the beach are blown into the water as the planes pass overhead.
ⓘ TIP: To see both Maho Beach and Orient Beach in one go, consider this half-day tour.
Visit St Martin for the hiking trails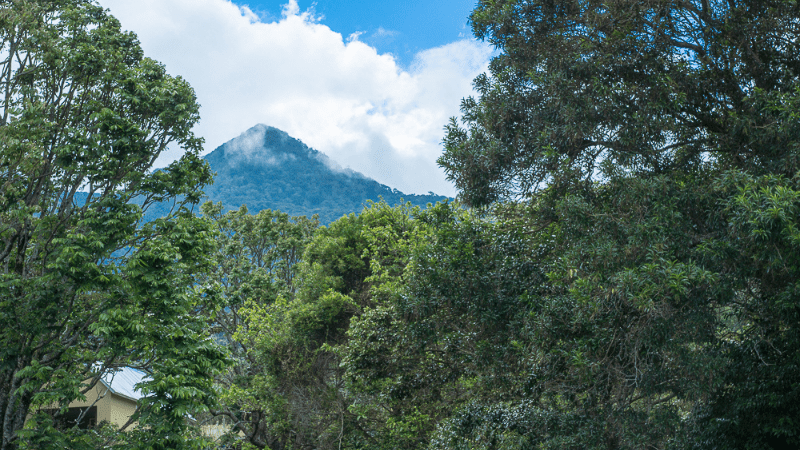 Sun and sand are all well and good, but tn addition to the island's many beaches, this lovely vacation spot also has many hiking trails that shouldn't be missed.
There's a reason the coastal hikes and walking trails are extremely popular among those who enjoy wandering. It is one of the best ways to explore the island's wilderness areas. As you spend your time enjoying the flora and fauna, you'll find endless places for memorable photographs. Be sure to climb to the top of the hills too; the views from the peaks give phenomenal panoramic vistas of the landscape.
For more detailed information on trails, see this web page.
1. Pic Paradis (Paradise Peak)
At 424 meters (1391 feet), Pic Paradis is the highest spot on the island. Those who go are rewarded with views of both St Martins, as well as the nearby islands of Anguilla, Saba, and St. Eustatius.
The hiking trail is easy to moderate, and you can reach the peak in two ways: Either park at Loterie Farm at the base of the mountain (for a fee) and hike up to the top, or you can drive your car to the end of the road and park for free. It's about 10 to 15 minutes to the summit from there.
2. The Sentier des Froussards hiking trail from Marcel to Cul-de-Sac
Anse Marcel to Baie des Petites Cayes is another easy trail on the island. This one takes about 2.5 hours to complete. It starts from the French Cul-de-Sac. Enjoy panoramic views while you walk and take some great photos of the captivating wildlife and plants.
3. Bellevue Border Crossing hike
Furthermore, Bellevue Border Crossing Hike lies on the Dutch side and can be reached from Marigot. If you arrive by car, park at the Bebe n' Kids store. It is a lovely trail surrounded by tall trees and hills, it is also a favorite among mountain bikers.
ⓘ TIP: If seeing more of the island is on your agenda, this tour will take you to both the French and Dutch sides and includes a variety of fun local experiences.
Where to stay in St. Martin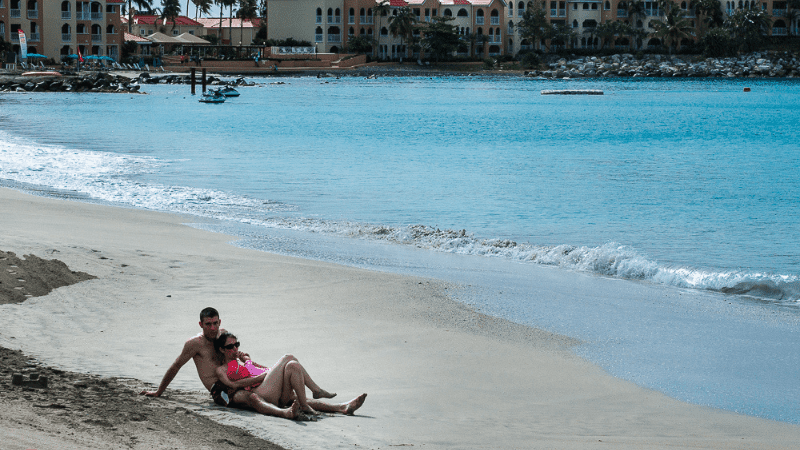 If you're visiting St. Maarten with friends or family, consider staying in a villa. You'll have the entire place to yourselves and a lot more space, with plenty of privacy. There are many different villas to choose from, so you'll be sure to find one that fits your needs.
If you would prefer a full-on resort, the best St Maarten resorts Dutch side are:
The best St. Martin island resorts on the French side are:
ⓘ PRO TIP: For cheap St. Maarten vacation packages, check Expedia.
St. Martin travel planning links
We're all about providing value in our articles. So, here are some useful links to help you plan your Sint Maarten vacation.
How to get around St. Martin – St. Maarten
St Maarten does not have Uber or any other rideshare options. If you plan to navigate between the French and Dutch sides of the island, you'll have to walk, use public transport, take a taxi, or rent a car.
Island bus services are relatively inexpensive. But change your expectations, because buses on St Martin are more like a multi-passenger van! You can learn more about public transport on St Martin in this article.
The most convenient way to travel around St. Martin and St. Maarten is by renting an automobile. You'll pick up your car at Princess Juliana Airport (SXM) in St Maarten. Unfortunately, traffic on either side can prove extremely heinous.
Want to read this later? Save it to Pinterest!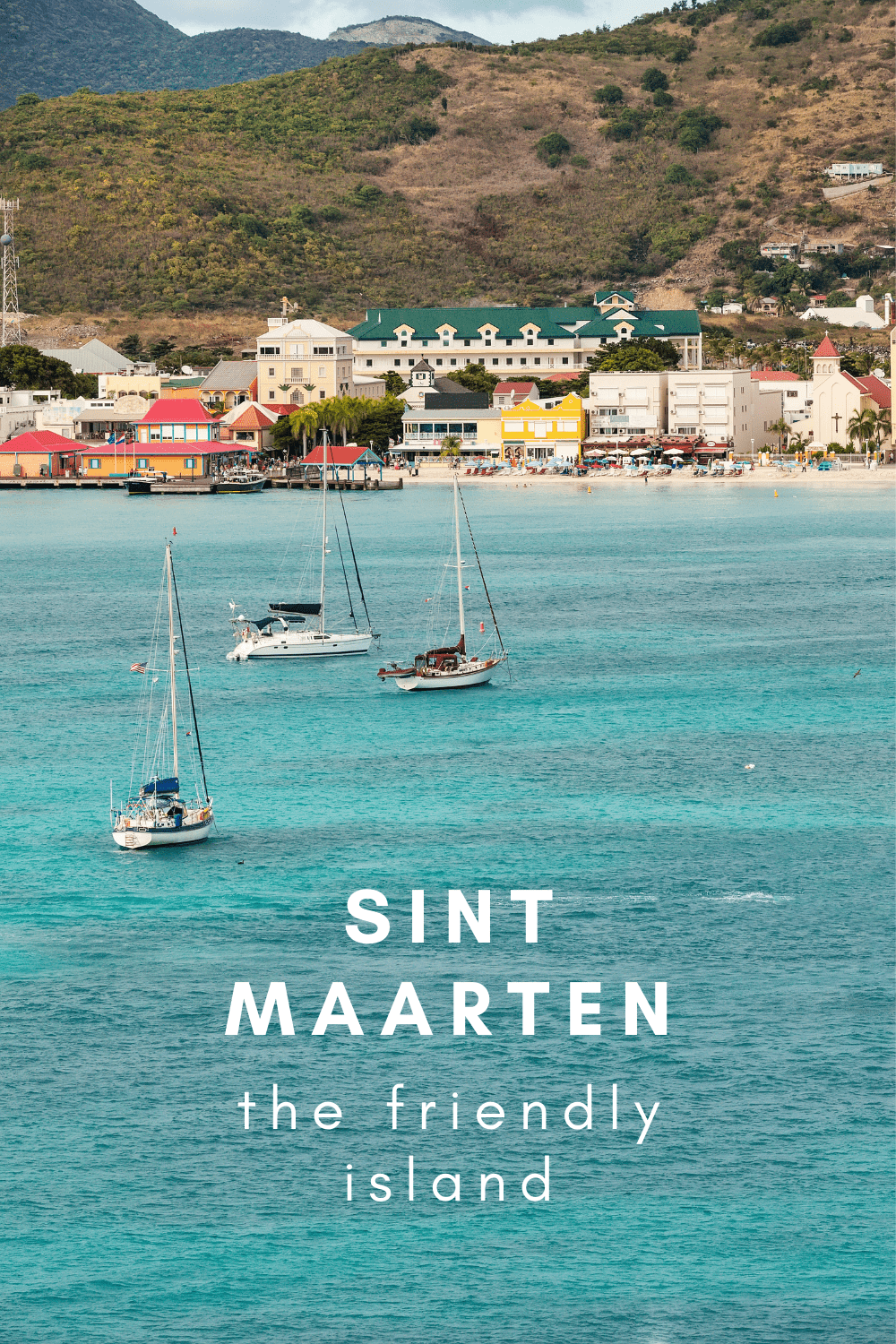 Is St. Martin worth visiting?
Absolutely! St. Martin is a must-visit. Its stunning beaches, vibrant nightlife, and fusion of French and Dutch cultures create a unique experience. The island's charm, warm hospitality, and diverse activities make it well worth the trip.
Is St Martin safe?
Absolutely! St. Martin is one of the safest islands in the Caribbean. Visitors can generally feel secure when exploring its beautiful landscapes and enjoying its vibrant culture. However, it's always essential to exercise typical precautions while traveling to ensure a safe and enjoyable experience.
When is the best time to visit St. Martin?
St. Martin is at its most pleasant between November and June, during the dry season. The peak season is between December and April. For fewer crowds and lower prices, visit in May/June or November through mid-December. Avoid late August to early November, which is hurricane season.
Do I need a visa for St Maarten?
US, Canadian, and EU citizens can visit St. Martin for 90 days visa-free, as can Indian citizens with a Schengen, US, or Canadian visa. Most other nations need a visa. All visitors must carry a passport valid for at least six months beyond their departure date and proof of an outbound flight. You can learn more about visa requirements for Sint Maarten on the government website.
Frequently asked questions about visiting St. Martin
Final thoughts about why is St Martin worth visiting
When it comes to the Caribbean's prettiest tourist spots, Saint Martin and Sint Maarten both deserve top rankings. No matter which side you visit, there are almost endless beautiful beaches, lagoons, and cottages for tourists to experience.
Below the sun-drenched Caribbean sky, the island's turquoise, crystal seas sparkle, making Saint Martin the ultimate location for stunning scenery, vistas, and peaceful getaways. Are you ready to visit?