A melting pot of cultures, Singapore is a top tourist destination for those who appreciate exotic experiences and amazing architecture. From the glitzy shopping districts to the stunning nature reserves, there's something to impress everyone in this Southeast Asian city-state.
Best tourist attractions in Singapore in 2022
If you're planning your Singapore itinerary, here are some of the top tourist attractions in Singapore that you won't want to miss!
1. Jurong Bird Park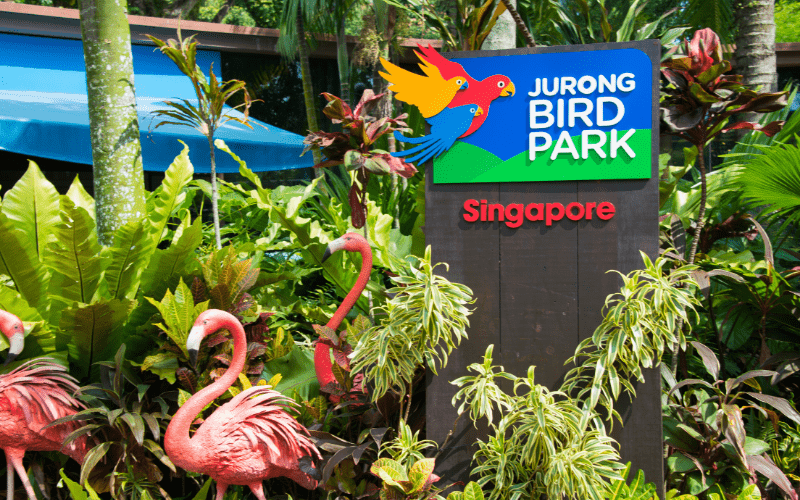 Take your time out from your hectic vacation schedule to marvel at the awe-inspiring creations of mother nature. The extraordinary Jurong Bird Park is one of the most fascinating places to visit in your Singapore expedition. This bird park houses 500 exquisite birds from 130 different and enthralling species.
Admire the unbeatable beauty of this aviary and click enthralling selfies with them. The park takes pride in featuring the distinct, blue-crowned laughing thrush, Bali myna, Santa Cruz ground dove, and straw-headed bulbul. Explore the arctic zones and learn about the exotic species of penguins as well.
2. Gardens by the Bay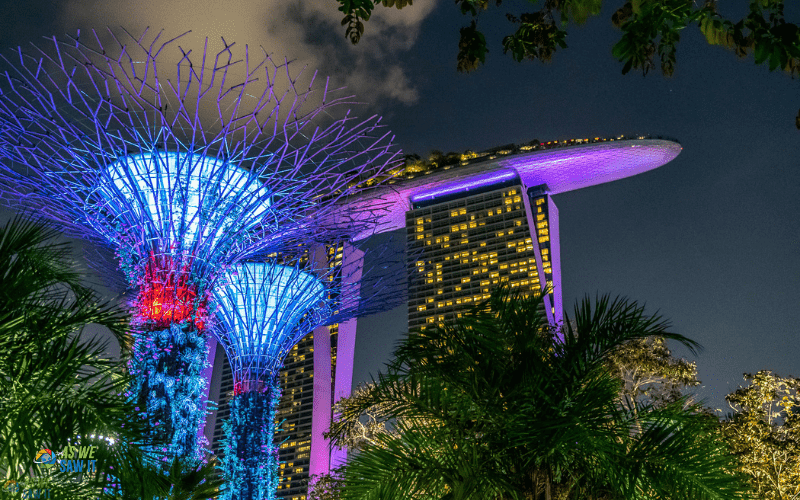 With its huge grove of Supertree structures, Gardens by the Bay is one of the most iconic attractions in Singapore. This exquisite man-made marvel is a definite must on your travel itinerary.
Locataed near the famous Marina Bay Sands luxury hotel, the gardens are spread across 101 hectares. Gardens by the Bay contains exquisite displays including the flower domes, humongous Supertrees, the world's tallest indoor waterfalls, an orchid garden, and cloud forests.
The flower domes house exotic and vibrant flower species and their sweet scent will make you want to come back for more. The waterfront gardens are a perfect place to relax and soak up in the natural lake surrounding you. And the grove of Supertrees is home to a fantastic after-dark music-and-light show that cannot be missed—especially because it's free!
3. Universal Studios Singapore
Universal Studios Singapore is an amusement park featuring exquisite and gripping rides based around the best and most popular Hollywood movies. The whole theme park is split into different areas with rides and attractions for people of different ages and interests. Some of the most thrilling ones to explore are Battlestar Galactica, Jurassic Park, Transformers, and the adrenaline-pumping Mummy Zone.
As you would expect from a Universal Studios theme park, the park also features a fantastic 4D experience called Lights Camera Action, and its realistic cinematic and sound effects make it a tourist favorite. Explore the infamous ride of sesame street and marvel at the architecture inside the Madagascar-themed roller coaster ride.
4. Singapore Zoo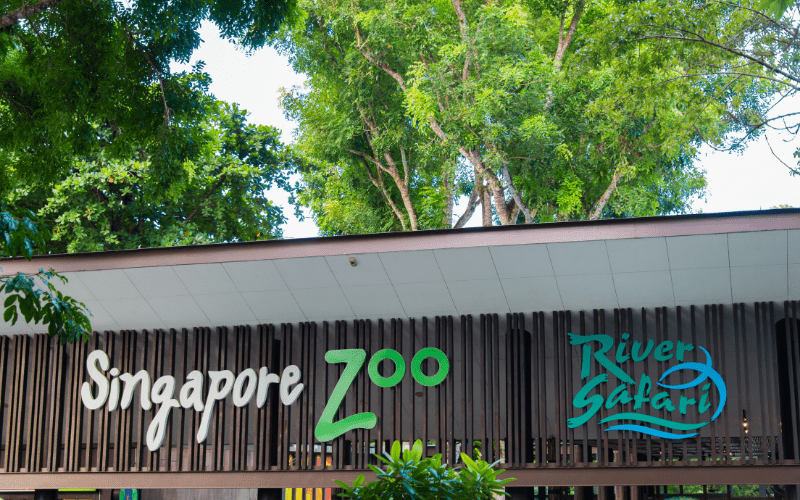 Exotic wildlife, beautiful wilderness and thick forest climes, makes Singapore zoo a unique addition to your travel plans. Housing over 200 animals from 40 different and exotic species, this zoo is one of biggest and oldest animal homes around the world. The safari ride of this zoo will take you up close to the wild animals like lions and animals.
Feed and bathe the enormous elephants and get to know about the aviary at the bird house. This zoo also hosts beautiful seal shows that are a must watch. From majestic African lions to cute penguins from the arctic, this zoo is a marvellous way to connect with Mother Nature.
5. Singapore River Cruise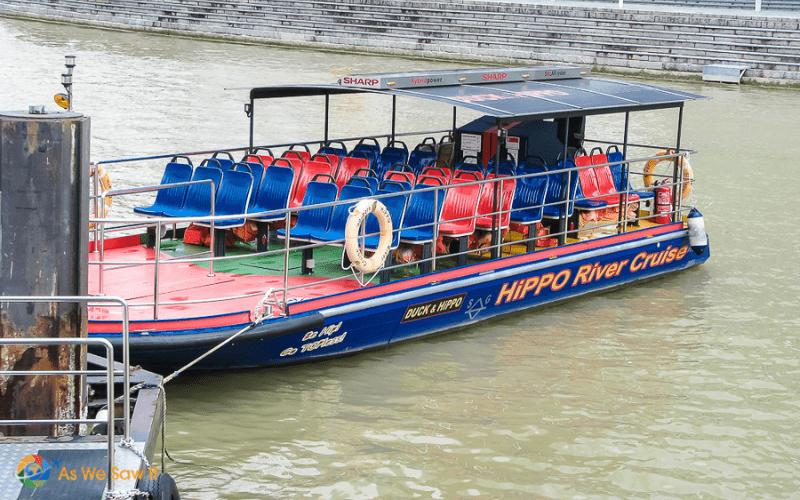 The bountiful nature in Singapore makes it one of the most pristine city nations in the world. You can enjoy a peaceful and romantic cruise on the infamous Singapore River. The bumboat ride includes a fascinating narration while you marvel at the most aesthetic Singapore skyline.
During the 40-minute Singapore river cruise, you'll enjoy live commentary while you admire the unparalleled beauty of the city's charming quays. Snap engrossing pictures on your cruise expedition and make enthralling memories.
6. River Wonders Singapore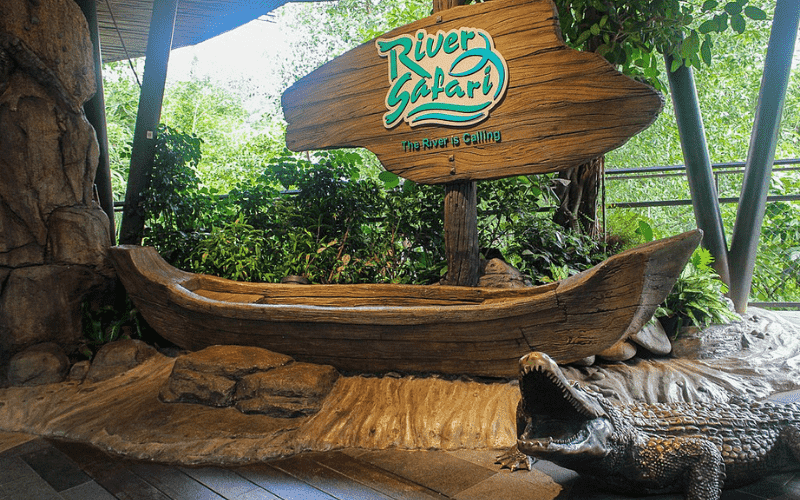 From Egypt's Nile River to the Mississippi and the Yangtze, this serene and calming river-themed zoo and aquarium is a perfect addition to your travel itinerary. River Wonders, formerly known as River Safari, is part of Singapore's Mandai Wildlife Reserve and Asia's first river-themed wildlife park.
Hop on for a boat ride to discover a variety of fascinating creatures along the water's edge. You'll be enthralled by the sights and sounds of animals that hail from the Amazon. There are over 6,000 animals at the wildlife park, including 40 threatened species, with zones that replicate the habitats of rivers across the world.
7. Singapore Flyer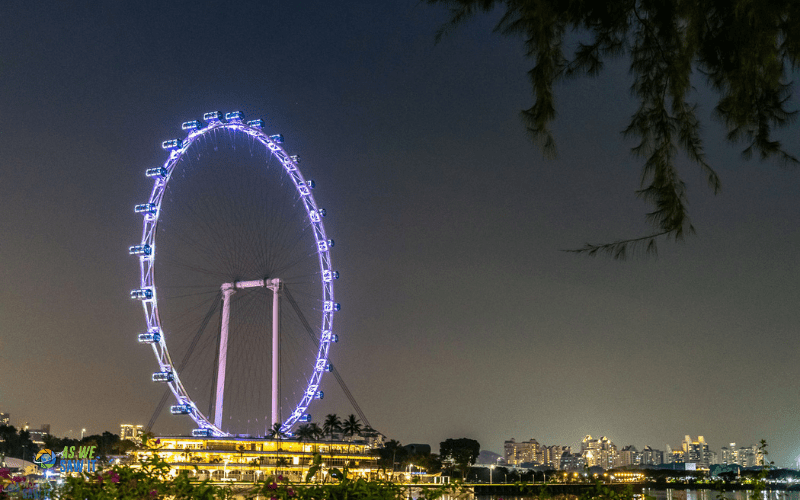 Observe the distinct Singapore skyline from an observation deck like no other. The Singapore flyer is a unique giant Ferris wheel featuring 18 air-conditioned capsules that promise you a perfect view of the marvellous Singapore city at night. These capsules have giant LED screens narrating the vivid and pragmatic history of Singapore that tourists should be aware of.
Perched at a height of 165 metres, this flyer features a 360-degree panoramic view of the Singapore River, Empress Park, Merlion Park, and Raffles Park. Click awe-inspiring pictures with the bright cityscape as a backdrop. The flyer also offers ethereal dining options that you can indulge in.
8. Wild Wild Wet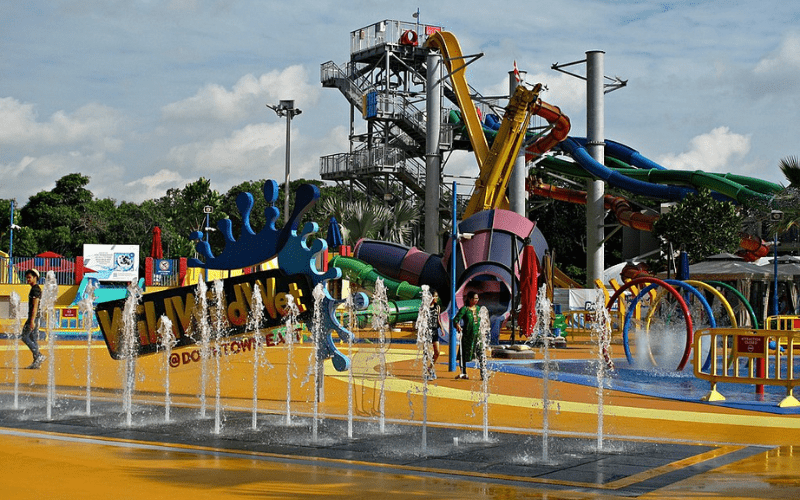 You are never too old for a fun swim and splashing experience at the largest waterpark in Singapore city. This waterpark is spread over an enthralling space with 16 exciting rides to keep you busy. Made for the adrenaline junkies the mat racer body slide will have you scream your lungs out.
This waterpark features the most extravagant slides that begin from a height of 50 feet. Experience the most engrossing tunnel rides, whilst also sun bask in the never-ending stretch of lazy pools. The most recent addition to the Wild Wild Wet waterpark is the Kraken Racer, Free Fall, and Kid Zone, all of which will keep you coming back for more.
9. Adventure Cove Waterpark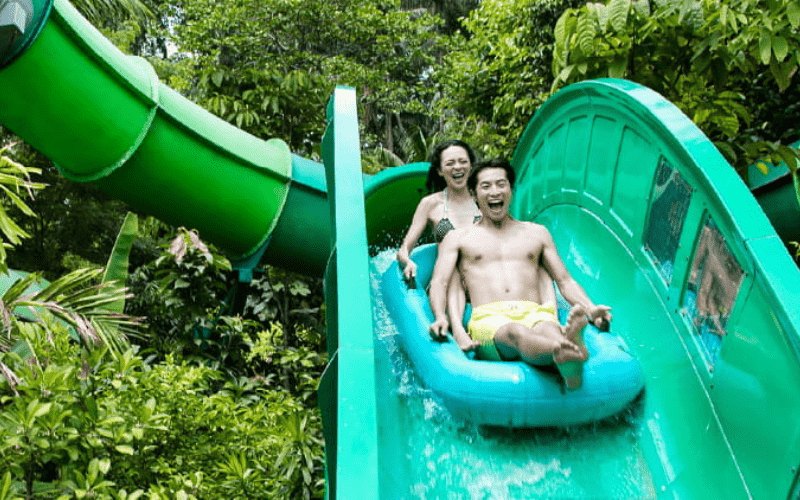 Adventure Cove Waterpark Singapore is an aqua park located in Sentosa, Singapore. The waterpark features a variety of slides and rides, as well as a marine life park where visitors can interact with dolphins and other sea creatures.
Visitors to Adventure Cove Waterpark can enjoy a variety of slides and rides, including the Adventure River, which winds its way through the park, and the Rainbow Reef, where visitors can snorkel with tropical fish. Other attractions include the Bluewater Bay wave pool, the Riptide Rocket water coaster, and the Whirlpool Washout.
In addition to the slides and rides, Adventure Cove Waterpark also features a marine life park where visitors can interact with dolphins and other sea creatures. The marine life park includes a dolphin lagoon, a coral reef aquarium, and a turtle hatchery. Visitors can also take part in educational programs about the marine environment and the animals that live there.
10. SEA Aquarium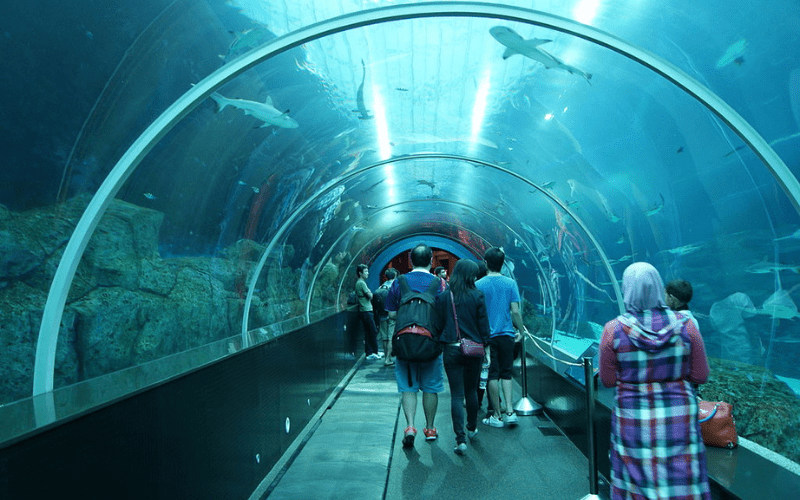 This splendid aquarium features a myriad of exotic marine life like no other. From giant sharks and stingrays to vibrant groupers, and from exotic jelly fishes to vivid corals, this aquarium will teleport you into another dimension. The SEA Aquarium has over 1000 species from 45 different and exotic habitats.
The beautiful and enthralling jellyfish and starfishes in the large glass cases pose as the perfect background for all your vacation pictures. The park also boasts of interactive sessions with dolphins and a fabulous sea walking excursion that are a definite try.
Final thoughts
Singapore is a great place to visit, with plenty of things to do and see. If you're looking for an interesting and exotic destination to travel to, be sure to add Singapore to your list!
Save this list of Singapore tourist attractions for later
Pin it to Pinterest!