Every city has certain must-see attractions, and Singapore is no exception. The first time we visited, we basically had to squeeze all the best things to see in Singapore into a day and a half.
Our friends were not impressed. "Next time, you have to go to the Singapore Zoo Night Safari!" they insisted. So peer pressure and thumbs-up TripAdvisor reviews talked us into visiting an attraction without knowing what to expect. The only thing we knew for sure was that we'd never hear the end of it if we didn't make it to the Singapore Night Safari the next time we passed through the country.
After having visited twice, here's our hard-learned travel guide to the Singapore Night Safari. Is it worth it? Read on to find out.
What is the Singapore Night Safari, anyway?
If you're thinking that Singapore Night Safari is just another zoo, you've got another think coming. I mean, it's not like going to the regular zoo at night. This is a separate attraction, right next to the Singapore Zoo, where they keep all the animals that do nothing but sleep while the sun's out.
This is where you get to spy on those critters and see what they do after the gates close for the day.
If this idea intrigues you, read on. Maybe our review will help you determine if the Night Safari is worth your time and money.
#1 nightlife attraction in Singapore
When Night Safari opened in 1994, it was the world's first nocturnal wildlife park. The man who came up with the idea was a genius (you can read his story here). The Singapore Night Safari is considered a world-class attraction, and it welcomes more than 1.1 million visitors a year!
It has also become a significant conservation, rescue and research facility. Most encouraging of all, it has successfully bred a number of endangered species, including Malayan tigers, Asian elephants, fishing cats, Malayan tapirs and Asian lions.
The park's lighting has been specially designed to be only as bright as the full moon, and since animals are used to that, they are awake and active. Visitors have to find their way around with only the "light of the moon" as a guide, but if you have ever gone camping, you will know that it is adequate.
As you might imagine, flash photography and flashlights are prohibited, not only for the well-being of the animals, but for the safety of others. Being suddenly blinded by an unexpected flash can really mess with your eyesight.
How to get to Singapore Night Safari
Let me tell you: Getting there can be a bit daunting. You have a choice: spend your money or spend your energy. Take your pick.
Public transportation
Takes at least an hour each way: First you take the MRT to Ang Mo Kio station, then you transfer to bus SBS 138 and walk from there.
Shuttle bus
On our first visit, our hotel concierge reserved seats for us on the shuttle. Singapore Attractions Express (SAEx) bus stops at selected hotels around the city (route and costs here). We hopped on and chose a seat (very comfy, by the way), and the shuttle completed its hotel route to the Safari. (It wasn't until we were nearly there that the conductor came around to collect everyone's fares.)
Note that the last departure is at 11:00 PM. Our driver advised to take the previous 10:20 shuttle to ensure a seat, because standing is not permitted. If it's full, you'll have to find your own way home.
Schedule: 6:30 and 7:30 pm – arrival at the gate.
Cost: $11 round trip (child $7), or $6 ($4 child) one-way.
Reservations not required.
Book an excursion
Comparable to the price of a ticket plus bus transportation, you can book an excursion with a tour company. This includes a ticket to the Night Safari, hotel pickup and return, and priority boarding on the tram. Learn more here.
Taxi/GrabCar
We've also taken a taxi to the safari and called GrabCar to take us home. (GrabCar is the Uber equivalent in Southeast Asia.)
Private transportation is more expensive. You're paying for the convenience of traveling door-to-door, on your schedule. Note that you are paying PER CAR, not per person, so factor that in if you're comparing prices.
Taxi: Calculate your fare here. I couldn't find a GrabCar price calculator, but I've been told that taxi and GrabCar prices are comparable.
Night Safari entrance
As with most parks, the zoo entrance is lined with shops and food joints. There are a number of places to eat at the Night Safari at assorted price points.
The food court has a traditional kampong (village) ambiance, in keeping with the overall adventure theme you'd expect at a zoo. Most special diets can be accommodated because it has a nice variety of options, from tasty satays to noodle soups, fish and even burgers and beer.
Your food options include:
Jungle Rotisserie (roasted quarter chicken) – you can watch the Thrumbuakar performance from your seat.
Ulu Ulu Safari Restaurant (buffet plus local a la carte options like chicken rice and laksa)
Safari Sizzles (hot dogs & fried snacks, plus both alcoholic and non-alcoholic drinks)
Zebra Cafe (soft serve frozen yogurt, snacks and drinks of all types)
Ben & Jerry's (ice cream treats)
Casa Italia (32 flavors of gelato)
Mandai Mart (fruit cups and slushies)
For us, it was Ulu Ulu on both occasions, because Dan enjoyed their delicious Indian buffet that much the first time. This is one case where doing a bit of prior research would have paid off. We arrived early so we'd have more time for dinner, only to find out that they offer an Asian buffet first.
Just so you know, their Indian buffet starts at 8:30.
Night Safari's Zebra Cafe has some really fun chairs.It's obvious that the interior designer was talented. We were surprised by the designer's attention to detail – even in the washrooms! They are designed with an open plan, with waterfalls, floor-to-ceiling windows, and lush landscaping that makes you feel like you're washing your hands in a tropical garden. I've read that they won awards for them. (Umm … awards for bathrooms?)
IMPORTANT NOTE: DO NOT go to Singapore Night Safari expecting to get good photos. You won't. Cell phone cameras are not equipped to capture good photos in limited light, especially when the subject is moving. A tripod and fast camera lens are essential for good photos, so if you have them, come prepared.

Singapore Night Safari is divided into seven geographical zones. There are four pathways that lead you through them all.
Tip: Remember to wear shoes with good traction. Some areas can be wet and it is easy to trip in the darkness.
More than 59 exhibits and 1,000 animals live here. Their enclosures are grouped into geographical regions, accessible via 4 walking trails and a tram tour.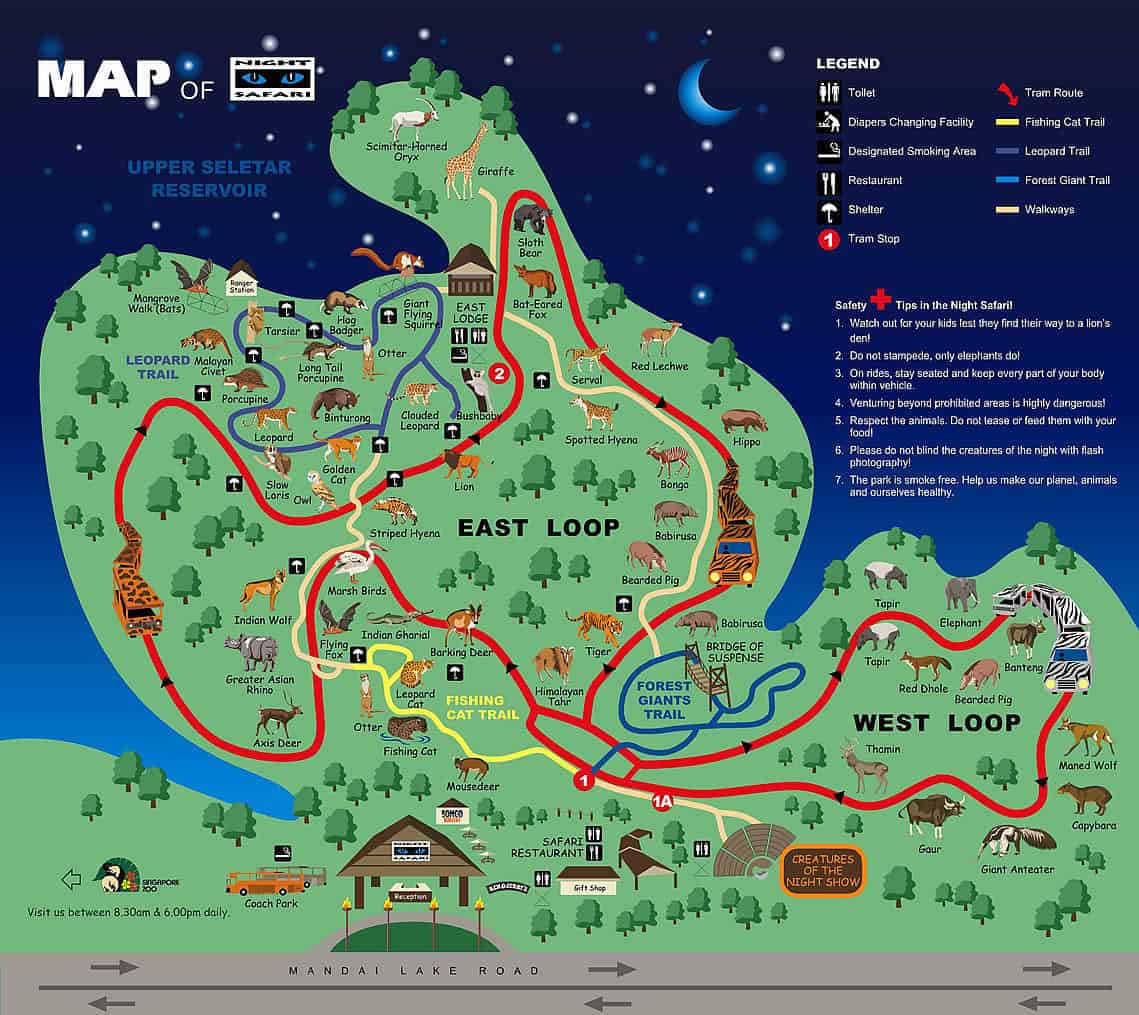 Our suggested itinerary
We'd suggest that you plan your evening around the two live shows they offer. Here's a good itinerary:
6:00 – Dinner
7:00 – Enjoy the Thumbuakar fire show
7:15 – Walk through the trails
9:40 – Tram ride
10:30 – Creatures of the Night show
10:50 – Gift shop
Thumbuakar fire show
Pyromaniacs will really enjoy this spectacle. Fire breathing tribal warriors display their skill as they dance and perform their fiery stunts.
Where: Entrance courtyard (weather permitting)
Time: Daily except Wednesdays at 7pm, 8pm, 9pm (and 10pm on weekends and holidays)
Creatures of the Night
The Creatures of the Night Show is a great opportunity to take a break and be entertained at the same time. You'll see the natural abilities of some of the most fascinating animals in the park. The show lasts 20 minutes but because it's so popular, you should arrive 30 minutes ahead to ensure a good seat.
Where: Amphitheatre
Time: 7:30pm, 8:30pm, 9:30pm and 10:30pm (weather permitting)
Guided tram ride
Don't miss the 40-minute guided tram ride with live commentary, because some of the animals can only be seen from the tram. Your knowledgeable tram guide will fill you in on the beasts and the 6 geographical zones as you drive through them all:
Himalayan Foothills
Indian Subcontinent
Equatorial Africa
Asian Riverine Forest
Nepalese River Valley
Burmese Hillside
What you'll see on your walk through the Night Safari paths
As you walk through the pathways, you will notice that there are no cages; all that stand between you and the wild animals are a moat and a low fence. There they are, only a little more than arm's reach away, awake and doing what they normally would do in the wild.
Wallaby Trail – this Australasian-inspired trail includes an area where cute little wallabies hop back-and-forth across your path. (I almost tripped over one little guy, who wasn't watching where he was going!) You can also enter a "cave," complete with dripping water, to watch nocturnal cave critters.
East Lodge Trail – you can see wild African and Asian animals up close here, thanks to glass-fronted enclosures. Highlights include the splendid Malayan tiger and the devious spotted hyena.
Leopard Trail – the beautiful leopard has his own huge glass-fronted exhibit for your enjoyment. The trail also offers Mangrove Walk and Giant Flying Squirrel Aviary, two walk-through exhibits that allow you to experience creatures swooping around and above you.
Fishing Cat Trail – watch the fishing cat as it tries to reel in its fish dinner in front of your eyes.
In addition, the park has a special area for smaller critters, like reptiles, and each cage is small enough that it's easy to find them. Even there, the caretakers were careful to create a natural environment for their well-being.
Luxury experiences at the Night Safari
Singapore Night Safari offers private tours. You can book a VIP Safari Adventurer Tour, and a dedicated guide will take your group on a private tour of the park.
Plan your trip
Hours: Open daily from 7:15pm – 12.00mn daily (Last ticket sale at 11.15 pm). Retail shops open from 5:00pm and restaurants open from 5.30 pm.
Cost: Adult: S$45 | Child: S$30. Multi-park discounts are available.
Wheelchairs: Contact a guest relations officer to arrange a tram with wheelchair facilities. (Here is a suggested itinerary for wheelchairs.)
For more of the nocturnal zoo, see our Night Safari photo gallery.
Also see our Singapore River Cruise review.
Want to read this later? Save it to Pinterest!