Spending one day in Albuquerque is a vibrant and exciting experience, with historical and cultural roots to both Spanish and indigenous traditions. This city was founded along the famous Rio Grande. It began as a Spanish colony in 1706 and has now grown into New Mexico's largest city.
When we needed to visit Santa Fe for a family event, we couldn't resist renting a car so we could spend an entire week in New Mexico. Of course our plan included one day in Albuquerque, because the city is so enchanting.
We're the first to tell you that all the best things to do in Albuquerque won't fit into one day. Still, a carefully planned itinerary will include many of them. This is Albuquerque as we saw it. We carefully crafted our itinerary to include a variety of sights and activities, with history, nature, shopping, museums, wine, Pueblo heritage … and of course, eating bunches of outstanding New Mexican food. We did a lot of that.
After all, you can't fully experience a place without trying the local cuisine.
Itinerary for one day in Albuquerque NM
There are so many fantastic options as to what you can see in this gorgeous high desert city. How much you can fit in will depend on your travel style and how much time you spend at each location.
So if you decide to extend your stay and spend two days in Albuquerque, we totally understand why!
1. Old Town Plaza
We recommend starting your day with a traditional New Mexican breakfast at Barelas Coffee House. Barelas is an Albuquerque institution. Then begin your sightseeing in Old Town. You'll find a convenient parking lot just one block south of Old Town Plaza.
Old Town Plaza has been the center of the city since its earliest days, and nowhere is Albuquerque's Spanish-Pueblo heritage more obvious than on this square. You'll immediately notice the adobe bell towers and walls of San Felipe de Neri. This Catholic church is one of the oldest in New Mexico, dating from Spanish Colonial times.
In the center of the square, a monument commemorates the birthplace of the city. It's a beautiful sight during the Christmas season, when luminarias and the city's official Christmas tree both light up the Plaza. During the summer months, the square is full of musicians and dancers.
Flat-roofed buildings and flowery archways surround the rest of the square, and Pueblo and Navajo vendors spread blankets in the shade, displaying their handmade silver and turquoise jewelry to passersby looking for a unique gift or souvenir.
Also be sure to explore the side streets, where there are some wonderful galleries, boutiques, and outdoor cafes. Some of the shops offer fantastic locally-made Native American crafts.
ⓘ TIP: The Albuquerque Visitor Information Center is located on the south side of the square. If you arrive after 10 am, you can stop here to pick up a self-guided tour map before you head out to explore.
2. ABQ BioPark
When it comes to attractions in Albuquerque NM, visiting the ABQ BioPark is like hitting the sightseeing jackpot. With four fun and educational attractions all next to each other along the Rio Grande, it's a definite must-see if you're visiting Albuquerque as a family.
Being crunched for time, we spent about a half-hour walking around the grounds. But based on what we saw, you could easily spend an entire day in Albuquerque BioPark alone and never get bored.
ABQ BioPark Botanic Garden ranks among the 12 best botanic gardens in the country. It has more than 1.5 miles of paths through an amazing variety of gardens and conservatories, a fascinating insect exhibit, the Rio Grande Heritage Farm, and more.
ABQ BioPark Zoo is nearly 100 years old. You'll find 64 acres of exotic and native animals in a natural habitats. You'll find your favorite furry friends, along with everything from elephants to koalas, reptiles, and native Southwestern species.
Tingley Beach takes advantage of its riverside location, with wildlife viewing, fishing, boating, picnics and hiking opportunities.
ABQ BioPark Aquarium showcases a variety of ecosystems from around the world. You'll find touch tanks, along with fish, jellyfish, sharks and other aquatic life.
A narrow-guage train connects the Aquarium & Botanic Garden with the Zoo. It runs 1.5 miles along the Rio Grande bosque.
Open: Daily. Tingley Beach is open from sunrise to sunset. Gates at the other BioPark attractions are open 9 am – 4:30 pm.
Cost: Ticket prices vary, depending on age and whether you're a state resident. Click here for details.
3. Lunch in the North Valley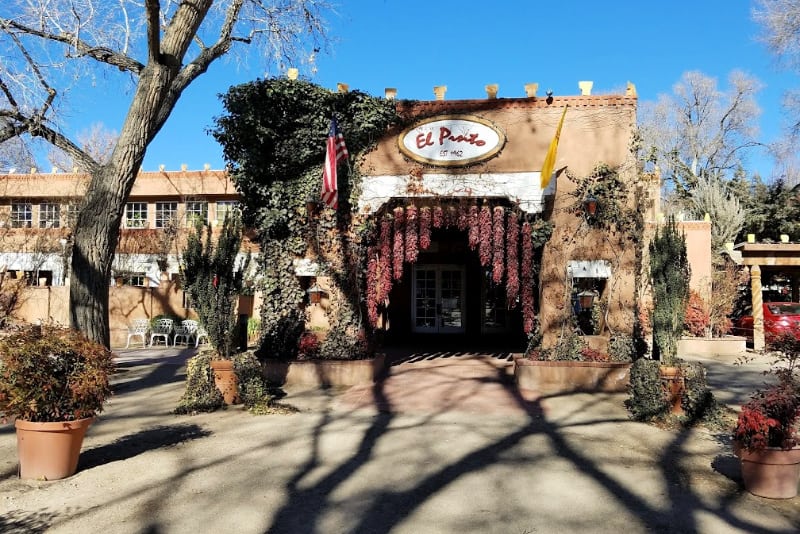 It's time for some beautiful scenery and atmosphere along with your New Mexican lunch. Sitting among cottonwoods in Albuquerque's north valley, El Pinto is one our our favorite restaurants in the city. We'll tell you more about it below, but we promise, it's worth the drive!
For something closer to town, Frontier Restaurant is a good alternative, though it doesn't have the same ambiance.
4. Casa Rondeña Winery
Yes friends, there are wineries in New Mexico! Voted the best winery in Albuquerque seven years running, Casa Rondeña Winery is a good choice if you want to see what New Mexican vintages taste like. The entrance and building architecture feature the typical styles found in New Mexico with Pueblo-Spanish flair.
At $10 for a tasting, you can sample from among the many varieties produced at the winery. You can also order a cheese board with your tasting to pair cheese, crackers and chocolates with the wines. We especially enjoyed the Animante, a decant port-style aged in American and French oak.
Open: daily, 12 pm to 7 pm.
Cost: Wine tastings are $10 per person.
5. Petroglyph National Monument
Petroglyph National Monument is a rock-and-mesa park that was formed from five fissure volcanoes. It stretches for a whopping 17 miles and covers an area of over 7,200 acres. Inside are an estimated 24,000 images scratched into the volcanic rocks by the Pueblo many centuries ago.
This is great fun for all ages and abilities, and very doable even if you're in only Albuquerque for the day. While there are many trails, you can still see a lot in a half hour visit.
Stop in at the park office, get your National Parks Passport book stamped, and pick up a map that will guide you to the assorted trails. Along the well-marked trails, you'll find guides marking the clearest hieroglyphs and explaining what they might mean.
Many of these designs and symbols are still held sacred. They depict everything from humans to animals, geometric shapes, and images that look like spaceships or dinosaurs. Your imagination will get a workout.
Open: daily, 8:30 am to 4:30 pm
Cost: free
6. Sunset atop the Sandia mountains
You have two ways to end your spectacular journey in Albuquerque with a bang including a fabulous view and a stunning sunset from atop Sandia Peak. You can choose to ride the Sandia Peak Tram to the top of Sandia mountain or you can do what we did and drive the back roads to the top.
It might seem like a long drive, but we think watching the sunset from Sandia Peak makes it worth the extra effort.
Fun fact: "Sandia" is the Spanish word for watermelon. 🙂
Albuquerque's high altitude means that the region can get really cold. In the wintertime, most people visit Sandia Peak to ski and snowboard. Then as the weather warms up, the ski trails transform into mountain bike trails. There are hiking trails as well, along with a couple of restaurants.
Open: daily,
Cost: $25 round trip, plus $3 parking fee at the base of the tram
ⓘ TIP: The temperature is always colder in the Sandia mountains, so bring a jacket. Likewise, keep an eye on the weather, as lightning or high winds can cause delays or closures.
7. Get your kicks on Route 66
Now that the sun has set, you may have an appetite. Head back into town along Route 66, the Mother Road of America. Route 66 is one of America's most iconic road trips.
Route 66 runs along Central Avenue, passing through Albuquerque's quirky Nob Hill neighborhood. This is where you'll find the most classic Americana, with everything from glowing retro neon signs to night clubs and classic 1930s motels. The neon makes it an especially pretty drive after dark.
This stretch of Route 66 is unique. Don't miss it, because once you leave, you'll regret not having taken the time to check it out.
Can you say the same for any other Route 66 cities?
Not in our book.
ⓘ TIP: Nob Hill is a fun area at all hours, full of boutiques and galleries. You'll find everything from food trucks to taquerias and hookah bars. Nightlife is active too, with local dance clubs and music bars.
Save this list of things to do in Albuquerque for later
Add this to your favorite Pinterest travel board!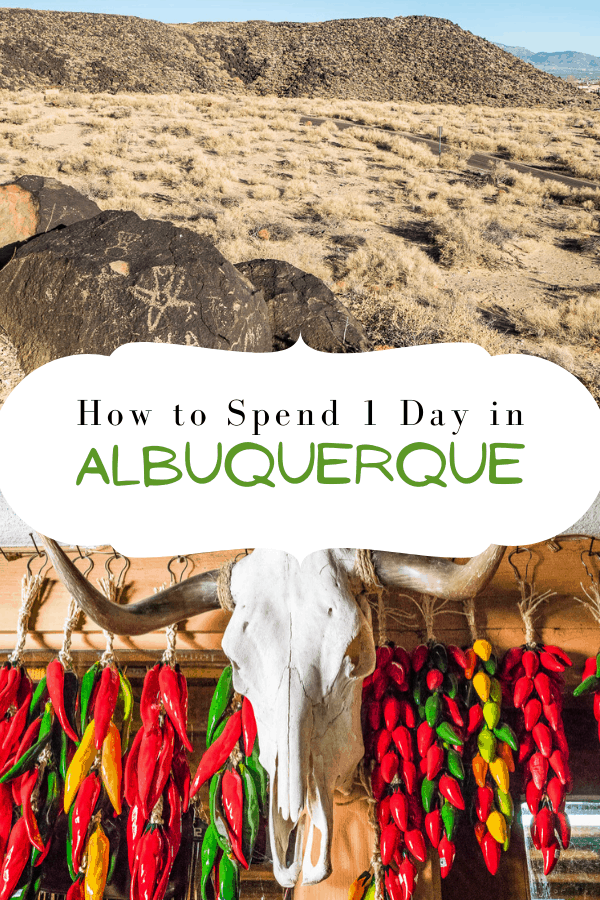 Where to eat in Albuquerque: 5 of the best restaurants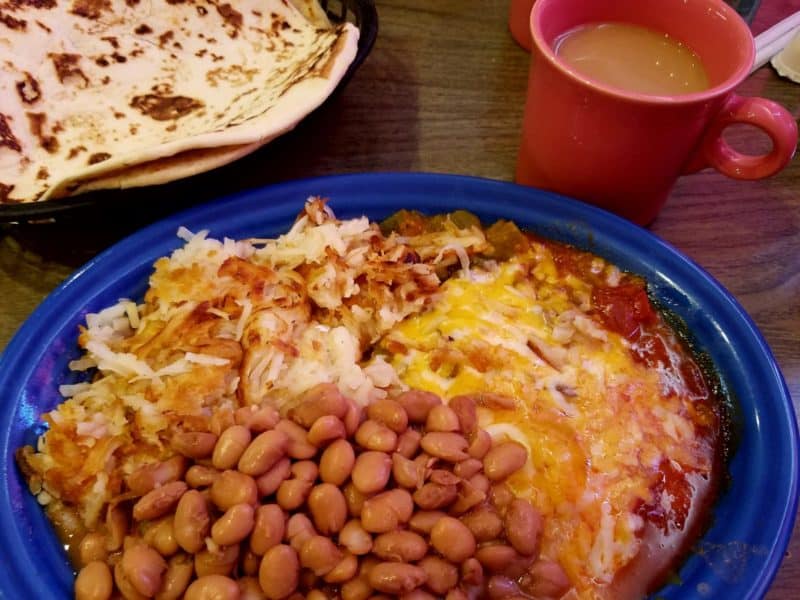 Trying New Mexican cuisine is one of the best things to do in Albuquerque. New Mexico has a unique cuisine that can be found nowhere else on the planet. It's a fusion of Spanish, Native American and Mexican ingredients. An essential ingredient is the New Mexican chile pepper, which is flavorful and not particularly spicy. It's such a favorite that New Mexicans hold an annual Hatch Chile Festival.
Linda lived here for a few years and we revisited her favorite spots.
ⓘ TIP: Expect your server to ask, "Red, green, or Christmas?" Order your food "Christmas style"; it will come smothered in both red and green chile sauce!
Established more than four decades ago, this community treasure is the perfect place to get your day started. You'll find the coffee house downtown in the Barelas neighborhood, but plan to be fairly early … they have a lot of regulars and parking is limited. A scrumptious start to a fantastic day, but avoid their green sauce if you don't eat pork.
El Pinto began as a one room restaurant with just a handful of tables and a small kitchen. Three generations and 60 years later, their salsa has become such a hit that it's sold nationwide (you can find it at Trader Joe's and Whole Foods). El Pinto has been featured on the History Channel and was named the Best New Mexican Restaurant by the people of Albuquerque. They also have an extensive tequila bar, if that's your thing.
This ever-expanding restaurant has been a staple for Albuquerque since it was established back in 1971. They offer delicious New Mexican food, featuring their homemade tortillas, served hot and fast. Linda recommends the burritos, but BE CAREFUL!!! The portions are huge, so much so that we couldn't finish them all.
Another 40-year Albuquerque favorite, Little Anita's has 9 locations to choose from. Their beautiful hand-painted wall murals leave no doubt that you're in the Southwest, and the menu is classic New Mexican cuisine, hand-crafted from handed down family recipes. Linda's favorite dish here is the nachos.
Our final culinary contender offers three locations throughout the city, allowing a better planning choice for lunch or a quick bite. They offer all meals (breakfast, lunch, dinner) and have a great selection of salads and street tacos.
Plan your Albuquerque trip
Here are the tools we use when booking our own trips
Where to stay in Albuquerque
The intersections of two major interstate highways, I25 & I40, makes access to the entire city easy and direct. We suggest arriving the night before, and getting an early start with your Albuquerque itinerary.
You'll need to book a room, of course, and we'd be remiss if we didn't include a few places to stay. Booking.com has a wide range of accommodations in Albuquerque to fit your travel style and budget.
Here are a few of the best hotels in Albuquerque:
Budget – San Mateo Inn. Featuring free Wi-Fi, this hotel is located within 4 miles of historic Old Town Albuquerque and University of New Mexico. Guests can relax in an outdoor pool.
Mid-range – Sandia Peak Inn at Old Town Albuquerque. Located off Route 66, this Albuquerque, New Mexico motel features a year-round indoor pool. Free WiFi is provided. The University of New Mexico is 5 mi from the property. A continental breakfast is served each morning.
Splurge – Casas de Suenos Old Town Historic Inn. Located on a garden compound in New Mexico, this historic bed and breakfast features a separate living area complete with antique furnishings and free Wi-Fi. It is a 10-minute walk from the Botanic Gardens & Zoo, as well as charming Old Town Albuquerque.
Bed & Breakfast – Red Horse Bed and Breakfast. With garden views, Red Horse Bed and Breakfast has a hot tub, restaurant, room service, snack bar, garden, grill, and terrace. The bed and breakfast features both WiFi and private parking free of charge. Continental and Full English/Irish breakfast options are available every morning.
Vacation home – The Burque Boho House is an air-conditioned vacation home with 3 separate bedrooms, a living room, a fully equipped kitchen with a dishwasher and microwave, and 3 bathrooms.
As members of the Hilton Honors loyalty program, we chose to stay at the Hampton Inn on Coors Road. The hotel features a free hot breakfast, a modern fitness center. The hotel a, and free high-speed internet access. It's also in a convenient location, just off the highway and close to the downtown area.
When is the best time to visit Albuquerque?
Like many other "mile high" cities, Albuquerque features a dry climate and enjoys four distinct seasons.
Summer is dry and hot. Daytime temperatures can reach scorching 95º-100ºF but still cooling in the evenings to the 60's.
Wintertime is a harsh opposite, where daytime temperatures average around the 50's. Nighttime drops below freezing, averaging in the upper 20's.
Spring and fall are the best times to visit. with daytime temperatures a comfortable 60°-80°F and evenings cooling off to a perfect 40°-50°F, so you'll need a light jacket.
ⓘ TIP: No matter when you go, you can plan your visit around one of Albuquerque's many festivals. We used this site to find out what was happening during our visit.
Albuquerque International Balloon Fiesta
By far, the best month to visit is in October during the Albuquerque International Balloon Fiesta. The city's skies fill with hundreds of hot air balloons in every shape, size and color imaginable. You can take a balloon ride, then return to solid ground and indulge. Just about every imaginable culinary delight can be found among the many concessions available.
What to pack to visit Albuquerque
The clothing you plan on taking directly corresponds to the time of year your visit takes place. Albuquerque's four seasons will dictate your packing requirements. That said, one major positive of its dry climate is that you can leave the rain gear at home pretty much year-round.
We visited in January and ran into snow at the upper elevations and also in old town along the streets. We wore heavy jackets, warm socks, and knit caps that covered our ears, and we needed them!
No matter the season, you will walk old city streets, hike a trail through Petroglyph National Monument, and climb the Sandia Mountains for spectacular views of the city at sunset. We found that our steady hiking shoes are a must for visiting Albuquerque. We love our versatile Merrills for all year hiking/walking and highly recommend them.
ⓘ TIP: You can find everything we packed for our winter trip in our Amazon store.