Nan Lian Garden quickly whisks you away from the hustle and bustle of busy, noisy Kowloon. A short walk from Hong Kong's Diamond Hill MTR stop, this tiny space of beauty, harmony and seclusion boasts of the perfectly laid out Chinese garden.
But maybe the best reason to visit is the photography opportunities.
Tranquil Nan Lian Garden is a public park built in the Tang dynasty style. It features a lavishly landscaped area of over 3 hectares with water features, pagodas and bridges. When combined with the normal garden decor, this offers a welcoming opportunity that's unusual for photography.
Chi Lin Nunnery
Since Chi Lin Nunnery is adjacent to Nan Lian Garden, it is worth spending time walking through this site as well. Like Nan Lian Garden, Chi Lin Nunnery is serene, peaceful and stunning loaded with bonsai, bougainvillea and of course a large pond.
The Chi-Lin Nunnery is one of the "must visit" Buddhist attractions of Hong Kong. Originally built in the 1930's, also in the Tang dynasty style, it was rebuilt in 1998. An interesting fact is this is built with no nails and all wood.
Here is a collection of our favorite photos from Nan Lian Garden, beginning at the bridge at Chi Lin Nunnery.
We walked across the bridge, down the steps and worked left to right. The area was closed off to visitors, but Blue Pond and Pavilion Bridge are better photographed at a distance.
The Pavilion of Absolute Perfection ("Golden Pavilion") and Zi Wu Bridge
Reflecting in Lotus Pond
Golden Pavilion and Zi Wu Bridge hidden.
Path leading to Blue Pond and Pavilion Bridge
Nan Lian Garden entry area
Incredible display of Bonsai trees
Looking back at Chi Lin Nunnery
Moving towards Blue Pond
Decorative features of Pavilion Bridge
Pavilion Bridge and Blue Pond
Silver Strand waterfall masks the Buddhist vegetarian restaurant.
The Mill at Nan Lian Garden
Viewing Chi Lin Nunnery through the garden
Nan Lian Garden
Photography details
Nan Lian Garden was photographed using a Sony α7r II camera body and a 24-70 mm f/2.8 G-Master lens. Lighting was low level because of the heavily overcast skies, but I still used a B&W circular polarizer. All pictures were taken without a tripod (hand-held).
Visiting details
Get there by MTR: Diamond Hill station – Exit C2
Address: 60 Fung Tak Road, Diamond Hill, Kowloon
More on Hong Kong
Online
On Amazon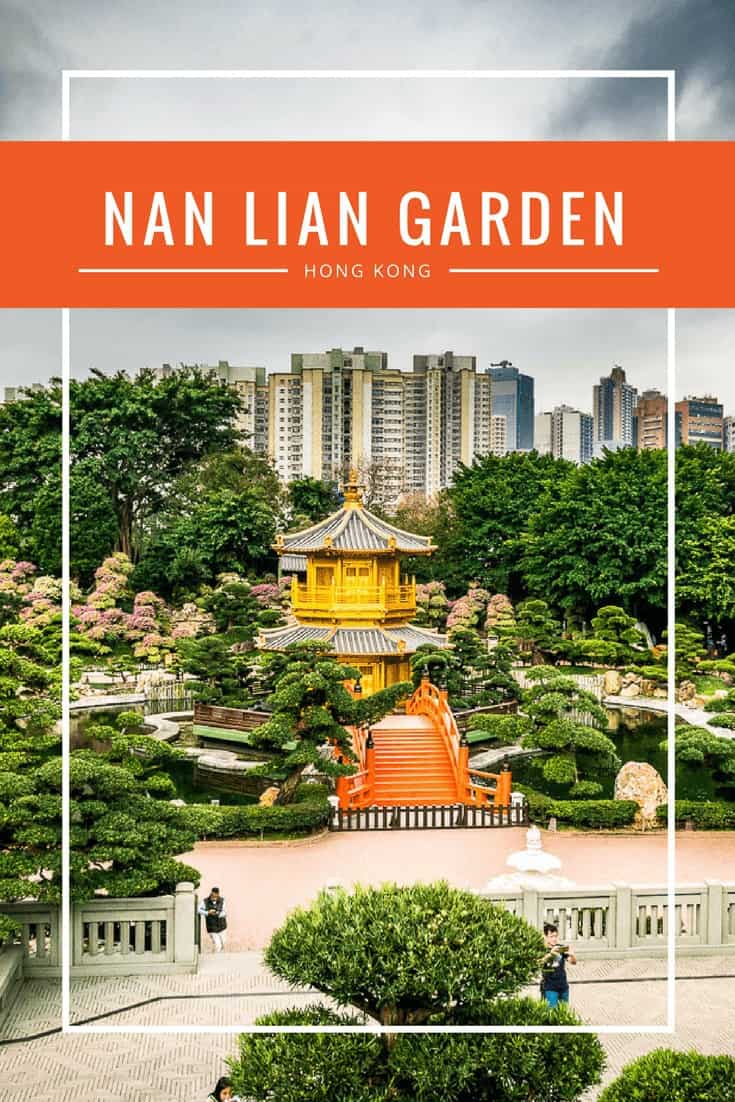 If this post was helpful, please share it with your friends. Are you on Pinterest? Remember to pin this image!