Recently, I was lucky enough to spend a week exploring Hong Kong. As soon as the flight was booked, I started researching all of the things to do in Hong Kong, I soon realized that Hong Kong is considered one of the food capitals of the world!
Whenever you travel, there is such a selection of food to try that it can quickly overwhelm a tourist. So I took a Hong Kong food tour, so a local would show me the best places to try Hong Kong's unique food.
Now, I must warn you that some of the food in Hong Kong is "different", to say the least. But that is what makes it so special! Trying a new cuisine is one of the best ways to immerse yourself in the local culture.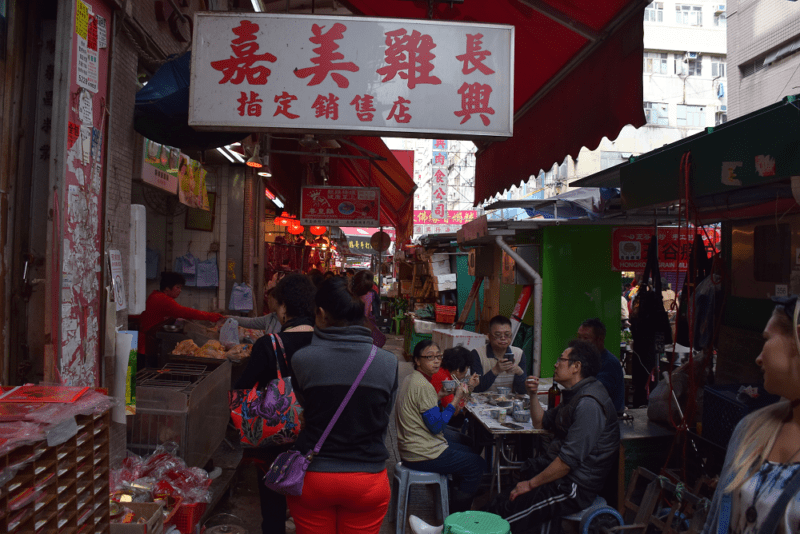 Hong Kong street foods you must try
These are some of the best – and most memorable – food items I tried while visiting Hong Kong. If you ever go to Hong Kong, you may want to try them too!
And if you're squeamish about eating things you don't recognize—or can't eat—I can promise you that a guided street food tour is the way to go! Click here to see some of the best ones.
TIP: Exchange rates fluctuate, but at the time of writing 8 HK$ = 1 US$. Get the current rate on XE.com.
1. Egg tart
An egg tart is a dessert item rather than a main dish. It has a custard-like filling made with egg and sugar inside of a bite-sized tart shell. While the texture wasn't my favorite (it was slimy and more liquid than a pudding consistency), the tart itself was tasty.
Egg tarts are sold in the mornings at practically any bakery, especially in Macau. They are such a common item in Hong Kong you will definitely see them while walking around.
ⓘ TIP: Expect to pay around HK$10 for an egg tart.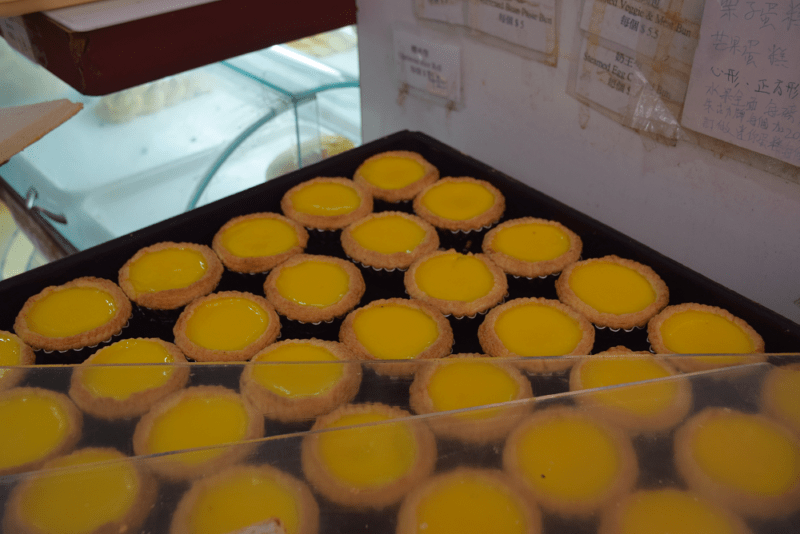 2. Roasted goose with apricot sauce
Roasted goose was my favorite of all the Hong Kong foods I tried! Goose is considered a fancier food item in Hong Kong, so it's common for families to go out for goose for a celebration. Upper-class locals in Hong Kong will eat roasted goose more regularly.
Roasted goose tastes similar to duck to me. They roast it so that the skin is crunchy and salty.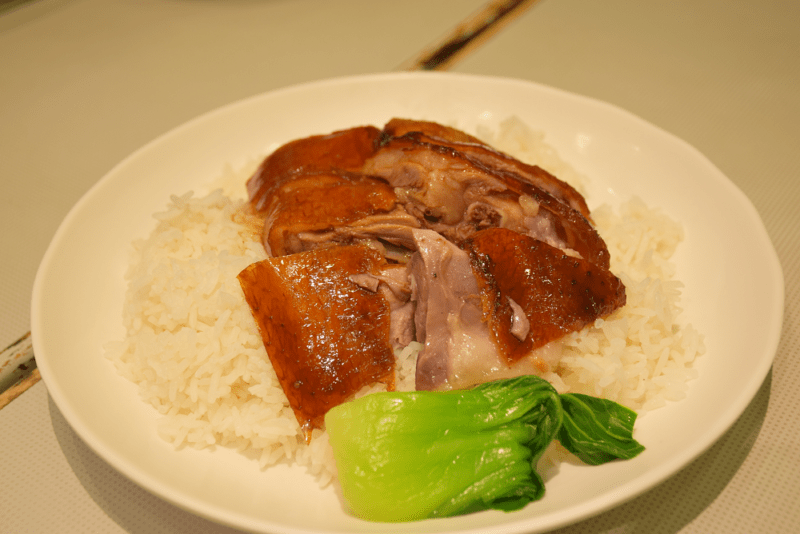 Roasted goose is not found in street food stalls; you will have to go to a proper restaurant to try it. There are Roasted Goose restaurants everywhere in Hong Kong, but there are a couple tricks to picking a good one
1. First of all, only go to a restaurant in which there is a butcher in the front window chopping up the goose. I know, it doesn't sound that appealing to go to a restaurant where there is a butcher right at that front. But, these restaurants specialize in serving goose and people buy the goose from them to take goose home to cook as well. It is also fresh!
2. Second, don't let a line-up to enter a restaurant or no available tables stop you from eating there. The best restaurants will always be busy, and believe me, are worth the wait! The service in Hong Kong is usually fast and the waitresses/waiters are very good at getting tables ready as quickly as possible, so you shouldn't have to wait too long.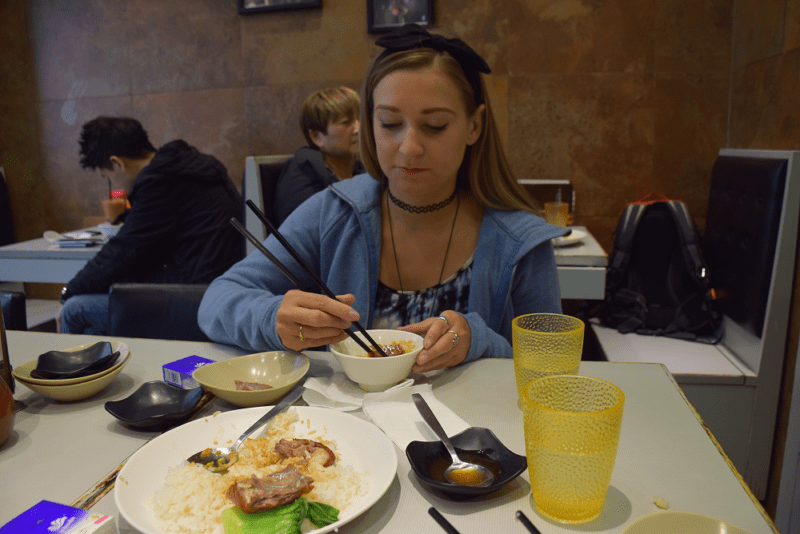 We went to one particular Roasted Goose restaurant which was amazing! That was mostly because they serve the roasted goose with rice and apricot sauce. The apricot sauce is sweet and tasted amazing with the goose. This restaurant was in Mong Kok and is called Chan Kee Roasted Goose.
In fact, I liked the roasted goose so much while on the food tour that I had it twice more on my own before leaving Hong Kong!
ⓘ TIP: One serving of roasted goose costs about HK$50, but if you go to a fancier tourist-oriented restaurant than expect to pay twice as much.
Want to read this later? Save it to Pinterest!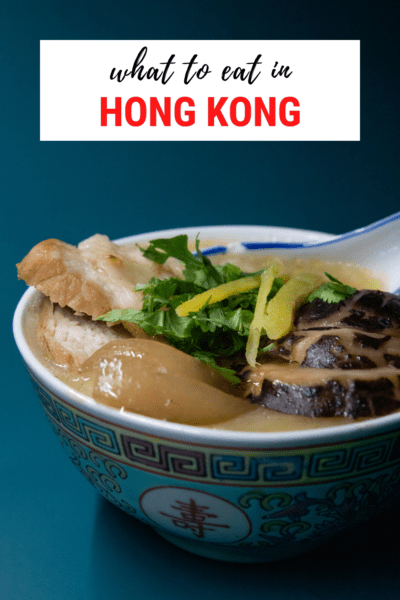 3. Fish balls
The name sound less appealing than they actually are, Fish balls are actually just ground up fish meat and shaped into a ball which is deep fried on a skewer. This is common street food item in Hong Kong for locals and eaten as a midday snack.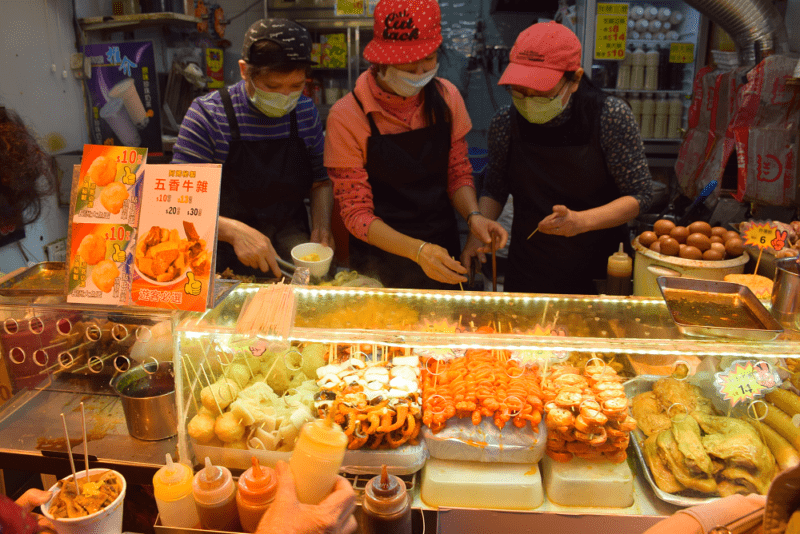 Fish balls taste just like fish. I didn't think there was anything particularly special about them except for the way they are served on skewers.
ⓘ TIP: If you want to try Fish Balls, head to a street food stand, they all serve fish balls! Expect to pay around HK$5-10 for a skewer.
4. Dim sum
You need to try dim sum if you are in Hong Kong. Dim Sum is essentially "dumplings" and come in all different shapes and types. They are little pockets of goodness, an outer layer is either steamed, boiled, or deep friend and inside is a filling of a meat and/or vegetable combination. Spring Rolls are actually considered to be Dim Sum!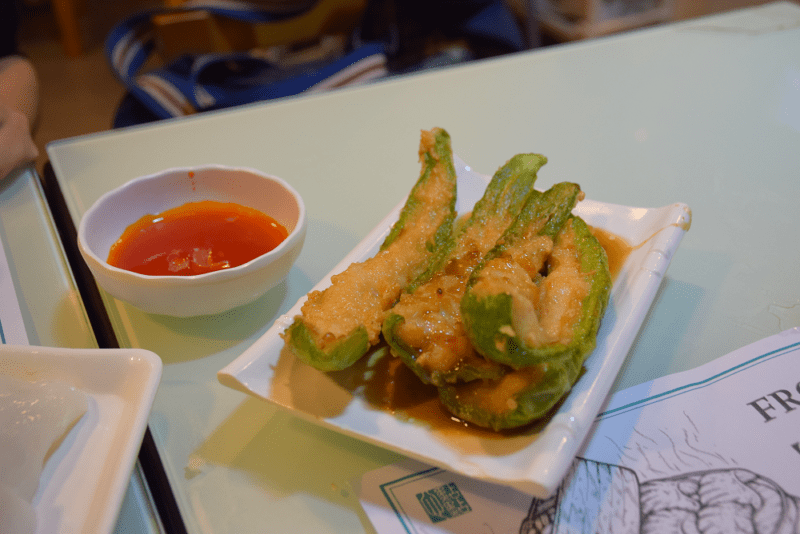 Choosing what kind of Dim Sum to try is the hardest part, which is why locals order many different dishes and share them all.
Dim Sum can be found at street food stalls but because of the variety available, I would recommend going to a restaurant that has a menu available in English – this may save you from accidentally trying something that you don't want to!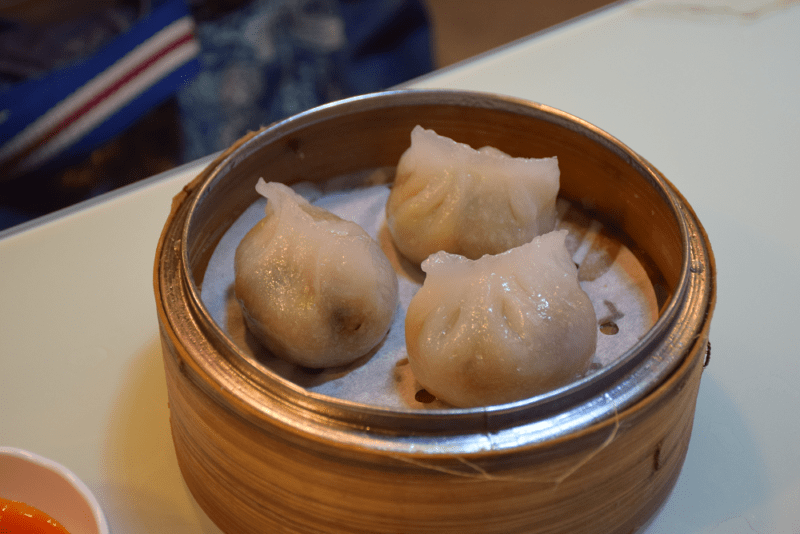 I tried a few different kinds of Dim Sum. I am more of a fan of the deep friend varieties as the steamed ones were a bit too slimy for me. Deep fried Wong Tongs are always a great choice, deep fried green peppers stuffed with seafood was also amazing!
There are two good Dim Sum restaurants I would suggest checking out in Hong Kong. One is called Dim Dim Sum near Mong Kok train station, and the other is Canton's Dim Sum Expert. Both places are well-known Dim Sum restaurants that can cater to tourists with an English menu.
ⓘ TIP: Expect to pay between HK$20-HK$35 per dish.
5. Traditional tofu
Tofu has become a regular western food item. However, in Hong Kong it is different. Tofu is usually served warm and is very liquid and smooth. It is eaten with a spoon with raw sugar sprinkled on top.
The difference between the tofu in the western world and the traditional tofu in Hong Kong comes from how it is made. Traditional tofu is made in the traditional way using a machine called a Stone Mill. This method produces the silky tofu that people in Hong Kong just love!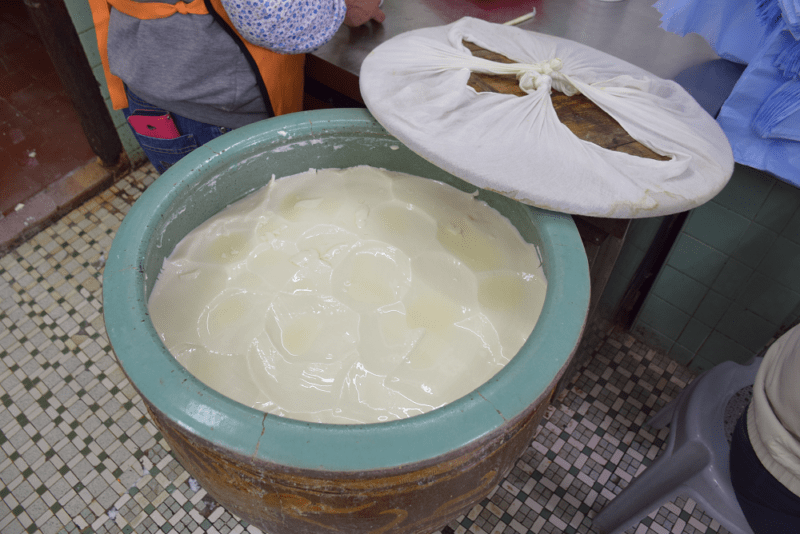 To me, the tofu tasted like nothing and the texture was too different. It was a bit too "soupy" for me. Nonetheless, the shop owner was very proud of it and watched us closely as we ate. So, in an attempt not to offend her, I ate the whole thing with a smile!
While I don't think the tofu was amazing, it is worth trying just to note the differences.
ⓘ TIP: Many small family-owned shops in Kowloon serve traditional tofu. One shop in particular, that is popular with locals and tourists is called Kung Wo Soy Bean Factory.
6. Century-old egg
Last, and certainly the least favorite (but most memorable), is the Century-Old Egg.
It is an old egg, not actually 100 years old, but 60 days old! They store the egg in lime juice to preserve it and then cover it in a pastry. The century-old egg is a dessert item and only served for special occasions.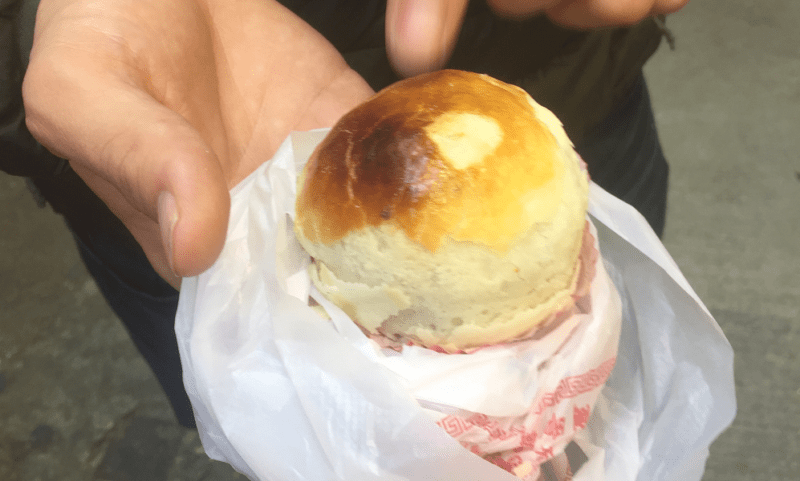 Lucky for me, I was in Hong Kong just before Chinese New Year and Century-Old Eggs were available everywhere. I just had to try it, even though it didn't sound appetizing in the least bit.
I was right, it wasn't good. The pastry was normal and tasty, but the egg on the inside had the consistency of an avocado and tasted like a boiled egg with lime. It was strange, and although not completely repulsive, I only had one tiny bite just to be able to say that I had tried it.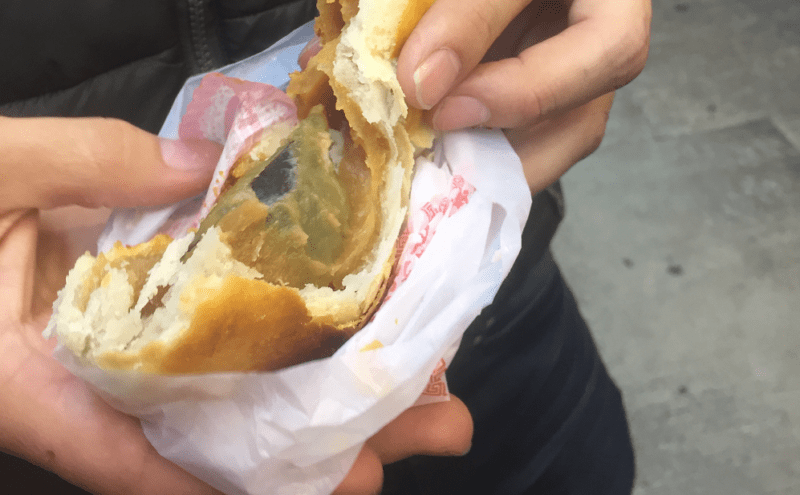 Was the Hong Kong food tour worth it?
Hong Kong was sure an adventure for my taste buds! I didn't love all of the food that I tried, but it was a cultural experience and a memorable one at that.
Would you try it all?