When we discovered La Birreria in Andorra la Vella's medieval center, it was quite a surprise. Tiny Andorra sits between two famous wine producing countries and its tax-free status makes wine incredibly cheap. Truth be told, it hadn't even occurred to us to look for a local beer during our visit.
I'm embarrassed to admit that we didn't think that a country so tiny would produce microbrews. SMH.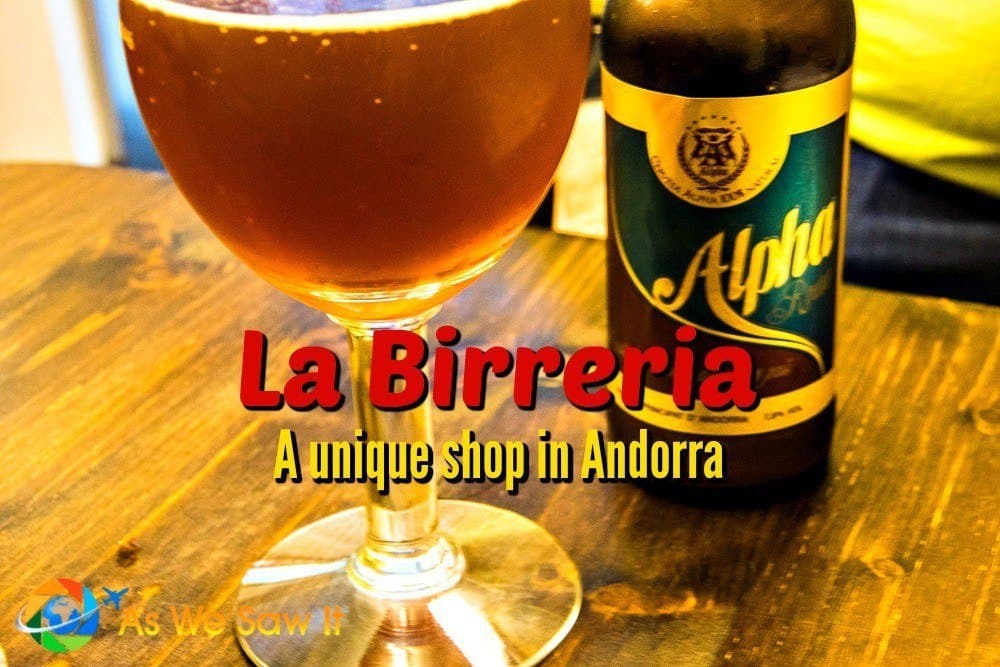 We decided to spend an afternoon in Andorra la Vella, the country's capital (and one and only city). We ended up in the oldest part of the city, drawn in by centuries old buildings and sidewalks that were way too small for delivery trucks.
Late in the afternoon, we found ourselves in front of an intriguing shop called La Birreria.
Through the windows we saw a rainbow of shelves, all chock full of beer bottles. And a handful of high top tables invited us in.
Of course, we had to accept the invitationto see what they had on offer.
What beers do they carry at La Birreria?
Inside, we discovered over 600 beers from different brands from all over the globe. They had Italian beer. Japanese beer. Canadian beer. Everything from Poland to Thailand and beyond.
They even had oddities like Homer Simpson's favorite beer, Duff, and He'Brew, "the chosen beer."
The shopkeeper told us that La Birreria is a popular place in Andorra La Vella. Sometimes they have standing room only. We were lucky, though. We were there when no one else was around, so we could take our time looking over what they had to offer.
The shop had half a dozen or so beers on draft and there were quite a few bottled varieties in the cooler. We had a great time looking at the colorful shelves and reading the labels, but we were more interested in sampling some.
What kind of beer do they brew in Andorra?
For us, part of the fun of traveling is trying local foods and beverages, and beer is no exception. Since Andorra only has one brewery, Alpha, our choices were a little limited, but Alpha does brew a few different beers.
Dan decided to try their Crepuscle stout, while I went to the other extreme. I ordered the Alpha Eagle, which is a blond ale.
Here's an array of the beers that Alpha produces in Andorra: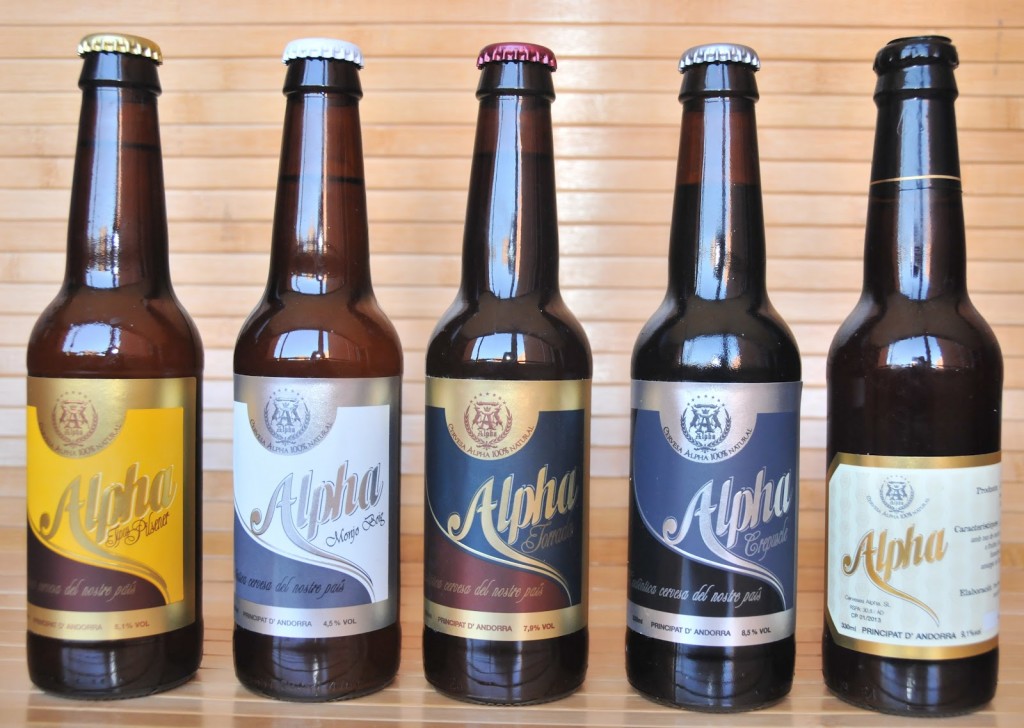 How to visit La Birreria in Andorra La Vella
I'm not sure which we enjoyed more: the shop or the beers. Maybe both. If you're planning to visit Andorra la Vella, consider adding this shop to your list of things to do in the evening.
La Birreria is open from 5-11 pm.
For more information, see La Birreria's Facebook page.
Do you enjoy trying beers or wines when you travel?
Share your wisdom – Leave a comment below and let us know your favorite one.
Want to read this later? Save it to Pinterest!
Share this with your friends on facebook and save this to your Pinterest travel board. For more travel inspiration, follow us on Pinterest too.