I know what you're thinking… Travel to Iraq? Really?? Well, actually, yes. Visiting Iraq was, to us, an absolutely amazing, unique and humbling experience.
Up in the northern part of the country that touches Iran and Turkey, there's a special region called Iraqi Kurdistan. It's a lovely area, home to some of the most breathtaking landscapes in the Middle East.
The region is full of lush greens mixed with golden yellows, snow-capped mountains, and silvery waterfalls. They will quickly remove all those "rocky wasteland" stereotypes you may currently have about Iraq.
Believe it or not, even with all its turmoil and bad press, there is still tourism in Iraq and you can take organized tours to safe areas. However, Iraq is most definitely not the place to do a self-drive tour around the country, even if you are a Muslim and fluent in Arabic (which we are not). While we may be adventurous enough to visit unusual destinations, we're not crazy!
We are, however, quite fond of research. We're also fond of historical sites, particularly those from the Biblical era. I mean, wouldn't it be surreal to see where the magi set off on their journey to Bethlehem, stand where the Prophet Jonah warned Nineveh, and walk through the ruins of Babylon?
Determined to find a way to see some of these sites without risking our necks, we found out that there's a part of Iraq that has a constant stream of foreign tourists. So, we set our sights on the other Iraq, Kurdistan.
Is Kurdistan safe for tourists?
I'll bet you're probably wondering whether or not it's safe to travel to Kurdistan, Iraq. You'll be happy to know that tourists from the surrounding countries consider it to be a very safe travel destination, as it is tucked away in the northern part of the country.
Being a semi-autonomous region, Iraqi Kurdistan is entirely different from the rest of Iraq, especially when it comes to safety. Kurdistan's military force, the Peshmerga, manage effective and strict operations to ensure the safety of the region.
ⓘ Interesting fact: The word peshmerga means "those who face death."
Traveling between towns and cities, you will frequently run into Peshmerga-manned checkpoints. These roadblocks are a protective measure to check who's on the road, and you shouldn't be too worried about them. They're only trying to ensure that no ISIS-type people start any problems in Kurdistan.
Unless you're one of those, checkpoints are nothing to worry about. Rather, you should feel reassured.
We actually encountered frequent roadblocks while we were in Kurdistan. As we hold a Western passport, we didn't have much trouble with them at all. The only time we raised an eyebrow was when they noticed Dan's high-end camera and asked if we were reporters.
Where is Kurdistan? Is Kurdistan a country?
Kurdistan is not a country, it's a region. The region's name actually means "the land of the Kurds." The Kurds have lived in this region for over 2000 years.
Present-day Kurdistan covers large parts of eastern Turkey, northern Iraq, northwestern Iran and smaller parts of northern Syria and Armenia.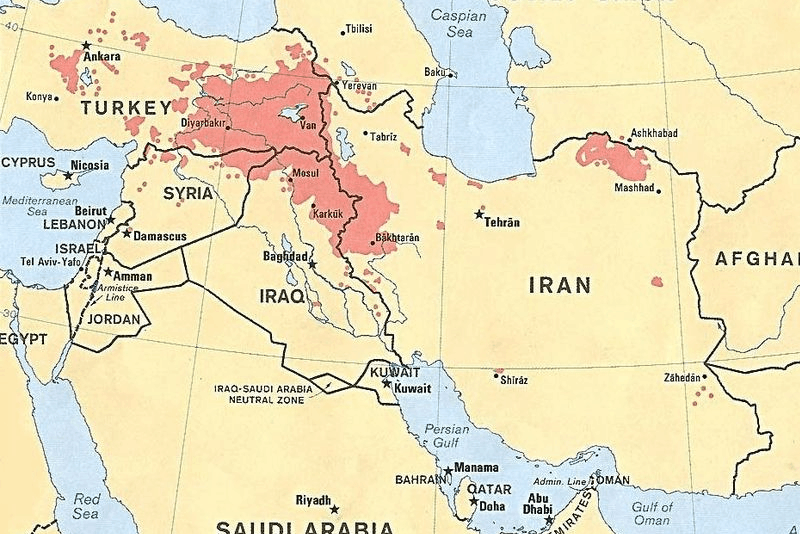 Who are the Kurds?
If we had to choose one thing that made our visit to Iraqi Kurdistan stand out against all of the other travel we have have done thus far, we both agreed that it would be how wonderful the Kurds are.
The Kurdish people are most definitely not Arabs. They may share the same religion (Islam), but Kurdish culture is completely different, and so is their history.
The Kurdish homeland has been occupied by various empires for millennia. Throughout their history, the Kurds have been repressed, often brutally. And that continues to this day in all of the countries we mentioned above.
There are an estimated 35 million Kurds worldwide. They are the largest ethnic group in the world without their own nation. Plus, no matter where and how they live, they always consider themselves Kurds first.
In Iraq, between 23% to 25% of the population is Kurdish, and they have one of the highest birth rates of any group in the Middle East.
ⓘ TIP: Are you a history lover? Well, we found this timeline of Kurdish history to be fascinating. If you read it before you go to Kurdistan, you'll most likely experience a couple of 'ah-ha' moments while your tour guide is showing you around and giving you some insights into some of the history. We sure did.
One other thing we noticed: The Kurds are extremely honest. You can walk through the Central Bazaar in Erbil and see tables full of U.S. dollars and SIM cards. Owners have no problem with taking a tea break with friends and leaving their stalls unmanned. They know no one will touch it while they are gone.
We've never seen anything like it.
What language do they speak in Iraq?
According to Wikipedia, Arabic isi the most widely spoken language in Iraq (specifically Mesopotamian Arabic). Kurdish is the second most spoken.
Iraq is the only country that recognizes Kurdish as an official language. At least, Sorani Kurdish. A few Kurds speak regional dialects, but let's not get into that.
Communicating in Kurdistan
Knowing how to order food, ask for prices and get directions will make life significantly easier, because there aren't many English speakers yet.
We definitely recommended that you try to learn a few of the really basic terms, especially if you're traveling on your own.
Yes = bale
No = ne
Hello = slaw!
How are you? = choni?
I'm fine = chakim
Please = tikaye
Thank you = supas
Where's the toilet? = aw dast la kweya
Language is a huge reason to have the convenience of a guide.
How to get to Iraqi Kurdistan
When it comes to getting to Iraqi Kurdistan, you have two options.
By air
Kurdistan has two international airports: Erbil and Sulaymaniyah. However, you'll find more flights going into Erbil. Flights seem to be cheaper to Erbil as well.
We flew from Amman to Erbil on Royal Jordanian. Turkish Airlines (via Istanbul) and Emirates (via Dubai) also have excellent deals.
Book your flights as early as you can, because fares increase as the date of departure approaches. Click here to check airfare prices and schedules.
Overland
When it comes to entering Kurdistan overland, you can either enter from Iran or from Turkey. The Iranian side is usually very easy and straightforward. Entering from the Turkish side, authorities may give you some issues.
ⓘ TIP: Drones are not allowed in either Iran or Iraq. So if you have one, leave it at home. If they find it, it will be confiscated.
Entering Kurdistan from Iran
Traveling between Iran and Iraq, the only borders which will definitely be open are those that go into Iraqi Kurdistan. Which is just what you need, in this case anyway.
Piranshahr – Haji Omran: We recommend this border for those who are in Tabriz and the surrounding area. On the Iraqi side, it's just 154 km from Erbil. As a bonus, you will pass Rawanduz, one of the best tourist destinations in Iraqi Kurdistan.
Bashmaq – Penjwen: We recommend this border if you are staying in/coming from Tehran and it's very convenient if you are in Iranian Kurdistan already. On the Iraqi side, it is very close to Sulaymaniyah.
Despite being such a sensitive country, the authorities shouldn't give you any trouble, especially on the Iraqi side, which is totally controlled by the Kurds and not the Iraqi government.
Entering Kurdistan from Turkey
The border crossing from Turkey is called the Habur Border or Frontier Gate. You will have to cross a bridge crossing the Khabur river before reaching the control point, and this bridge forms the natural border between Iraq and Turkey.
The crossing is located to the south of the township of Silopi, Turkey.
Do I need a visa for Iraqi Kurdistan?
The short answer to this question is, yes. That said, it is far easier to obtain than some other travel destinations. Depending on the duration of your trip, it may even be free.
Travelers from the following countries will receive a free, 15-day visa for Kurdistan upon arrival:
United States
European Union
New Zealand
Japan
Australia
United Kingdom
Most other nationalities are required to obtain their Iraqi Kurdistan visas from an Iraqi Embassy or Consulate before arrival.
ⓘ IMPORTANT: Your Kurdistan stamp does not allow you to enter areas outside of iraq's designated Kurdistan region.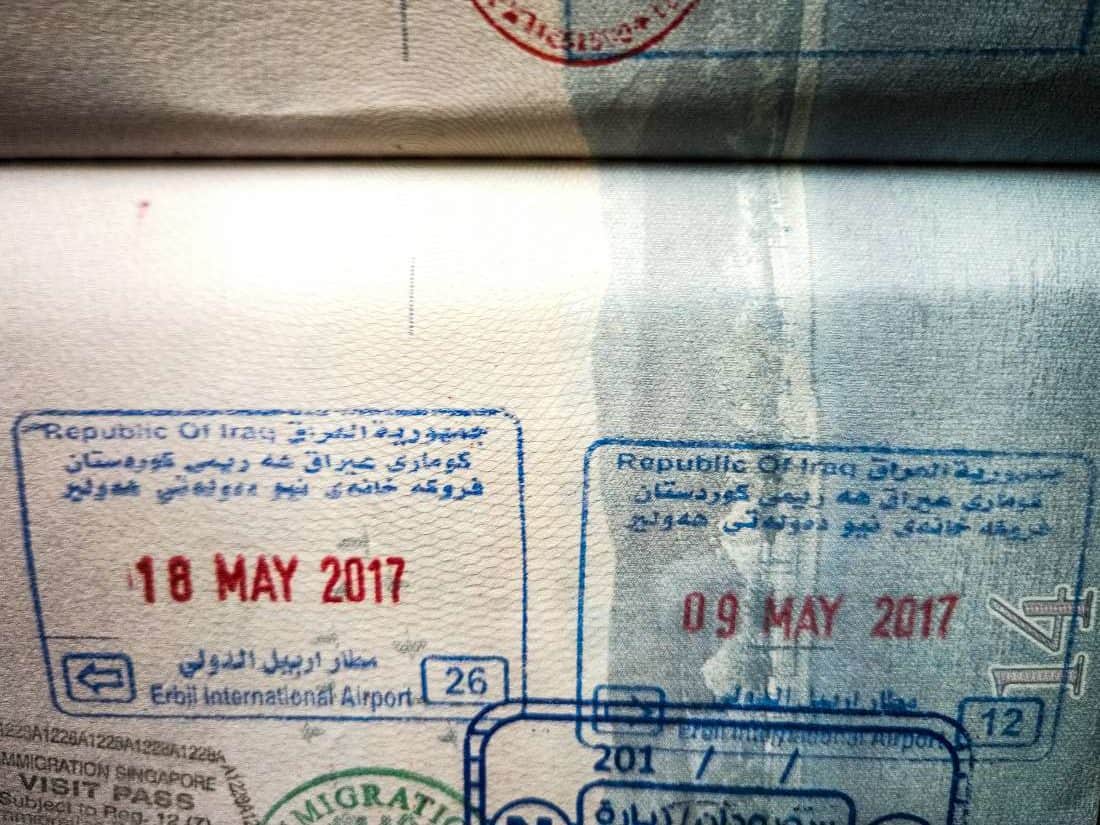 Where to stay in Kurdistan?
Kurdistan has quite a good number of comfortable, quality hotels. If you are doing your own tour and prefer to plan ahead, you can book online. You can also do a web search for hotels in Erbil, etc., and book via email.
If you're using a tour guide, we suggest asking if he can reserve your hotels for you, if you ask. Our wonderful tour guide Karwan even negotiated a lower rate!
Erbil: Merci Hotel
Dohuk: Kristal Hotel
Sulaymanyah: Babylon Hotel As
However, even if you're usually a spontaneous traveler, we don't recommend just showing up and looking for a place to stay. You can, of course, but there's no guarantee you'll find a hotel with staff who speak English.
What currency is used in Iraqi Kurdistan?
US dollars are accepted throughout Iraqi Kurdistan. The official currency is the Iraqi Dinar (IQD), the same currency that is used throughout the rest of Iraq. However, US dollars are widely accepted throughout Kurdistan, so you don't have to worry about conversion.
The basic street rate at the time of writing (July 2019) is fairly constant: $1 USD = 1200 IQD. If you want to check the official exchange rate, use the XE Currency Converter. It has the most accurate and up to date live market rates to help you plan your budget.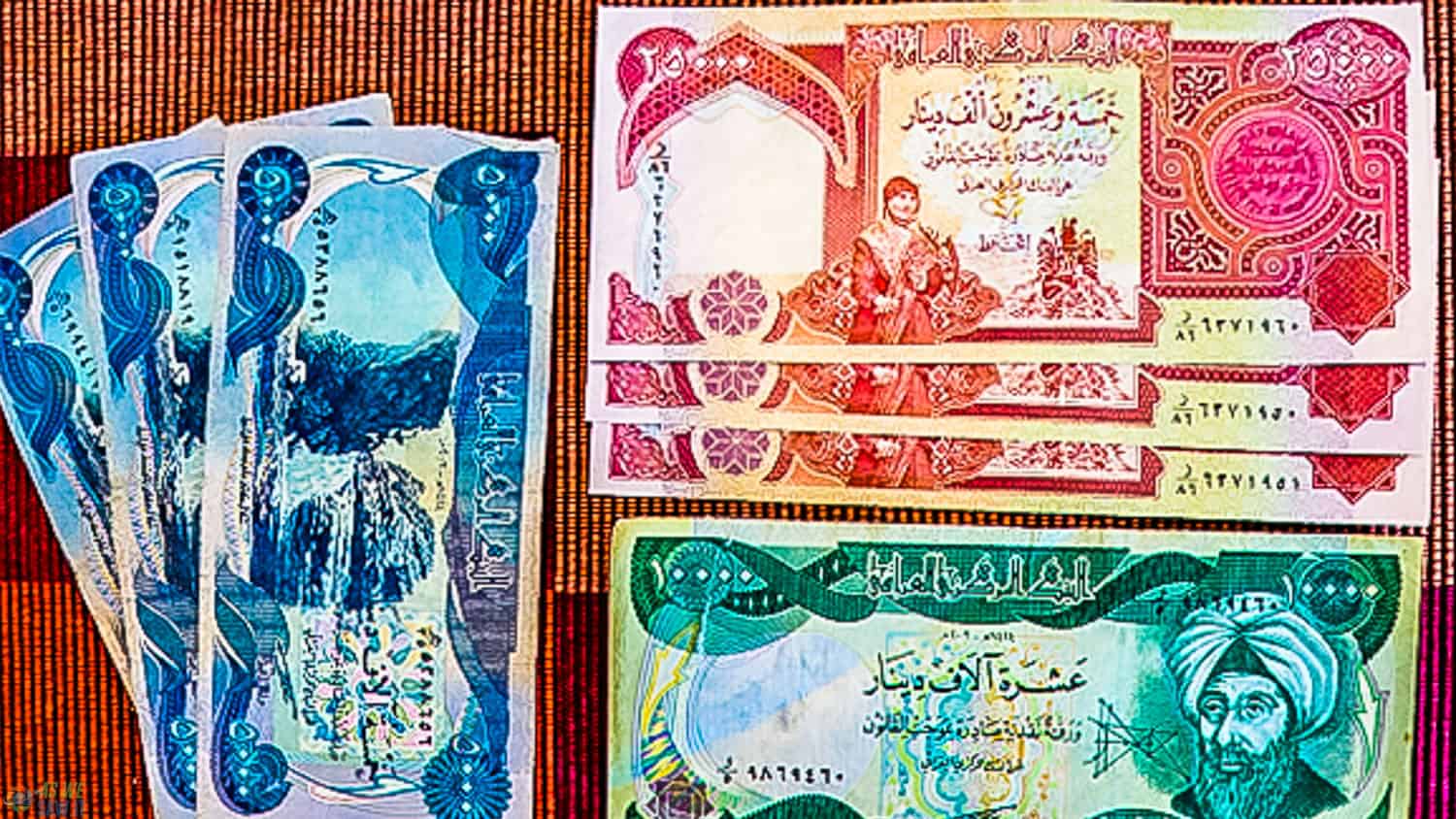 If you don't want to arrive with tons of cash, you can withdraw money from an ATM in Kurdistan, either in US dollars or IQD. That lessens the hassle. Rotana Hotel has ATM machines for US Dollars, and is a 5 star hotel.
Other ATMs dispense IQD and the exchange rate is basically the same as in the streets.
Cost of travel in Kurdistan
Your budget really depends on where you stay and where you eat. Lodging and food will end up being your two biggest expenses, apart from your tour guide. If you don't use a tour guide, you will need to factor transportation into your budget as well.
Budget on food averaging around $7-$10 per person per meal, if it's a heavy meal. You can always find local eateries that will be way cheaper than anything you will get at a hotel restaurant.
Here's a quick breakdown of the cost of a typical meal:
Shawarma (chicken, beef or falafel) = $1 – $1.50.
Roasted chicken & a salad = $5 – $8
Eating at a local restaurant = $7-$12
Sweet treats (cakes, Turkish delight, custards) = $1-$2
Tea = $0.25
Hotels. If you don't stay in a hotel that's more than $50 per night, your trip will be super cheap. Hotels usually include a free breakfast, which is a time- and money-saver.
Tickets and fees. Almost all sites in Kurdistan have no entrance fee, but a handful of sites do ask for a few cents.
Aside from accommodation, hotel, a few snacks, and your tour guide, we don't think you will have many other things to spend your money on. That is, besides your own personal shopping and gifts for family and friends.
ⓘ TIP: If you're in the market for a new mobile phone or automobile, Iraq's prices are unbelievably cheap.
Getting around
When it comes to getting around in Iraqi Kurdistan, the area doesn't have as many options as there are in other countries. For instance, the region doesn't have any trains or subways.
Kurdistan has an extremely efficient system of shared taxis, and most people consider it the most convenient form of transport. However, there are many different ways one can travel around Kurdistan Iraq, here are the different forms of transport you will find in Kurdistan:
Transportation options
Bus: These are basically just minivans and they don't really run to many places besides going between the main cities. So unless you're doing just that, there is really no need to experience one of these. They are also slower than shared taxis and not THAT much cheaper. We advise skipping this experience.
Hitchhiking: Iraqi Kurdistan is autonomous from the rest of Iraq and is really safe for hitchhikers. Many travelers hitchhike all around Kurdistan with no issues – and often for free! People are warm, engaging and extremely western-friendly. Don't be surprised if hitchhiking involves stopping for lunch at a locals home, or even them making a detour so that they can drop you where you want to be.
Shared taxis: With this option you will need to find a "Garaj", which is the point of taxi arrivals/departures. Tell the staff there where you are going, and they'll pop you in the next available shared taxi heading to that destination. As soon as the taxi fills up with 4 or 5 people, you pay the taxi fare and off you go. Simple as that. The only downside is that you'll have to wait for the taxi to fill up.
Local taxi: Official taxis are either cream in color or part cream/part orange. It's unlikely that it will take you longer than a minute to find one. Generally, you can expect to pay between 2000 and 5000 IQD for a local taxi ride in any city or town.
Uber: Uber is a newcomer. At the time of this article, it only operates in Erbil.
Private driver: Private drivers (private taxi) will usually use the smaller roads that pass through the mountains and don't leave the safety of Kurdistan at all. Such trips will naturally cost more, with a ride between Erbil and Sulaymaniyah costing approximately $70 USD. Your hotel will have to organise this service for you.
Private guide: If you do decide to make use of a private guide (again we recommend this!) then you won't need to worry about any transportation admin or costs, as your guide will sort all of this out for you as part of your package.
Travel Kurdish Iraq independently or book a tour?
Okay, so this is the billion-dollar question: Can you travel Iraqi Kurdistan on your own? The bottom line is, yes, you can, but we think it's an unwise way to economize.
Personally, we think it would be a complete waste to travel to such a place and not find yourself a local guide. There are a lot of things to factor in:
Finding comfortable hotels, managing transportation, enjoying the best Kurdish food at the best local eateries.
Quickly clearing Peshmerga roadblocks
Plus, there are the intangibles like being able to read signs at attractions and chat with locals, as we did in
You might miss a fascinating location or not know that there's an interesting story behind it.
Tour companies vs. local guides
We would just like to emphasize LOCAL GUIDE, and not a tour company. There are exceptions, of course, but some of those guys will fleece you.
Considering the economic devastation of the country, we were a little shocked by the fees a couple of private tour company were asking. Funny that. They wanted us to pay around $750/day to tour an area where 3- and 4-star hotels can be found for $50-$75/night? Highway robbery! For that kind of money, I told Dan, we could find our own private guide and create a customized itinerary ourselves.
As it turns out, we were I was right! A private guide around Kurdistan is far cheaper. After doing a lot of research, we found Karwan. He would be our guide, driver and interpreter for literally a fraction of what those tour companies were charging.
Our main requirements for a guide were:
He must speak fluent English – and pronounce it clearly.
He should be an experienced tour guide.
Also, he must be Kurdish, born and bred, so he can explain his culture to us. (Karwan overdelivered on that one.)
When to travel Iraqi Kurdistan
The two most popular months for traveling to Iraqi Kurdistan are April and November. Here is a brief description on the seasons in Kurdistan so that you can decide on a time that really suits you:
Summer (May – September): Summertime weather can be seriously extreme, and temperatures often pass 40°C (104°F). If you're visiting then, you should focus on the mountains, working on your tan and soaking in some local culture and customs.
Autumn (October and November): Rains return in September so Autumn offers a lot of Kurdish beauty. Temperatures are neither too cold nor too warm, so it's a lovely season for sightseeing.
Winter (December – February): Winter can be quite cold (especially in January), bringing some heavy snowfall on the mountains. This is a time for skiing and other winter related activities. Such activities can be found at the very well known Korek Mountain Resort – known for its winter sports and fantastic accommodation.
Spring (March and April): This is the absolute best time to visit Kurdistan. In the month of March, when people celebrate Nowruz, picnics and dancing in the hills and valleys are common. It is a really festive month.
We visited in early May. Temperatures were comfortable and the weather was dry. However, Karwan said that we had missed the lushest time of year.
How much time to spend in Iraqi Kurdistan
When considering how long to stay in Kurdistan, it really all depends on what you plan on doing and seeing. There are a lot of things to see and do in Kurdistan, especially hiking, exploring, history and photography.
If you are accompanied by a knowledgeable local guide who can make the most of your time, then a week in Iraqi Kurdistan will do. A guide will be able to show you all the best sites in an efficient manner.
if you have only a few days, you probably should focus on a region, like Erbil province.
With a week or so, you can visit most of the best things to see in Kurdistan.
If you're going in winter and you want to do some skiing, then around 6 days would be enough time to enjoy the slopes and snow.
Things to do in Iraqi Kurdistan by province
Iraqi Kurdistan is home to some pretty amazing provinces, each with its own unique history and culture to offer. When traveling to Iraqi Kurdistan, you should plan to spend a few nights in each place and move around a lot in order to get the most out of Iraqi Kurdistan.
There are also some amazing day trips to be had from each of the provinces, stopping at many interesting and beautiful sights along the way.
Kurdistan Iraq tourist attractions
There really are so many! Unless you plan on spending a month exploring Iraqi Kurdistan – you will probably not get around to everything. If you do, it will be a very fast paced holiday.
Take a look at our descriptions of the best places to visit – We saw most of these during our one week in Iraqi Kurdistan. Pick from our list of the best things to do in each:
Erbil (Arbil) province
Erbil, also spelled Arbil and known by the locals as Hewler, has a population of around 932,800. It is the fourth-largest city in Iraq after Baghdad, and likely the one you will be flying in to/out from. Erbil is the capital of the Kurdistan Region of Iraq.
Urban life at Erbil (Hewlêr) dates back as far as 6000 years. It is one of the oldest continuously inhabited cities in the world!
Things to do in Erbil
There are many things to do in Erbil and plenty to keep you busy:
Lunch in the bazaar at the well-known Kebab House. Yum.
Have a meal at a local's house: We ate at Karwan's house and met his family.
Erbil Citadel – a fortified settlement on top a hill, created by many generations of people living and rebuilding on the same spot!
Qaysari Bazaar
Visit various parks – the Minare Park and the Shanidar Park are really lovely parks that are nice and quiet.
Syriac Heritage Museum – Everything from clothing, tools and photos, to a fascinating and detailed model of how Ankawa looked until the 20th century.
Erbil Civilization Museum – The origin of some exhibits goes back to 5.000 B.C. and reflects the patterns and ways of life in Kurdistan and Iraq.
Two museums not enough? Visit the Kurdish Textile Museum too!
Places to see around Erbil
Khanzad (Banaman) Castle – This castle has kept much of its original shape, with four round towers at each of its four corners made of stones and gypsum, this is a stunning archaeological site.
Saddam's Tank
Shanidar Cave
Rawanduz Canyon
Bekhal Falls
Korek Mountains – known for its winter sports and fantastic accommodations.
Pank Resort
Gali Ali Beg Falls
Duhok (Dohuk) Province
Like Erbil, Dohuk province and its capital city share the same name. Dohuk is the province north of Erbil and borders Turkey.
It's quite a large city, yet not as large as Erbil, and has around 350,000 inhabitants. We recommend spending a couple of nights in Dohuk and using it as a base to explore the surrounding areas which are really beautiful. There are plenty of hotels, restaurants and places to have a drink in this city.
Things to do in Duhok
Mar Mattai Monastery – Recognized as one of the oldest Christian monasteries in existence and is famous for its magnificent library and considerable collection of Syriac Christian manuscripts.
Lalish – Lalish is to the Yazidis what Mecca is to Muslims: a holy pilgrimage site. Read all about our trip to Lalish here.
Khanis
Rabban Hormizd Monastery
Alqosh
Chwar Stoon Cave – an ancient site where Zoroastrian fire worshippers performed rituals
Duhok Dam
Duhok Bazaar
Gara Mountains – Saddam's Palace
Inishke Cave
Amedi
Sulaymaniyah (Slemani) Province
Sulaymaniyah, or Slemani in Kurdish, is a large city in Iraqi Kurdistan. It is surrounded by mountains such as the Azmer Range, Goyija Range, the Qaiwan Range in the northeast and, Baranan Mountain in the south, and the Tasluja Hills in the west. So if you're after mountainous views – you've found your destination!
Today, Sulaymaniyah has developed in almost all modern life aspects, from hotels, motels, supermarkets and malls to theaters, restaurants and parks.
From a cultural perspective, Sulaymaniyah is considered to be the capital of Kurdish culture. The famous old Saray is situated in the center of the city, while many museums are scattered around too. Sulaymaniyah is home to several universities and educational institutions, both public and private. It is also home to the American University.
Things to do in Sulaymaniyah Province
Explore the town of Sulaymaniyah
Slemani bazaar
Amna Suraka, the Red Prison in Sulemaniya
Koya
Dokan Lake
Goyje Mountains
Shaqlawa
Halabja Province
Truthfully, Halabja is quite a dreary town given its history. Many come to pay their respects at the national monument to the 5000 who died in Saddam's genocidal chemical attack in 1988.
As with everywhere else, people are very friendly here. Halabja the city has much to enjoy, including a market area and attractive parks with amazing views.
Things to do around Halabja Province
Martyrs' Monument and Cemetery: a symbol of Kurdish resistance and hope in the face of dictatorship. The site serves as a reminder and details the crimes against the Kurdish people as an eternal remembrance that will never die.
Gullan Park: an attractive green picnic area 5 km east of Halabja city, known for its fresh water springs, orchards and high trees
Byara Shrines: an old village about 98 km northeast of Slemani, accommodating several shrines of spiritual sheikhs, such as the shrine of Sheikh Alauddin Naqshbandi. If you're looking for famous places in Iraq – this one has a history the whole world has heard of.
Aweisar: a popular tourist destination, famous for its walnut trees, fruit orchards and fresh water springs
Pasha Mosque: dating back to the seventeenth century and built by Grand Mohammed Pasha, who was the grand father of Othman pasha Jaff, this is a sight to behold for sure.
Twila: located around 100 km east of Sulaymaniyah and known as the heart of Horman, this place is surrounded by mountains on all sides, ensuring perfect climatic conditions and lovely picture opportunities.
Food in Iraqi Kurdistan
Kurdish food in Iraq is deliciously unique and filled with warmth and culture. Try to experience at least one meal with a local at their house and just embrace the effort and love that goes into such an amazing experience. Karwan, our guide, invited us into his home and the memories will last a lifetime.
Iraqi Kurdish food is typical of the region, sharing similar qualities with Armenian, Arab, Assyrian and Turkish foods. Foods you'll likely come across are:
Dolma (vegetables stuffed in grape leaves)
Kofta (spiced meatballs or meatloaf)
Flatbreads
Honey and black tea
Being shepherds, the staple meats are lamb and chicken. Kurdistan is quite fertile. Vegetables also make up a large part of traditional Kurdish food, as well as dairy.
Kurdish meals are normally eaten while sitting on the floor. Food is served on either a small cloth or a low table placed in the center of the room. Hot dishes, cold dishes, sweets and savories are all served at the same time. It's quite an experience.
ⓘ TIP: Try some lamb or chicken that's been simmered in a tomato and yogurt sauce. It's served over rice or bulgur-pilaf. (Bulgur is a nutty Middle Eastern grain, and has a wonderful chewy texture).
Internet and data in Iraqi Kurdistan
Iraq's wifi is not the fastest in the world, but it is enough to get by and you will find it all across the country in restaurants and hotels (which usually offer guests free Wifi). Internet is not much of an issue when you travel in Iraqi Kurdistan.
SIM card and 3G
You can buy a local SIM Card, but topping up with data is quite expensive compared to deals you may be used to getting. We paid around 7,000 IQD ($5 USD) for the SIM Card and 18,500 IQD ($15 USD) for 5GB of data.
Karwan helped us buy our sim cards in Erbil, at the bazaar. The whole experience was surreal. There were vendors that had piles of sim cards stacked on their tables, and they would just leave them unattended to go for tea! Same situation with the moneychangers; you'd see stacks of USD lying on a table, and the vendor wasn't even paying attention to the table at all. That's what the Kurds are like: they wouldn't think of stealing.
There is a Zeyarah line (Visitor's SIM Card) that some recommend as the best choice for travelers due to its suitable local and international prices specially tailored to travelers. The SIM card is only valid for a maximum period 30 days (you must remember to extend it from 15 days to 30 days, though) and has some pretty good deals on data. We have never used this SIM card, however it has some good reviews from travelers that have.
If you walk into any mobile phone shop and ask for a Korek sim, you will be able to get one, but expect problems with communication, registration and connection doing it this way. If you're not working with a guide, who can help you with it, it's probably best to just find a Korek shop and have them set everything up for you.
ⓘ TIP: To use a new sim, you'll need an "unlocked" phone. If you bought your phone on a contract in your home country, your provider will "lock" the phone until it's paid off. Contact your phone network to arrange to have it unlocked, and don't be surprised if they charge a fee to do it.
What to pack for Iraqi Kurdistan
When it comes to packing for a country with a reputation such as Iraq, people start to wonder if the clothes they pack will be appropriate. The Kurds are very forgiving of foreigners, and you don't need to be too stressed about packing to visit Iraqi Kurdistan. However, very short shorts are not something you should wear out in the streets if you are a woman. You don't want to be giving off the wrong signals.
Hijabs (head scarfs) are only worn by married women, and even then, women don't have to wear it if they don't want to. So unless you want to wear a scarf, you won't need to, unless you are visiting a mosque. If you might want to do that, don't forget to pack a scarf (or buy one there!).
Here's a quick packing list to give you an idea of what to pack:
Scarf (for visiting mosques)
Comfortable walking shoes
Modest clothing that isn't too revealing
Thin waterproof jacket
Quick dry pants/shirts
Hiking boots
Final thoughts on visiting Iraqi Kurdistan
If you're thinking of traveling to Iraqi Kurdistan, then you are in for a treat. Such a trip will touch your soul and the memories will last a lifetime.
From tips and what to know to what to eat and must-see things to do, we hope our travel guide to Iraqi Kurdistan has inspired you to visit.
Would we like to go back to Iraqi Kurdistan? No. We would love to.
Planning resources
Here are some useful links to help you plan your own trip.
IRAQI KURDISTAN TRAVEL PLANNING ESSENTIALS
✔ Travel Guide: We used Bradt's Iraq Travel Guide.
✔ Visas for Kurdistan: Click here to see if you can get a visa on arrival. If you want to explore the rest of Iraq, you can apply here.
✔ Travel Insurance: Covers lost bags, delays, injuries, and more. We like
✔ Currency: This website will help you calculate exact currency exchange values.
✔ Flights: Erbil International Airport code is EBL. Check flight prices here.
✔ Accommodation: Find lodging on Agoda
✔ Getting around: The best way to get around Kurdistan is with a guide. For public transportation options, click here.
ⓘ TIP: Travel insurance for Iraqi Kurdistan can be difficult to find, because many governments and foreign authorities advise against unnecessary travel to Iraq. You can get a policy through only a few companies, including IATI and InsuBuy.
Want a private tour?
A tour guide will greet you at the airport, help with your luggage, escort you to your hotel, help you settle in, then pick you up when you're ready for your first tour.
We highly recommend our guide, Karwan Wahed. Not only is his English excellent, he's friendly, knowledgeable, and easy to understand. Check him out on Facebook and his Iraqi Kurdistan Tours website.
Read more
Online
On Amazon