TV is full of diy home update ideas and entire shows about how to update a house on a budget. The only thing they don't explain is how to get motivated to do the work. And this begs the question we asked when we wanted to sell our 1970s home: Why isn't home improvement a priority until it's time to move?
I mean, why do people put off home renovations and "honey-dos" until it's time to put it on the market?
If it's merely a matter of money, why is it important enough to lay out cash for others but not important enough to spend our money on ourselves? Especially since you can get great rates on home improvement loans through sites like Credible.
If time is the issue, how could we suddenly find a way to fit it into our schedules, when we couldn't find the time before?
If it's a matter of finding the energy, where did we get it, if we didn't have any before?
I don't have an answer to that, to be honest. We were as guilty of putting off our To-Do list as the next person. Okay, we did some minor home renovation along the way, but even though we talked about it a lot, most of the home update ideas were just talk.
We did plenty of reading about every possible to make a house look attractive to buyers … and watched more episodes of Design on a Dime than we probably needed to. Problem was, we put the actual action on the back burner for ages.
Knocking out walls? Only a "someday" idea until we decided to move overseas. We thought it would create a lot of upheaval and interruptions to our lives. It did, but not as much as we'd expected. For sure, it was worth it in the end.
And yeah, we needed to sell, because the bank was breathing down our necks. Yet there was no way we could sell our home as is. Especially in a soft real estate market.
Setting a goal
Well, that was a good incentive, so we set a target date when we would move out. We told friends that we were moving to Bali so we would have to do it. It didn't matter that someone else would enjoy the fruits of our labors. We would enjoy something even better: A new life in a new place.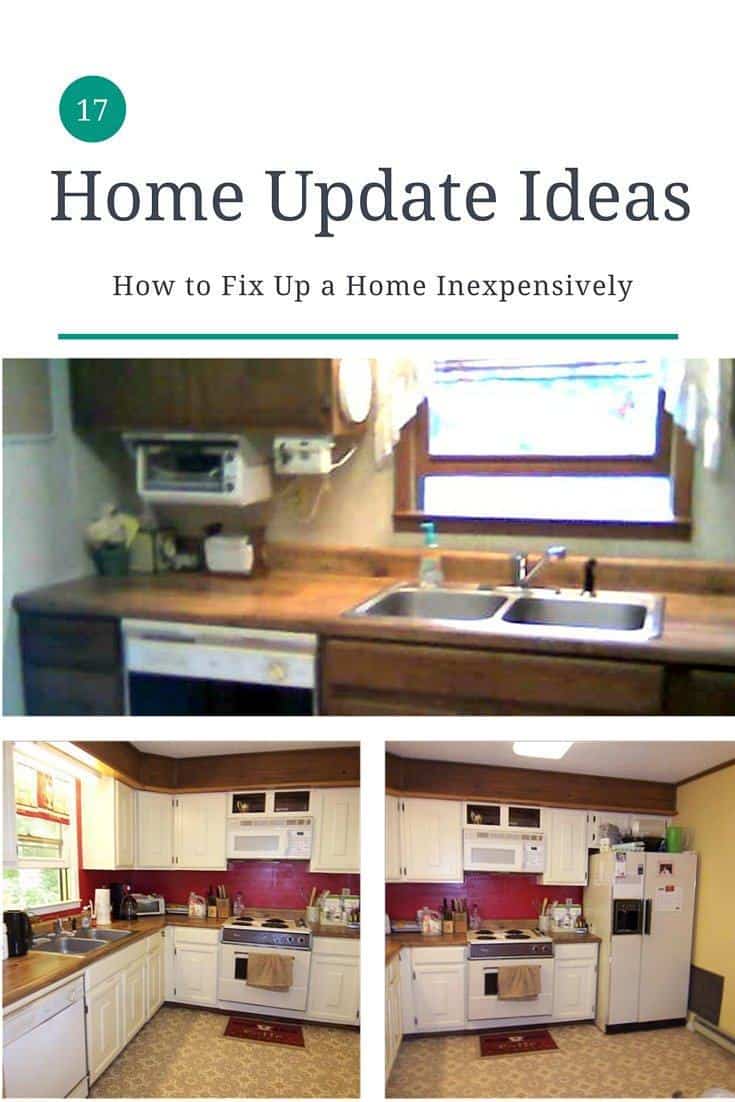 Talk is all well and good, but … If not now, when?
There's nothing like setting a goal to get you moving. We focused on Our Expat Adventure and it really helped to motivate us.
ⓘ UPDATE: After 10 years of living overseas, we promise you: life is slower and cheaper overseas. Even the medical care is good.
Home updating, baby steps style
Those magazine home updates are fabulous – until you see the price tag. Ouch! Certainly out of our budget. But here's the thing: A big chunk of the cost comes in the actual building materials.
Here's the good news: You don't feel the pinch as much if you buy things bit by bit.
We kept our eyes open for sales at the big box stores and scoured the bargain racks at Wal-Mart, buying what we knew we would need down the road. So what if we didn't have time to do it? That is a great way to avoid a serious dent in the checkbook. Besides, doing it that way made paying for our home update project a lot less daunting. Practically painless, even.
Here is a brief account of how we changed our split-level 70's house since we first moved in. I originally wrote it to journal what we did along the way, but now that it's finished, hopefully it will give you a few ideas of your own.
ⓘ TIP: To save money, borrow power tools from generous friends. Who knows, they might even offer to help!
Easy 1970s living room update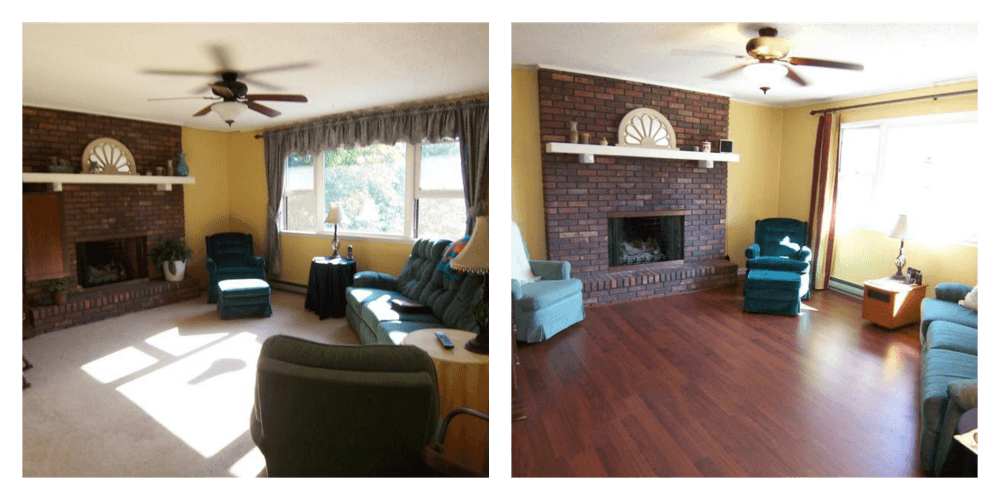 1. Wall color.
Purchased: one 5-gallon bucket each of paint and matching tinted primer in a bright, cheery color, plus painting supplies. (We didn't need quite that much paint, by the way.)
Go ahead and roll your eyes: Our living room was "blessed" with that dark, fake-wood wall paneling that was so popular in the 1970s. The dining room was an ugly, faded mint green. Omigosh, it felt like we were in a hospital.
It's amazing what a little bit of paint can do—and yes, we were lazy. We primed/painted right over everything, even though the previous owners were heavy smokers. But it worked, and it made the dining and living rooms feel like they were covered in sunshine, so we carried the color down the hall and into the foyer.
Great for us, but with 20/20 hindsight, we should have gone with something a little more neutral. It would appeal to more buyers on the back end. A sandy beige with a cheery hint of yellow, perhaps?
2. Bright white trim.
Purchased: One quart of white latex enamel and one paint brush.
Painting baseboards, doors and trim freshened everything up and covered dings and dents.
3. New laminate flooring
Purchased: Laminate flooring, bought from a big box store when it was on sale. (Comparison shopping really pays off here.)
When we moved in, the carpet was so worn and ugly that we ripped it out right away. It's a good thing we did: The previous owner had been suffering from respiratory problems and powdery mold was hiding underneath the padding.
ⓘ TIP: Mold inspector's advice: Sweep up what you can, then spray the floor with hydrogen peroxide. That's the bubbly stuff that people use on cuts.
As for labor, tearing out carpets is quick and easy, not to mention fun enough that your kids would beg to do it. The tack strips were just as easy, only needing the claw side of a hammer to remove. We rolled everything up and hauled it to the dump in the trunk of our car.
We lived with the sub-flooring until we could afford a new floor. We installed most of the tongue-and-groove laminate ourselves. It was really easy, but we did hire a pro friend to do the more difficult parts at the end.
Cost for his labor: about $250.
4. New, modern overhead fan
Purchased: A new overhead fan with a remote control and multiple speeds.
The one we had was dated, broken, and noisy. Our son was working toward his Eagle Scout rank so we asked a friend to show him how to wire it. Read: Free labor.
Cost: about $70.
The 1970s kitchen update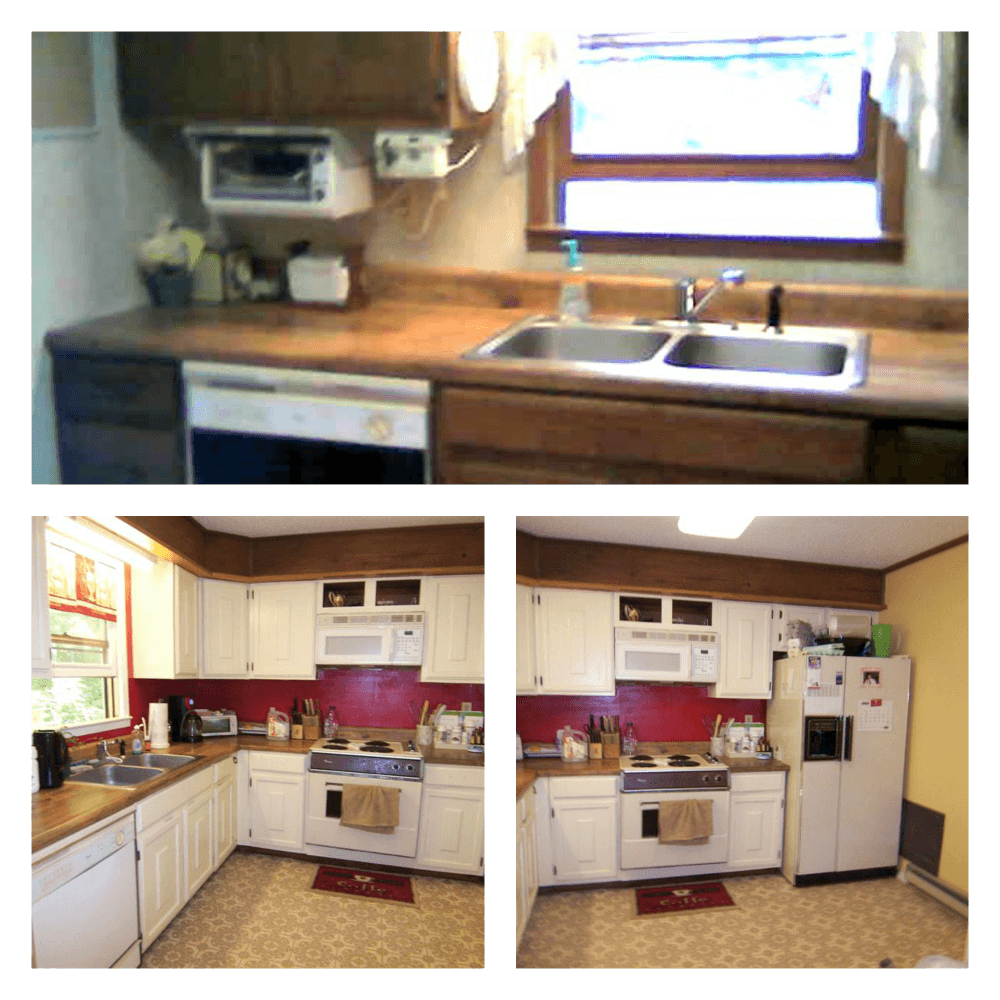 5. New wall color.
The day we moved in we pulled off the kitchen's original, faded floral wallpaper. With one tug. Yikes. After sanding the walls we painted the kitchen walls with some of the living room's paint.
Cost: about $5 for a package of sandpaper; we already had rollers and brushes.
6. Feature color.
The under-cabinet walls behind the stove and sink got a pop of color. We skipped the primer because we'd just painted the room.
Cleanup took more time than the painting itself.
Cost: $10 for a quart of bright red paint.
7. White trim.
Painting the baseboards and wood trim white only took an hour. Easy, peasy.
We painted the windows, trim and baseboards in both the kitchen and living room at the same time.
Cost: $10 for a quart of bright white paint.
8. New cabinet color and hardware.
Wrought iron hardware is incredibly old-fashioned, and dark wood can make small rooms feel dismal. We removed all the old hardware, filled the holes, and painted the cabinets vanilla white. This instantly brightened everything up and made the kitchen feel much cleaner.
The cabinet doors had finger pulls, so we didn't need new hardware. The hardest part was removing the doors. Sure, you can paint over the hinges, but the end result made us glad we didn't.
Counting filler- and paint-drying time, it was a weekend project.
Cost: about $50 for paint and wood filler.
9. New counter top.
Goodbye, Formica burn marks! We replaced the worn countertop with a stock one from Lowe's in a neutral, granite pattern. Conveniently, they sell ones that are pre-cut at with an angle. The big challenge was getting a smooth cut where one edge met the wall, but we managed okay with a couple of tips from friends. (You can see it in the photo from the demolition phase.) It took about a day.
Cost: About $200.
10. New faucet.
To replace a counter in the kitchen, you need to first remove the kitchen sink and disconnect the faucet. Perfect time for a new, updated faucet, one with a high arch to create better sink clearance and an airier ambiance.
Cost: About $200.
Updating the 70s kitchen (phase 2)
This happened a few years later, when we decided to move. It was well overdue.
11. New open floor plan.
We tore out two kitchen walls ourselves. I'll admit, it was more fun than it probably should have been.
12. Glazed cabinets.
We washed, then glazed the vanilla colored cabinets with a warm brown (Sherwin Williams French Roast). It hid a lot of our painting imperfections and gave the cabinets a high-end look. Gorgeous!
Had I realized it would only take a couple of hours (not counting drying time) I'd have done it ages ago. Omigosh, that was too easy for words, and the result was stunning, though I'm sorry to say the photos were lost.
As a matter of fact, glazing was so fun and easy that while I was at it, I decided to glaze the cheap fake-wood medicine cabinets and sinks in both bathrooms too. They sure don't look ancient and beat up now!
13. New hardware.
I also added the cheapest brushed-nickel hardware I could find. The key was to get something that fit the existing holes. It's amazing how such a small expense can change the entire feeling in a room. That little bit of bling? #worththeeffort
Cost: less than $100.
14. New kitchen appliances.
This took a huge bite out of our finances but it was so worth it! To economize we bought floor models from the scratch-and-dent area of the big box store, one by one. We stuck to a black finish to ensure everything would match.
15. New kitchen island with breakfast bar.
This took the most planning because we wanted to install it right over the area where the kitchen wall had been. Okay, the real reason was that we didn't want to rip up our newly installed flooring.
We found model closeouts at Home Depot. Then we adjusted our design for the cabinets that were available. The finish was different, but that's a current trend. No reason for painting and glazing to match.
Remember the Formica counter top we had installed in Phase 1? It was a standard, stock color, so we bought the same style for the island. Using the same style throughout tied the entire kitchen together into one cohesive whole.
A carpenter laminated the new breakfast bar with matching sheets of Formica. (You can find them right next to the ready-made countertops.)
16. New lighting.
Goodbye, fluorescent fixtures! Removing the overhead fluorescent created a hole in the ceiling. Patching, then painting the ceiling was next.
We added a few well-placed can lights on a dimmer, with two pendants over the breakfast bar on a different switch. We saved money by hiring a friend in the home improvement business and offering to be his go-fer so he didn't have to hire an assistant.
17. New window treatments.
A multicolored striped valance, hung high to admit more light, added some personality and warmth. The red stripe matched the wall.
A cheap, white mini-blind from Wal-Mart offered privacy.
Cost: About $25.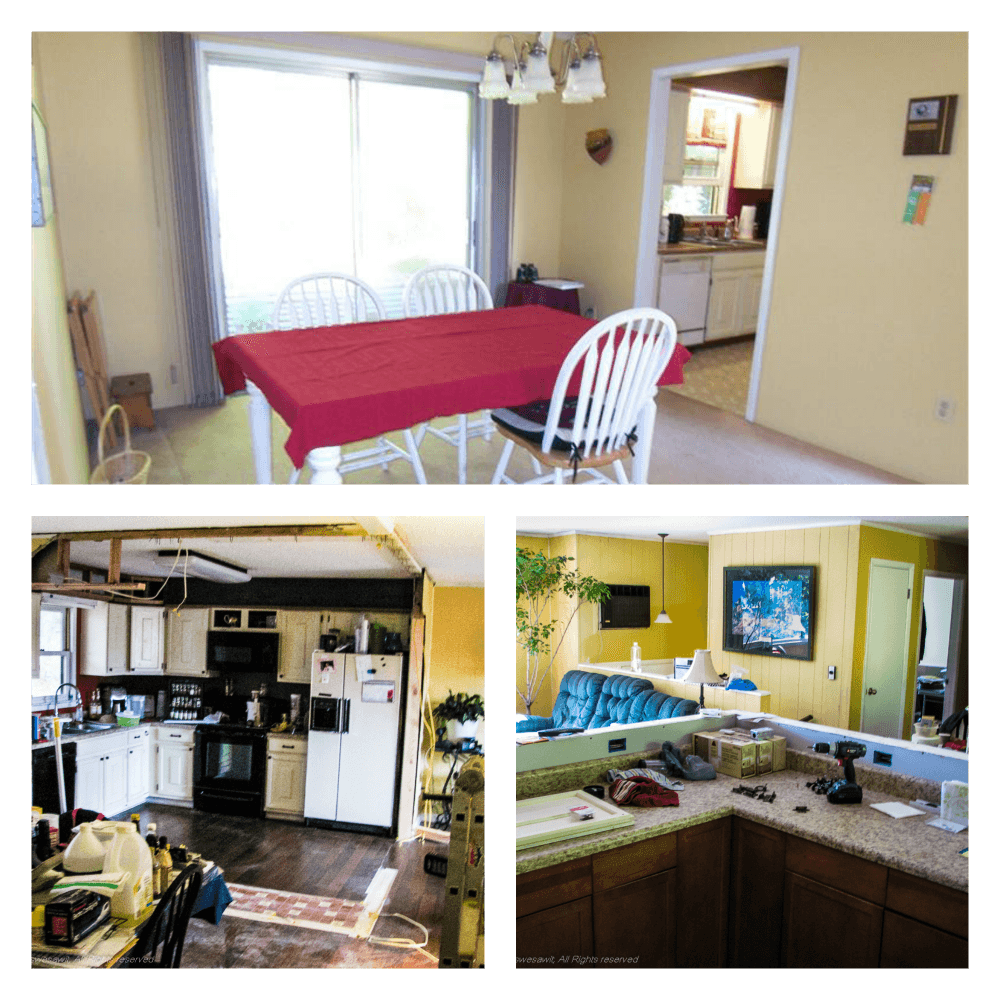 Goodbye, 1970s bathroom!
Avocado. What were they thinking in the '70s? Our master bath was so horrendous I knew it would turn off buyers. All the elbow grease in the world would never make this old bathroom look clean.
We had no choice but to switch out everything, from top to bottom. We paid the sanitation department to deliver a dumpster, removed everything, and out it went.
Cost: Under $2000 for all of this.
18. Paint the walls
A 30-year paint job can look really dingy. One quart of latex enamel = brighter walls (a vanilla-eggshell hue).
White latex enamel for the trim, window and door. Same quart we'd used in the kitchen.
19. Replace the tub
The original tub and shower was a one-piece plastic deal. It and the glass sliding door had two things against them: major hard-water buildup, and 1970s avocado ugliness.
In went a new, inexpensive bathtub and a curved shower rod. Sure, it cost more, but we'd seen it in a hotel and liked the extra elbow room it offers.
20. Replace the floor.
No more peel-and-stick vinyl tiles. Instead: the cheapest 12″ floor tiles that came in a neutral color. Again, we bought them when the store was running a sale.
Also, we replaced the baseboard. One 6-foot piece was more than enough.
It helps to have friends in the renovation business. We borrowed a tile saw and installed the floor ourselves. That said, we know our limitations. It's smart to pay a professional to tile the walls.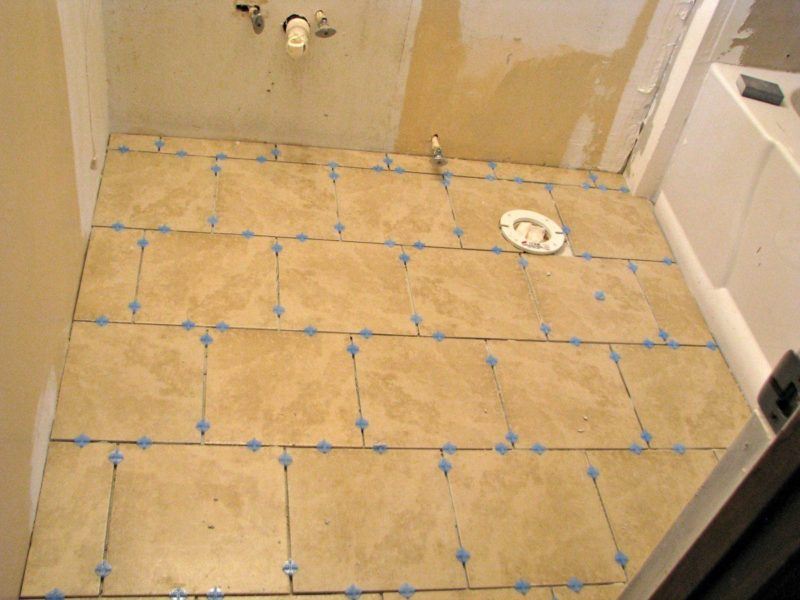 I'm sorry I only have this one shot from midway thru the bath renovation. Trust me: Replacing the ugly toilet and tub surround in the master bath brought our bath into the 21st century. Long overdue.
21. Tile the walls.
Habitat for Humanity has a salvage store. We scored a few boxes of damaged travertine tiles for about $30, and there were enough to use in the shower/tub area.
Two splurges: a travertine soap dish and a narrow strip of 1″ glass tiles for interest (bought on sale). You never know what'll be the tipping point with buyers.
22. Replace the toilet
Once the tub was in, it was time for the new toilet. Turns out, the seat wasn't as low as the old one was. That was nice.
If you're considering this, you'll be pleased to know that the new ones are designed to be more water efficient.
23. New sink and cabinet
We would have reused the cabinet, but it was an odd size and we couldn't find a bathroom sink to fit. We found a sink-cabinet combo on sale for under $200.
24. New medicine cabinet
The mirror on our original medicine cabinet had spots that were missing the silver backing, and the interior was damaged from toiletry leaks.
Our home improvement store has a section where they sell slightly damaged goods at a discount. One day, there was a medicine cabinet that would mount on the wall. It was oversized enough to cover the hole from the old cabinet. Win!
Master bedroom easy makeover
25. Painting bedroom walls
I know, Again with the paint. We hated the dark paneling in the master bedroom when we first looked at the house. And yet, we never did anything about it. Until now.
To save money, we used the same 5-gallon bucket of Harvester Gold paint that we bought when we first moved in. Despite the fact that buyers might not like the color, it was a wonderful transformation.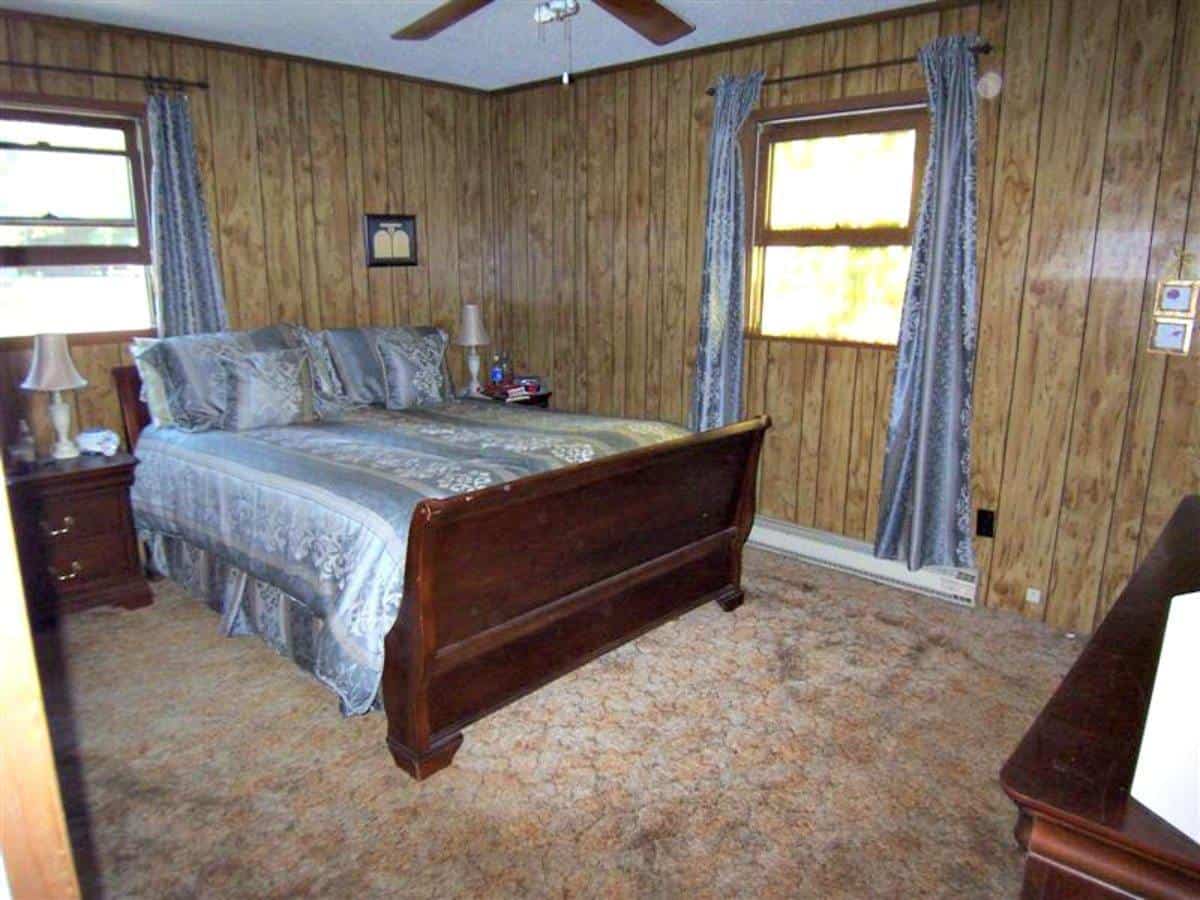 Save this to your home decorating board on Pinterest.