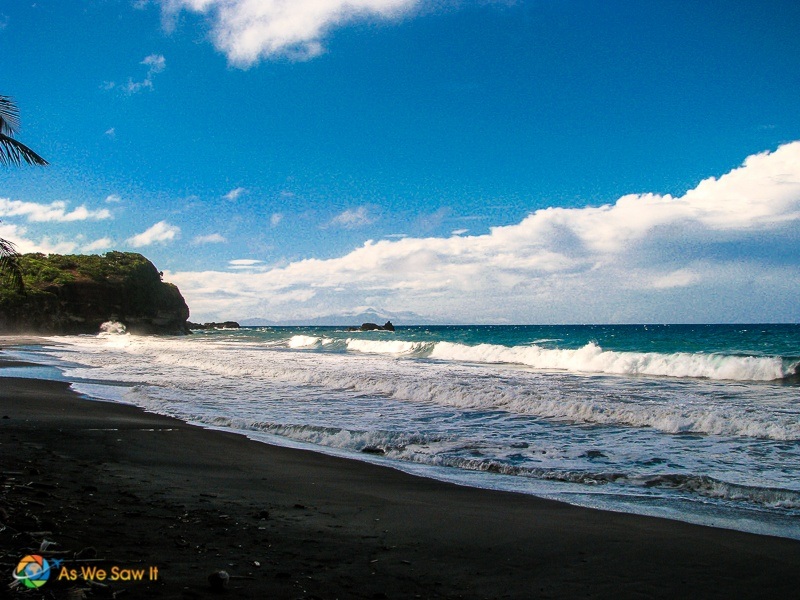 Jack Sparrow was here
Fans of Pirates of the Caribbean would enjoy visiting Hampstead Beach, the real black sand beach where Jack Sparrow narrowly escaped from a horde of enraged islanders.
Graphic artists took liberties with the background but, yes, this is it. (Two other film locations on Dominica are High Meadow, where the cannibal village scenes were shot, and on the Indian River, where the characters went to visit the voodoo lady.)
Hampstead Beach: Dominica's best black sand beach
Unlike the Dominican Republic, the Commonwealth of Dominica has no resorts. Nicknamed "The Nature Island," it has often been said that it's the only Caribbean island that Columbus would still recognize. Bordered on one side by warm, calm Caribbean Sea and by the cold and rough Atlantic Ocean on the other, Dominica has been shunned by developers. Her Caribbean coastline is too rocky for tourists. On the Atlantic side where the nice beaches are, the weather is too changeable.
Which is why we can't understand why it's also known as Number One Beach. This is one of those nice beaches with changeable weather. Worse for developers, rough waves and chilly waters are not what tourists and beach-goers fancy jumping into. Those who don't mind a cold water dip rarely visit because Hampstead Beach is a bit difficult to find. You see, there are no signs along the road to mark the way there.
So much the better for anyone who does manage to find Number One Beach. It is a treacherous, muddy and bumpy drive down through tropical jungle that only a 4-by-4 should make. But those who persevere will be rewarded with a lonely stretch of beautiful, black sand, fringed by groves of coconut palms and jungle and bordered by rocky cliffs at each end.
Dramatic cliffs climb skyward on both ends of the beach. A rugged rock archway stands at one end, constantly pounded by waves and begging for a photo or two. We happily obliged before we hiked to the other end to see what we could see.
Fun at the beach
There, we sighted one of Dominica's 365 pristine rivers and discovered a playground. The local children were laughing and splashing in the river's delightfully warm waters. As we watched, some of the more adventurous clambered onto a nearby rock outcropping. They jumped, dousing the others with even more water and grinning as they surfaced. Look out below!
Obviously we weren't the only ones who think this is an ideal recreation spot!