Places to stay in Panama City
Panama City's historic district may be officially known as San Felipe, but most people know it as Casco Antiguo or Casco Viejo. This once-fortified part of the city has a fascinating history and has been designated a UNESCO World Heritage Site.

In the past few years, Casco Viejo has been undergoing a renaissance. Once it is fully restored we can easily envision that the colorful old town will rival Cartagena in beauty. In the meantime, street artists have been decorating the UNESCO site's neglected walls with their own artistic inspirations.
This is a major problem for the city; although it is extremely creative it is just as illegal. Panama's authorities face the problem with restoring streets and reforming gangs at the same time. Visitors don't notice the social work but they do see the street art. Here is a collection of some of our favorite street art from Casco Viejo.
The ubiquitous dog
This dog appears all over Casco Viejo in various sizes and incarnations. Judging from the smear of black paint though, it appears that in this case someone didn't appreciate the artist's efforts.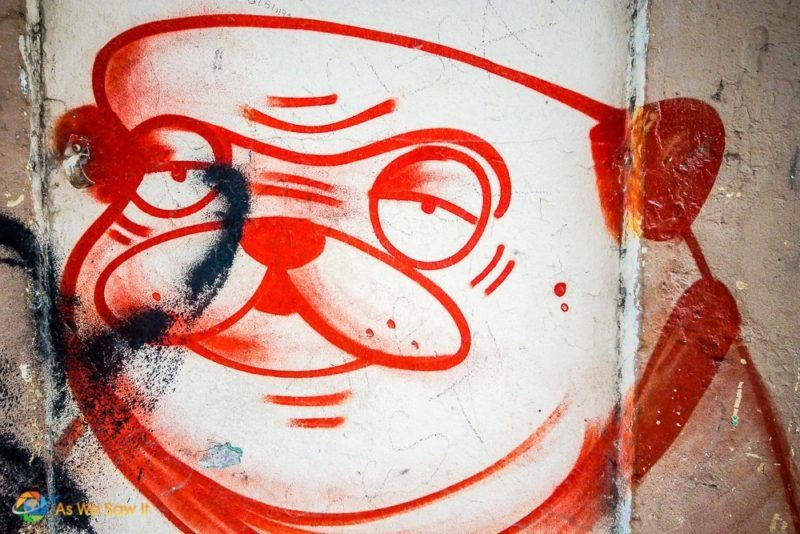 Snarling jaguar
Trying to find a place to park in Panama City's old town can be a challenge at the best of times. After all, this 350-year-old city just doesn't have a lot of areas reserved for automobiles. Sometimes driving around just isn't enough. Locals know that and often earn a few extra dollars by pointing people to hidden parking areas.
That's how we found this snarling jaguar street art: Someone directed us to a secluded parking lot on a side street. Most of the parking lot's concrete block walls were painted, which is not surprising. It seemed to us that someone has a lot of talent and we'd love to know who created it.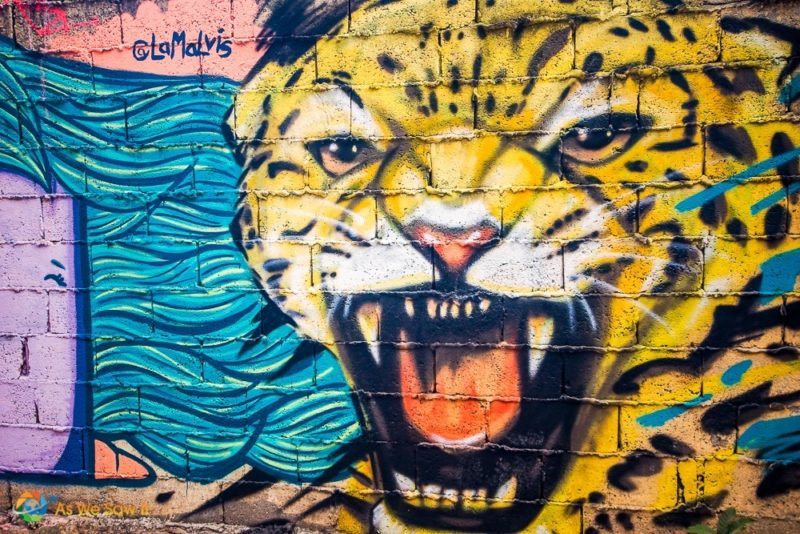 Random animal
Don't ask us what this animal is, because we don't know. But judging from the beautiful and realistic snarling jaguar that was painted nearby, we're pretty sure the artist's painting is of an actual Panamanian animal.
We were wondering what kind of animal this was for the longest time. Thanks to one of our wonderful readers, we now know! The lovely animal is coati and the artist is ROA.

Artistic masks
Here is one of the most colorful pieces we saw in Casco. It must have taken quite a bit of time and paint, and we're guessing it was a team effort.
Originally I thought they were faces, but the top one is a cat, and since none of the faces have eyeballs, we assume they are meant to be masks.
This photo is a close-up of part of the art. What you cannot see is the segment with an arm holding a sign that says "VOTA POR UN CAMBIO ARTISTICO." Literally translated, it means, "vote for an artistic change." Maybe the street artists in Panama are becoming politically active?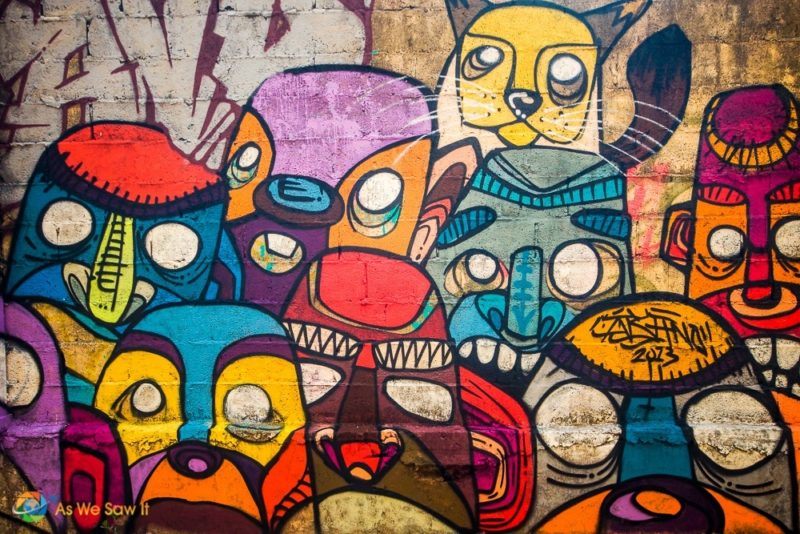 Have you found any other art in Casco Antiguo? Please share it with us and we'll give you credit!