Different cultures often have different foods that are unique to their culture. Take Thai street foods for example. Each dish is made with fresh, local ingredients and it is made and sold by people who haven't had any formal training in cooking. The end result tastes delicious and has a unique flavor profile.
What makes Thai food unique?
Ever wonder what makes Thai food so different from other cuisines? It's the creative play of contrasting flavors – sweet, salty, sour, spicy and bitter – that makes it so exquisite. That unique Thai flavor comes from a magical blend of lemongrass, galangal, Thai basil, kaffir lime leaves, fish sauce and (sometimes) shrimp paste, all mixed into a broth or coconut milk base.
But that's not to say that all Thai food is the same! You can be sure that the foods you'll try during a food tour in Bangkok and a cooking class in Chiang Mai will have completely different flavor profiles!
That's because Thai cuisine varies by region.
In Chiang Mai and other parts of northern Thailand, the food is mild and usually served with sticky rice.
Food in the Isaan region of northeast Thailand is highly spiced and sometimes fermented.
Food changes again as you move south to Bangkok and see more jasmine rice,
while further down in the south, it changes again. The warm climate of the narrow peninsula and many Thai islands mean that you'll find more coconut milk and seafood on the menu.
ⓘ TIP: The best Thai cookbooks contain recipes from every region.
Is all Thai food spicy?
Thai food is known for its spiciness, although not all dishes are hot. One of the best things about Thai cuisine is the flexibility it offers. For instance, you can ask them to reduce the chili or kick it up a notch to suit your preference.
Many Thai recipes can be altered easily without compromising much on their authentic tastes. This works out well if you avoid meat or have a particular preference.
It all comes alive on the table – even on the street – where a host of local condiments await. The four most common are:
Nam pla prik – bird's-eye chilis in fish sauce – salty/spicy
Prik dong – bird's-eye chilis in vinegar – sour/spicy
Dried chili flakes – spicy
White sugar – sweet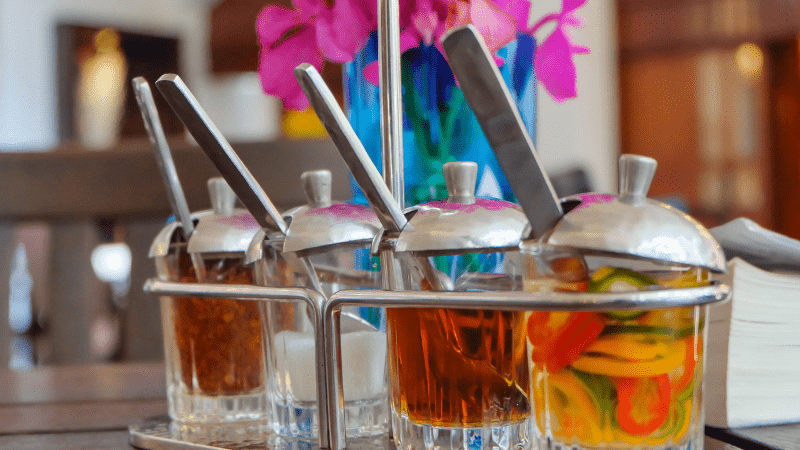 That crazy condiments caddy is what makes eating Thai street foods so much fun – it makes it easy to customize to your taste. Dan tries to scoop as many chilies as he can onto the spoon, while I'm more interested in the condiments that offer extra salt or tang.
So, feel free to experiment; it's expected in Asia. Consider it part of the travel experience.
ⓘ TIP: Never use chopsticks in Thailand! They use forks, spoons and fingers. Polite Thai eating etiquette means you eat from the spoon and don't put the fork in your mouth. Use the fork to push the food into the spoon. It is also customary to eat rice by rolling it into a bite-sized ball with your fingers (using only your right hand).
And speaking of "the travel experience," if you travel for food you need to know about Mark Wiens. He's a renowned food blogger who lives in Thailand and travels to experience various foreign cuisines. Check out his video about Bangkok street food. It'll make your mouth water!
Best Thai street foods to try
Street food is a great way to get a taste of any country's many dishes without the hefty price tag of an upscale restaurant. Any Thai restaurant can sell pad thai, but there's a far wider variety of tasty preparations at the side of a nearby road. It would probably take a holiday of its own just to taste all your options!
In Thailand, street food is everywhere, and it's so cheap that many people never cook at home. Kind of reminds us of how everyone in Singapore eats at hawker centres.
So, let's get started. When hunger calls, here are some of the best street foods that you should try in Thailand.
ⓘ TIP: If you're in Bangkok and want to know more about what you're eating, the street food vendors around Khao San Road and near the Grand Palace will be more likely to speak English. Elsewhere, your best chance to find an English speaker is near tourist attractions. Alternatively, look for a Thai street food menu with pictures.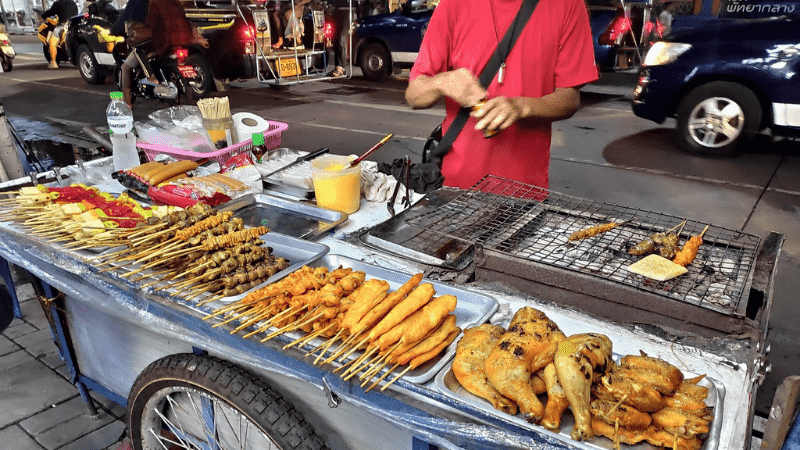 1. Green papaya salad (som tam)
Green papaya salad, som tam, is one of the most popular and best-known Thai dishes; you'll find it on almost every menu. It originated in Isaan, the northeastern part of Thailand that borders Laos, and is a Lao staple as well.
Considering that most Thai food is fried or soupy, this salad makes salad a fresh alternative, especially when the temperature rises. Bonus: It's also low-calorie!
The secret lies in the tam of the name – som tam is always prepared with a mortar. It begins with shredded unripe papaya along with veggies like mung beans, sliced green beans and cherry tomatoes, lightly mashed with a dressing of garlic, chili, peanuts, lime juice, and fish sauce. This fantastic dish is completed with a garnish of crushed toasted peanuts.
For about 40 baht, you'll be hard pressed to find anything fresher on the menu.
ⓘ TIP: The original recipe also includes dried shrimp, but many vendors can make it as a vegetarian / vegan dish. Just ask them to leave out the shrimp and to use soy instead of fish sauce.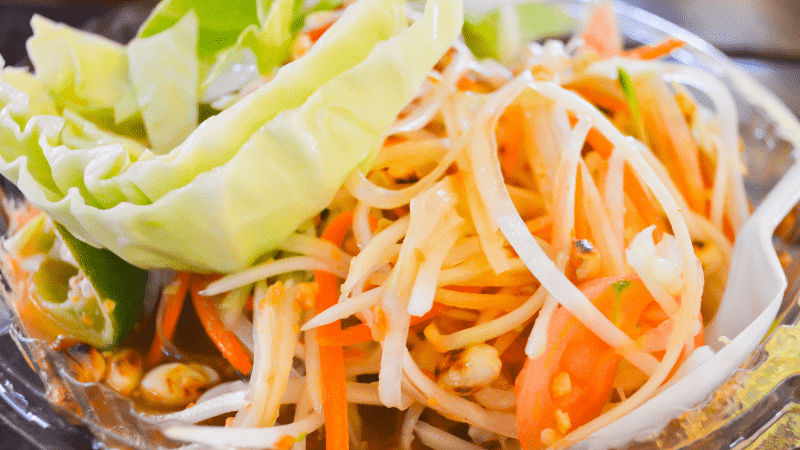 2. Khao soi noodle soup
Thais are fond of both noodles and soup and they come in a variety of styles. You can find them made with meat or fish, or containing nothing more than broth and veggies.
If you're visiting Chiang Mai, be sure to try khao soi, a northern Thai specialty. We went crazy for its unique flavor and texture profile.
Khao soi noodle soup begins with chewy rice noodles in a creamy chicken-and-coconut milk-based curry broth, and ends with a pile of crunchy fried noodles on top. Its condiment caddy includes sliced shallots, pickled mustard greens, and dark red chili paste. But go easy on that chili paste; it has a powerful kick!
ⓘ TIP: When you find yourself sitting at the table with steaming noodle soup in your hands, be sure to check out the condiments! Some types of soup in Thailand use special condiments, like sweet-and-sour sauces, pickled vegetables, and roasted cashew powder. Heck, why not try them all?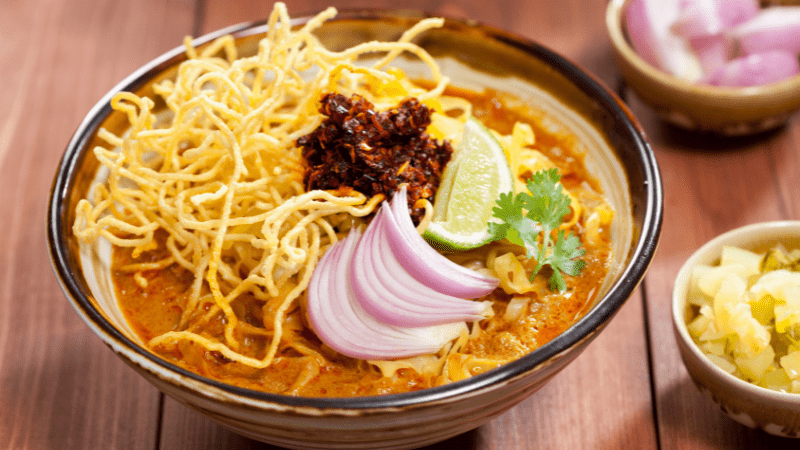 3. Tom yum soup
If the secret of Thai street cooking lies in the freshness of the ingredients and speedy preparation, its appeal comes from the explosion of flavors. Tom yum is a blend of sweet, salty, spicy and sour, all in one delectable dish. Think of it as a type of hot and sour Thai soup, and don't get confused if you hear it called tom yam. It's the same soup.
The words "tom yum" are derived from two Thai words. Tom is the Thai word for "boil", while yum means "mixed." So it's a "mixed boil."
While it's usually cooked with shrimp (tom yum goong), it can just as easily be made with chicken instead (tom yum gai). Other ingredients in tom yam include palm sugar and condensed milk (sweet), lime juice and lemongrass (sour), salty fish sauce, and the spice of chilies and chili paste.
Tom yum is a winner for any palate, and costs only 50 baht.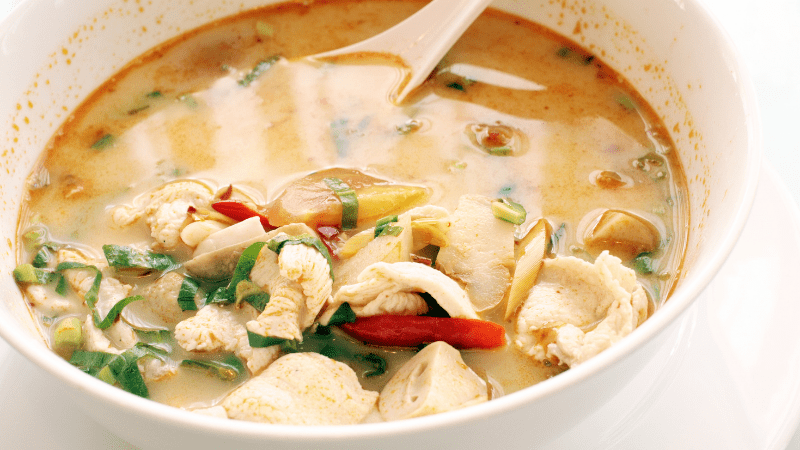 4. Tom kha gai
In the Thai language, tom kha gai means "boiled galangal chicken." The dish originated in Thailand but has become popular throughout Southeast Asia. The soup is made with chicken, coconut milk, chicken, and mushrooms, and is flavored with galangal root, lemongrass, lime juice, and cilantro.
Tom kha gai is often described as a combination of sweet and sour with an underlying heat from chili peppers. It can be either more spicy or more tangy, depending on the ingredients added.
The cost at a street food stall is around 10 baht per bowl.
Save this list of Thai street foods for later
Pin it to your favorite food board on Pinterest!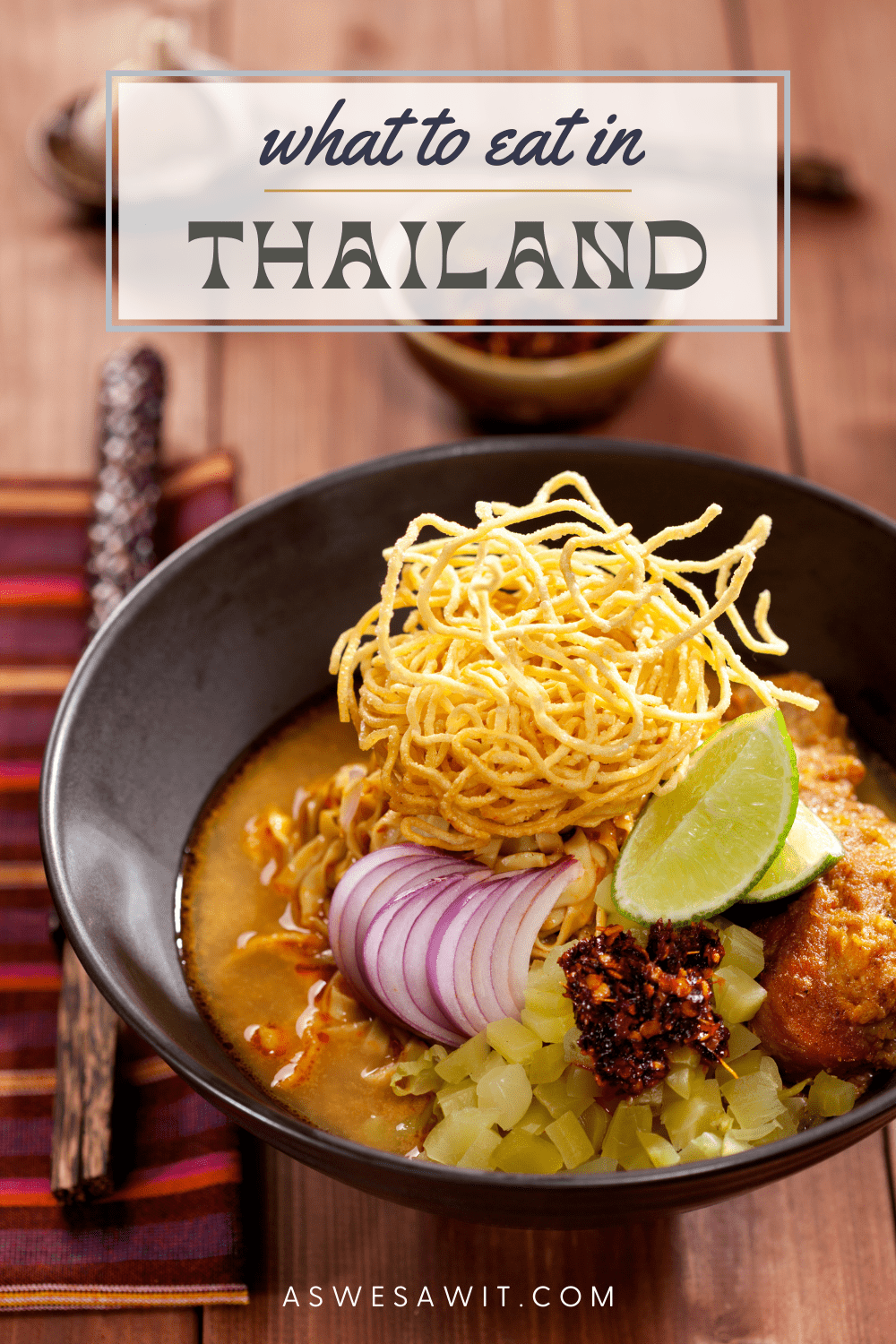 5. Grilled fish (pla pao)
In the evening the streets fill with grills, plastic tables and chairs pulled out of who-knows-where, and the residents form clusters around smoking banquets. All with a goal to eat something freshly cooked, like fish.
Once it's been gutted, the fish is filled with pandanus and lemongrass leaves and set over the fire. The service usually includes vegetables to wrap it up with, and sometimes rice noodles (khanom jeen).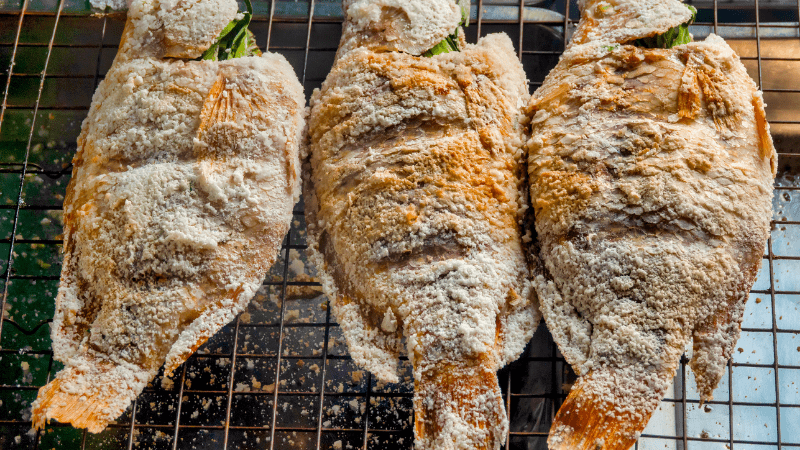 6. Spring rolls
The original ones are composed of a thin wrap of rice paper or a wheat-and-egg based wonton pasta. They contain typical Chinese ingredients: bamboo shoots, bean sprouts, rice noodles, bok choy, soy sauce. All those oriental veggies make things healthy, light and delicious.
These spring rolls are brimming with vegetables and loads of flavor.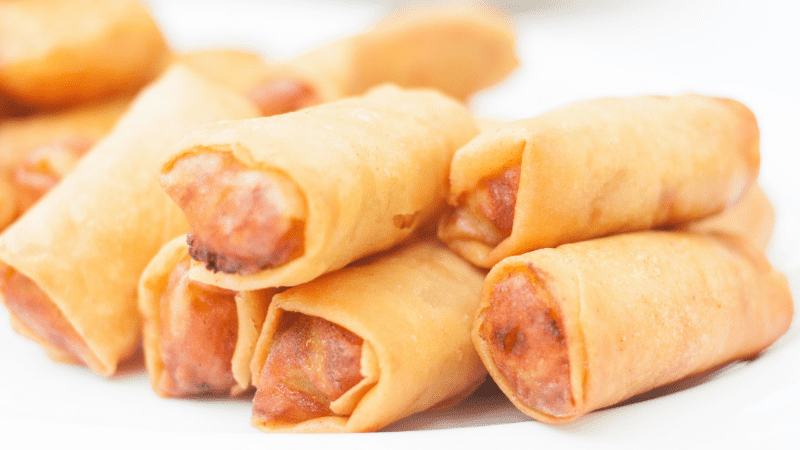 7. Fish cakes
If you're in a hurry, take advantage of the moment to grab a few fish cakes to eat while walking. Small and crunchy, these morsels can be found on the street, where vendors maneuver huge woks, red curry, leafy vegetables and lime leaves.
The perfect pairing includes cucumber, sweet pepper and a simple toothpick to bring each piece to the mouth – at just 20 baht per bag.
8. Grilled chicken (kai yang)
Few dishes are as easily available and delicious as grilled chicken. Accompanied by spicy sauce, spicy salads and glutinous rice, it has as many variations as Thai regions.
Some places prepare it marinated and served on bamboo sticks, others flavor the skin with turmeric and garlic, and still others douse it with sauce and delicate coconut milk. In any case, always delicious, and always around 30 baht.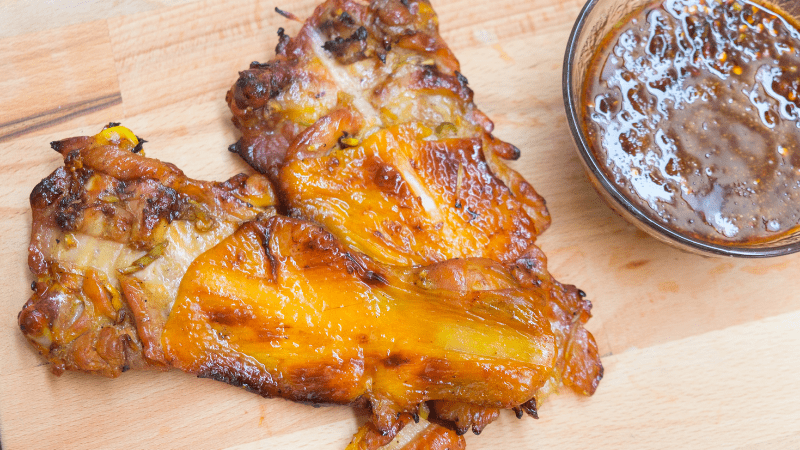 9. Chicken satay
Chicken satay is a popular street food in Thailand, although it originated in Indonesia and Malaysia where it is commonly called sate ayam. It begins with small pieces of chicken that have been marinated in a mixture of soy sauce, fish sauce, and spices such as garlic, lemongrass, and red chili peppers.
The chicken is skewered, laid across a metal grate, and grilled over an open flame, then sold by the piece. Some vendors will serve the satay with a peanut-based dipping sauce or with a few rice cakes to balance the heat from the chilies.
A skewer of chicken satay typically costs about 30 baht (about $1) in a food stall.
10. Green curry chicken (gaeng keow wan gai)
Green curry chicken is a popular street food dish in Thailand, where it originated. Containing chicken, coconut milk, and vegetables, it gets its aromatic and spicy flavor from green curry paste. The paste has a unique flavor that comes from a blend of green chili peppers, garlic, shallots, coriander roots and leaves, cumin seeds, galangal root, lemongrass, and kaffir lime leaves.
Green curry can be found all around Thailand, although it began in the central part of the country. Restaurants and Thai street food vendors usually served it with a large scoop of steamed rice.
You can expect to pay about ฿60 for a dish of green curry chicken at a street food stall.
ⓘ TIP: Shrimp paste is a common ingredient in Thai curries, but it's not always used. Thai street food recipes vary by vendor, so if you're looking for a curry without shrimp paste, be sure to ask.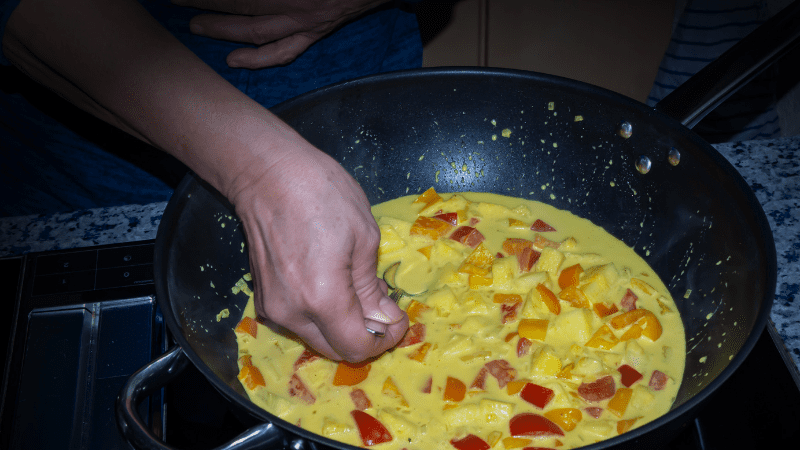 11. Coconut rice
Another popular Thai street food is coconut rice. It is made by steaming white rice and shredded coconut, and then adding sugar to sweeten it. The dish can be served with a variety of toppings such as fried shallots or deep-fried tofu puffs (tahu).
Coconut rice can be eaten for breakfast, but it can also be eaten as a snack or a dessert. You can find packets of it wrapped in a banana leaf at many food stalls for 10-20 baht per serving.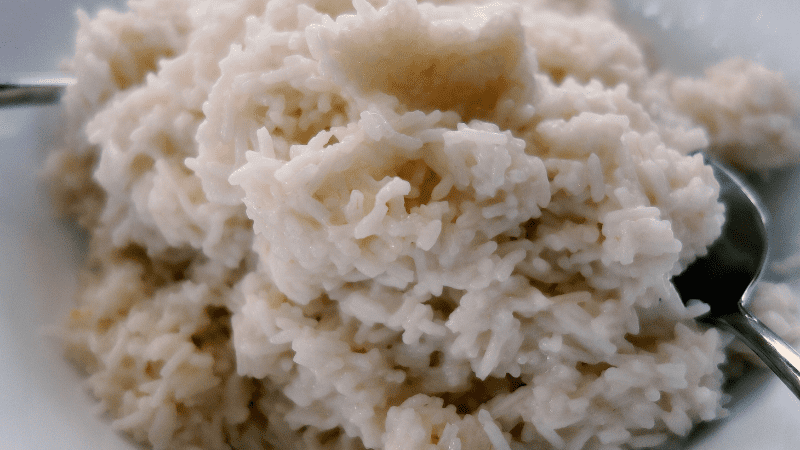 12. Banana roti
Banana roti begins with the crepe-thin flat bread that accompanies curry dishes. Watch street vendors spread batter onto a hot griddle, then fold it around slices of banana. and top it with a generous amount of sugar and condensed milk. Banana roti is a sweet dessert and perfect after dinner; you'll never miss ice cream.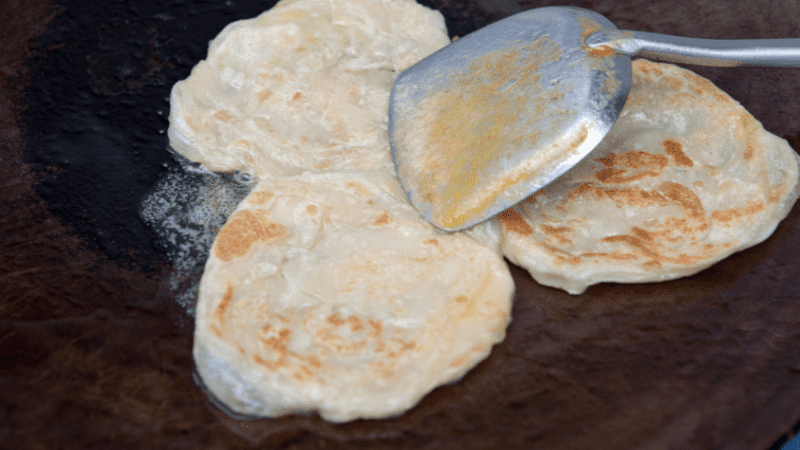 13. Sticky rice with mango
A popular dessert on Thai menus worldwide, mango sticky rice is greater than the sum of its parts – glutinous rice, mango, syrup, and (sometimes) toasted mung beans. Your tongue will enjoy the continuous sweet and savory game between the rice, the sweet fruit and the crispy beans. It's so delicious you might want to eat it as your main meal.
Mango with sticky rice costs about 80-100 ฿.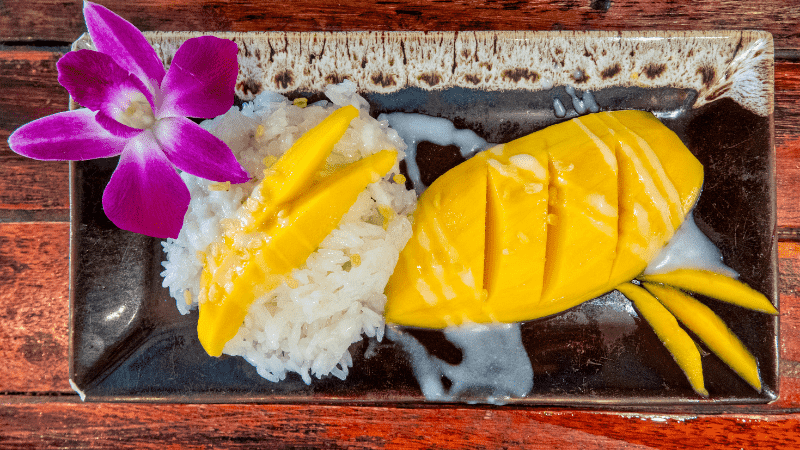 14. Thai tea
If you enjoy masala chai tea, then Thai tea is for you. It's brewed with black tea and ingredients such as star anise, crushed tamarind seed, and sometimes other spices as well. The tea is sweetened with sugar and condensed milk before being served over ice.
Thai tea has a dark orange hue and is a popular cold drink in Thailand. It's perfect for hot weather and goes well with the spicy foods that are typical in this part of ​​Asia. Unlike in Thai restaurants, where it is served in a tall glass, street market stalls in Thailand serve it with crushed ice in a plastic bag or tall plastic cups.
Thai Iced Tea usually costs between 30 and 50 Baht at street stalls.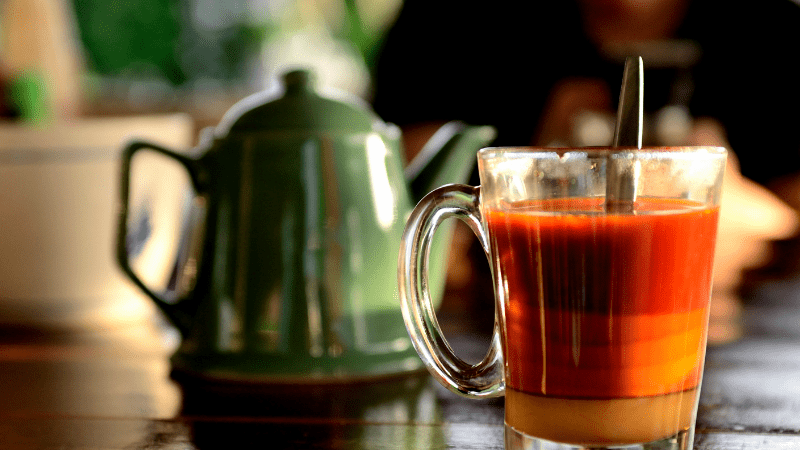 15. Thai iced coffee
Thai iced coffee has a sharp and robust flavor and lots of coffee kick. It is made from a blend of dark-roasted coffee beans and ingredients such as soy beans, corn, rice, and spices. Like Thai tea, it is brewed in a cloth strainer called a tungdtom (sold on Amazon and in Asian stores). It's basically a metal ring and handle to which a cotton cloth bag is attached.
Traditional Thai coffee is served black, over ice. It's called oliang, a Teochew Chinese phrase that translates to "black and iced" in English. The recipe has changed over the years. Traditional Thai coffee has always been served black, but these days you're more likely to get it prepared with sweetened condensed milk. You can also add sugar if the condensed milk doesn't make it sweet enough.
You can buy it on the street for 20-30 baht.
ⓘ TIP: If you'd like to brew it at home, Oliang coffee is available on Amazon and in many Asian stores. It can also be prepared as a pour-over or in a French press coffee maker.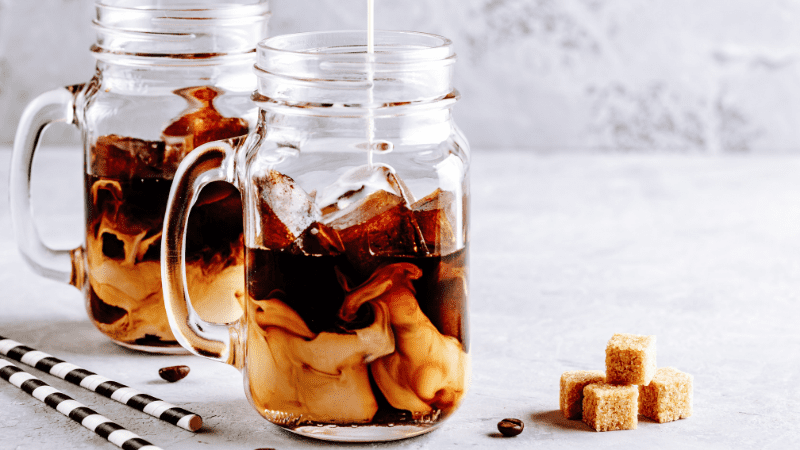 When is the best time to eat Thai street foods?
Contrary to popular belief, street food in Thailand (and many other countries) is no riskier than restaurants. It actually may be safer to eat on the street, because you can watch it being freshly prepared.
The absolutely best time to try street food is at the beginning of local meal times, just when local patrons are beginning to make their appearance.
Ready to try some Thai street foods?
Trying the local cuisine gives you an authentic way to immerse yourself into the local culture and tradition while traveling and exploring. Street food is always so amazing! It gives you the opportunity to grab something to eat like a local would, while keeping things practical, cheap and on the go.
What can possibly beat that?