Places to stay when you visit Indonesia
Let me tell you about Mama, a dear Indonesian woman I fell in love with while we were living on Bali. Mama isn't her name, of course. Her friends call her Margaret. To her family, she's Poh (Grandmother), the family matriarch. Others might call her bu, "missus," but not me. I call her Mama.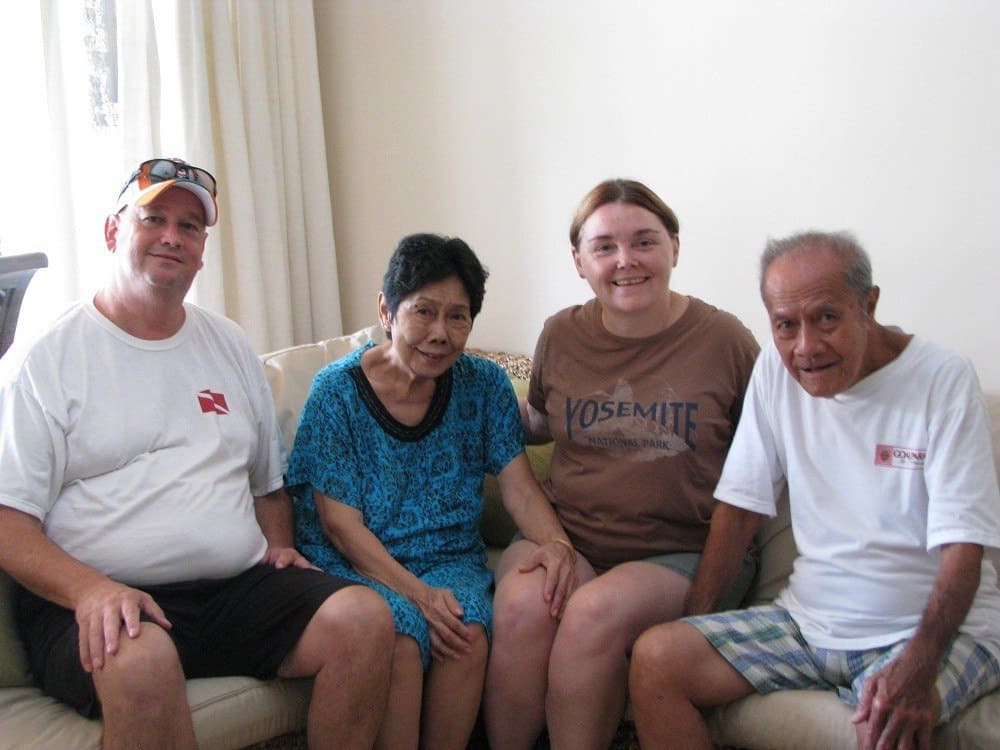 With Mama and Papa moments before we left Bali
I began calling her Mama when I first met her, newly arrived in America. She and her husband ("Papa") had come to the U.S. on an extended visa to visit their daughter, a new immigrant who had become my friend. They barely spoke a word of English and I barely knew how to say thank you in Indonesian, so I welcomed them with Mama and Papa, two universal words for You are as family to me.
Mama and Papa may be Indonesian by birth, but they are Chinese by heritage. As the eldest in the clan, Papa is the well respected patriarch. Their 50th anniversary celebration after they returned to their homeland was an epic family event: Hundreds of beloved family members flew in—from as far away as China and Australia—to celebrate the occasion. And Mama invited us to participate.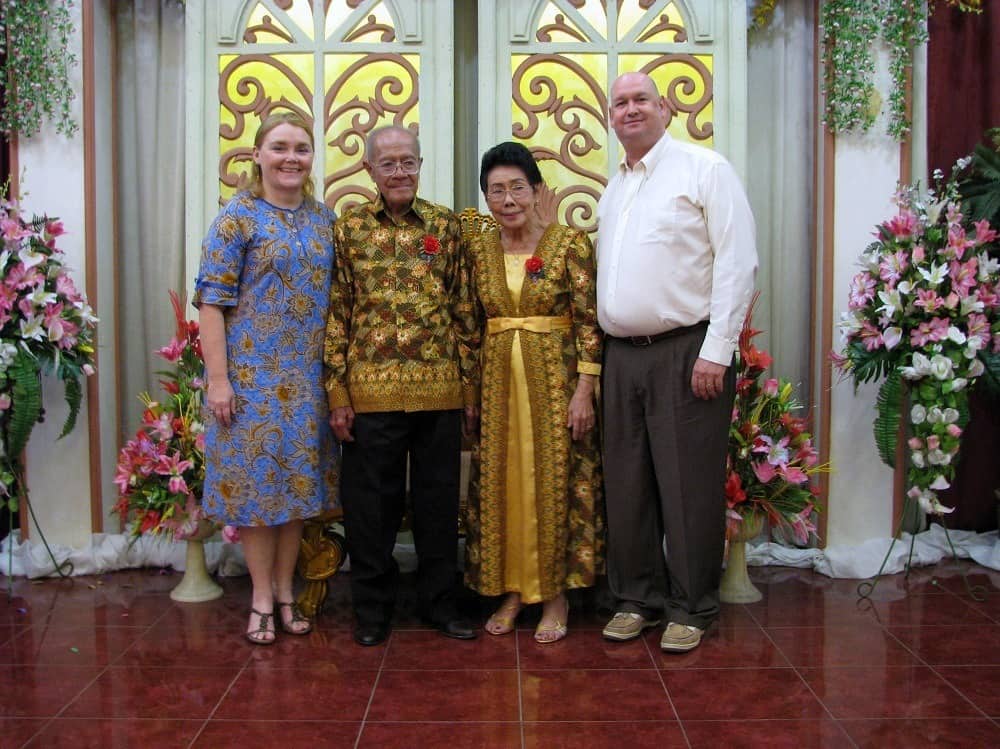 Everyone poses for a photo with the honored couple.
After our friends became parents, they moved to Indonesia and immediately moved Mama and Papa into their home. Mama and Papa enjoyed being full-time Kung and Poh (Grandfather and Grandmother in their dialect) to their newest grandchild.
As full as the house already was, when we arrived in Bali there was no question but that we would share a place with the five of them. Daily I watched Mama, a woman of few words, tirelessly care for her husband and family. Love, joy, peace, patience, kindness, goodness, faithfulness, gentleness and self-control—I saw them all in Mama. She is one of those rare women who gives Christians a good name.
The day we left Bali to move back to the Western Hemisphere, Mama cried. She told me she felt as though she were losing a daughter. It still brings tears to my eyes when I remember that moment. That is the kind of heart Mama has.
Mama's Chinese-Indonesian table
There were no lunchtime sandwiches in Mama's home when she was in charge. Breakfast, lunch and dinner were always fully cooked, sit down meals—especially for Papa, whom she clearly adored.
And she should. Back in the day, Papa somehow managed to stretch his $38 a month salary enough to care for his sister, brother and parents, and later care for his wife and three children. He also cared for nieces and nephews on that salary. This is a man with a true sacrificial character.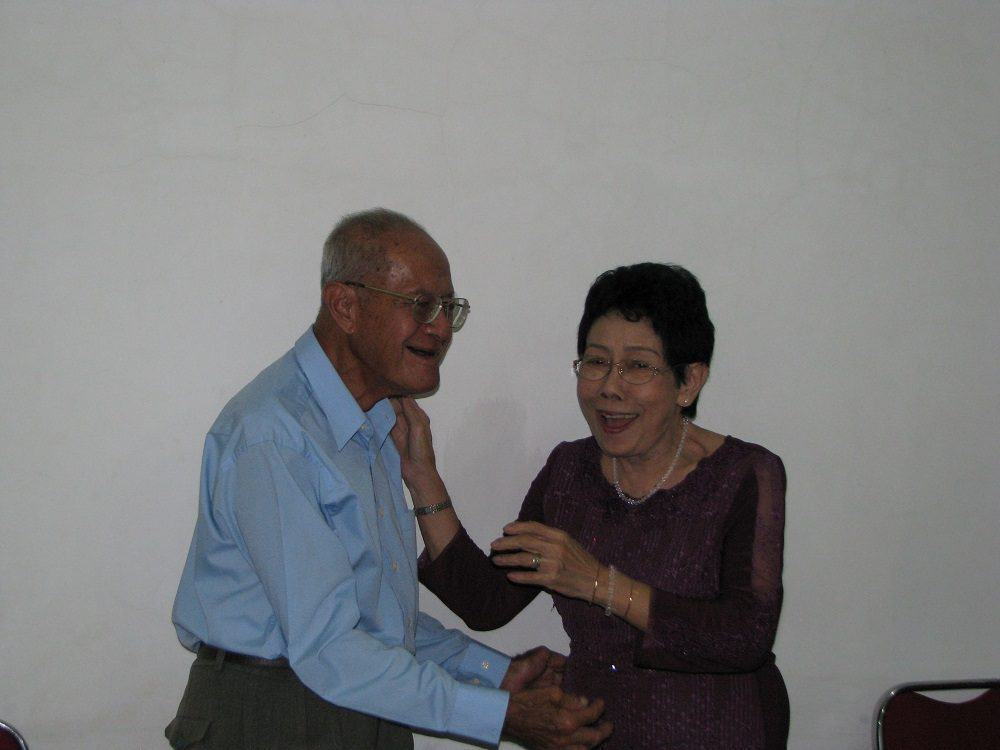 Mama and Papa, recovering from an unusually public birthday kiss.
Mama makes the most amazing food, all with a Chinese flair—and nothing like the Americanized Chinese swill I eschew the U.S. Hers is the only cooked eggplant dish that I actually like … and coming from me, that is the ultimate compliment.
Mama always made sure there was plenty of hot rice on the table "to cover the stomach." She poured her love into her food, spending hours every afternoon finely mincing herbs and vegetables and pulverizing spices with her mortar and pestle for the night's dinner.
Dan considers cooking his therapy. When he took over the kitchen to give her a break, she would sit at the counter and watch him, with a hint of smile on her face. She got such a kick out of that. In her world, men never cook.
This brings me to today's post about kue wajik
My story actually begins with kue wajik, a traditional Indonesian dessert. We first tasted the cake on a road trip through Timor, an island that lies at the far east of the Indonesian archipelago. Our friends had stopped at a bakery on our way out of Kupang so they could buy snacks. When they returned with their purchases, they handed us a brownie-sized packet of something that was cellophane-wrapped and chocolate brown.
Well, it might have had a chocolate color but that's where the similarity ended. Our treat was soft, moist and a bit sticky–definitely nothing like a brownie. Still, it only took one bite of this delicious, slightly sweet cake to understand why it has become such a favorite treat in Indonesia. Tasting of a blend of brown sugar and coconut, both of us immediately craved seconds. Alas, none were available.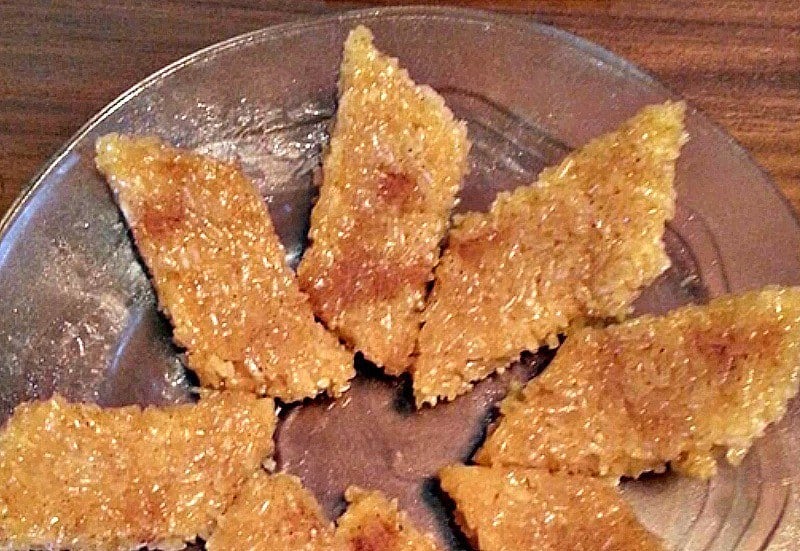 Why kue wajik is so popular
Translated to English, kue wajik means diamond cake. It earned its moniker because the cake is cut into diamond shapes before serving. As one of Indonesia's most popular cakes it's developed multiple personalities. It can be casually eaten as an afternoon snack and yet at the other extreme it is also one of those things that are expected whenever there's a wedding celebration.
It's a wedding tradition for bridegrooms to feed some kue wajik to their bride as a part of the wedding ceremony. Because it's made of sticky rice, kue wajik symbolizes hope that the marriage relationship will continue sticky and lasting. I'm guessing that its diamond shape has some symbolism as well….
But I digress.
Food makes travel memorable.
I'm telling you, nothing enhances travel like trying local foods. Sometimes the memory lingers long after the journey, and it can be fun to revisit the memory by making a foreign dish at home.
Such was the case when I re-read the story I had written about our Timor road trip, Driving from Kupang to Soe, Indonesia Style. As I read about kue wajik in the story I reminisced about our first Indonesian treat and regretted that neither Dan nor I ever took a photo of the cake while we were there.
Long story short, I decided to add an original photo even though it's an old post because—heck, who doesn't love looking at food, right?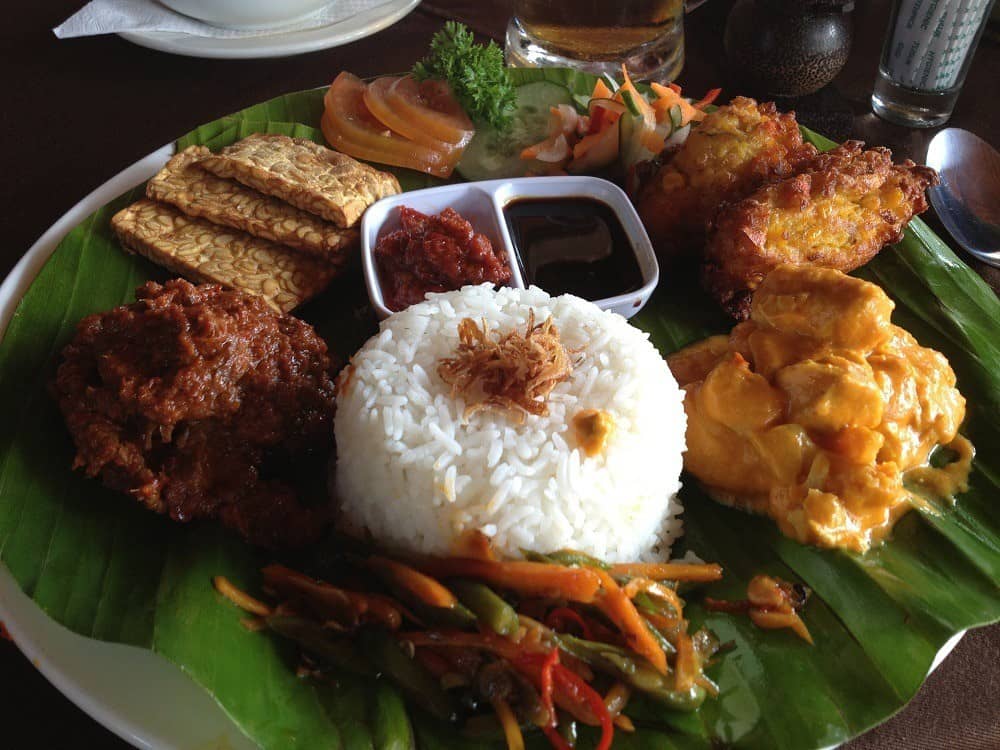 Okay, it's not cake ,but still … doesn't this Balinese dish look amazing? It's nasi campur. Do try it whenever you get an opportunity.
I had been using a photo of kue wajik that I had found online … but I really hate to use other people's photography because they're not my property. As a rule I only resort to using them when I'm either out of time or out of other options. I thought it would be better to replace the picture of kue wajik with one of our own. Since I had all the time I needed (it was an old post, after all), I Skype-texted our friends in Bali to ask for their help.
Hey, bro … mind if I ask for a favor? No rush. The next time you guys are out near a bakery … Could you please try to snap a few photo shots of kue wajik for me? I would like to mention it in a post but I need some decent photos. On a plate … behind the glass … in a box or on paper … closeup, doesn't matter. As long as they are clear and there's no glare from the glass, I can use them. I'm sure your cell phones can do an adequate job. Thank you.
I love my friends and knew they would do what they could to help. They're like that. They're a part of Mama's family.
Sure, we'll send you a few. And oh—by the way—do you want the kue wajik recipe, too? We'll ask Poh for hers; she just made it last week.
Well that's a no-brainer, I smiled to myself, of course I'd love to have a recipe from Mama. Hmmm… maybe I'll try to make it for Dan so we can remember our trip through our taste buds.
Enter Mama
When Mama found out that I had asked for a kue wajik photo for a blog post, she immediately wanted to help. She knew our friends were busy and she didn't want me to have to wait for them to find the time to visit a bakery. Mama decided to make a batch for me right away so that I could get my photos and the recipe as soon as possible.
Within a day, both were in my inbox.
Mama had decorated her plate of kue wajik with flowers to make it extra pretty.
Twice.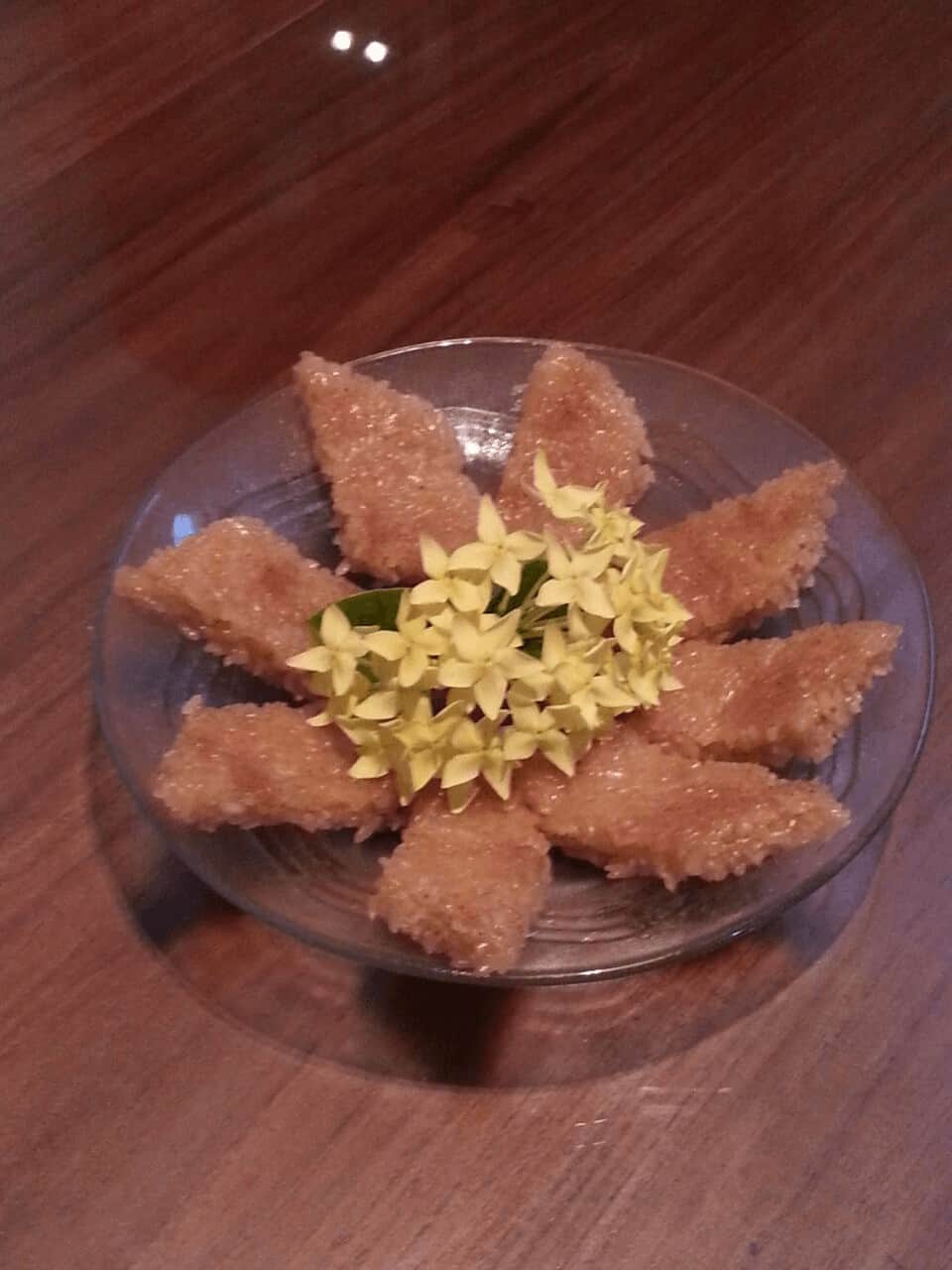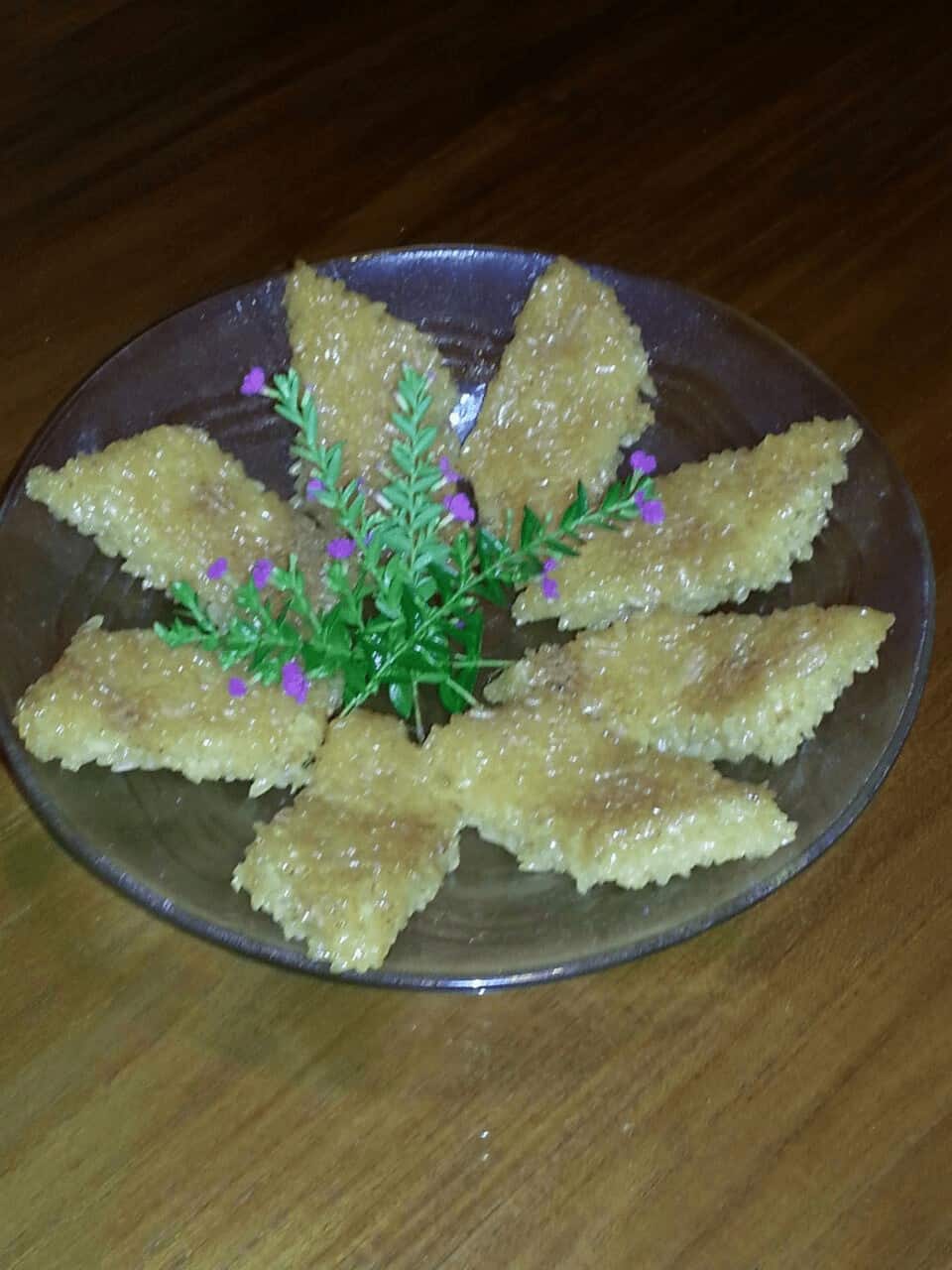 Making kue wajik
Five simple ingredients. Just five. They said it was simple to make — but then I actually read the recipe.
Oh. My. Goodness. Are you kidding me? This was not your typical American recipe that was ready in 20 minutes here. Oh, no. This recipe takes planning and patience.
Not only does the rice take half a day to soak and prepare, it requires regular attention for the entire hour as it cooks.
And yet Mama offered to make it for no other reason than because I had asked for a photo from the bakery "when you have time." She immediately devoted half a day of her precious time to help me out. Me, half a world away, whom she hasn't seen for years.
That's the kind of woman Mama is.
That's why I call her Mama.
Mama's Kue Wajik
This is a traditional kue wajik recipe. It is one of the most popular cakes in Indonesia.
YIELD: 24
PREP TIME: 12 HR 15 MIN
COOK TIME: 15 MIN
Ingredients
1 kg of glutinous rice (beras ketan)
200 grams of granulated sugar (1 cup)
200 grams of brown sugar (gula lempeng; comes as a sugar block)
100 ml of water (3.5 oz)
325 ml coconut milk (11 oz)
Instructions
Wash glutinous rice, soak overnight (about 12 hours), drain and wash until clean. Drain and discard water, then steam until cooked (approximately 45-50 minutes), stirring every 5 minutes with a spoon. When it is cooked, remove the rice from the steam and put it in a big wok pan.
Place granulated sugar, brown sugar and water in a pan. Stir over low heat until sugar is dissolved and everything is evenly mixed.
Add coconut milk, bring to a boil and stir until slightly thickened. Adjust sugar to taste.
Add mixture to glutinous rice and stir until everything is evenly mixed.
Pour into a square pan. Cover with plastic and hand-press gently to keep things uniform and dense in the pan.
Cut into diamond shaped pieces. Cake is ready to be served.
Notes
You can steam rice without using a rice cooker by using a vegetable steamer pot.
Size of square pan that we use is 32×25 cm (similar to 13×9 pan). We used 2 pans; you can use only 1 pan if you like a thicker size.
We don't put any grease on the pan and so far it's just fine, not sticky. We use regular plastic, not plastic wrap. I think plastic wrap is very easy to wrinkle so it's easy with regular plastic.
Normally the cake will dry over time so we always heat up (steamed) for about 2-3 minutes in steamer pot when we want to eat.
Kudos and mega-thanks to Vonce (my friend and her daughter), who typed up Mama's recipe after she translated the entire thing from Indonesian. I'm sure that was a challenge.
BY MARGARET LIE