Washington D.C. is frequently overlooked as a family destination, but it has plenty to offer, with hundreds of things to do and activities to try. It's a beautiful city, vibrant and full of life.
In June, my family took a long weekend getaway to our nation's capital, seeking fun and education. Our family consists of my husband, our six-year-old daughter, four-year-old son, a 4-month-old baby, and myself.
Visiting D.C. with a baby, toddler, and young kids poses unique challenges. It's essential to find a variety of activities to keep everyone pleased. With such a broad range of ages, we knew we had to plan well. Here are some of the travel tips for visiting Washington D.C. that we learned along the way.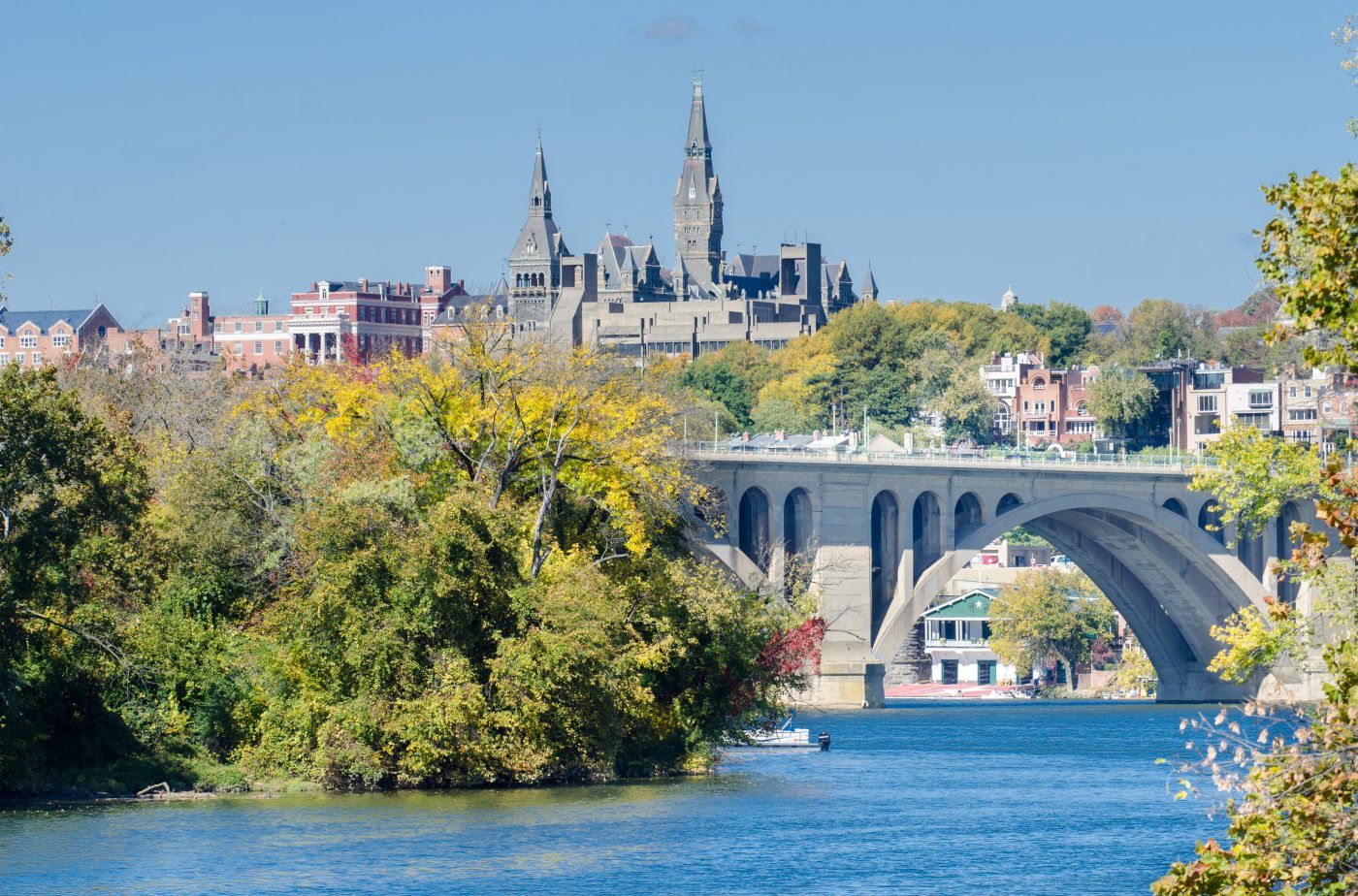 1. Book the right hotel
I highly recommend you take plenty of time to research your hotel. You will spend a considerable amount of time in your hotel room, especially with children. I consulted the top list on Trip Advisor and spent time reading the reviews. These reviews are particularly helpful and give you insider viewpoints.
When I was searching, there were a few qualities I wanted.
First, the cost had to fit the budget.
Second, the location was crucial. I wanted to stay close enough to all of the activities. Washington D.C. is a hard city to drive a car if traffic intimidates you. It is frequent stop and goes. There are other options, such as the metro, taxis, and Uber. However, we decided just to pay to park and drive wherever we needed to go.
Lastly, it was important to have an included breakfast at the hotel. The last thing I wanted to do is gather up starving kids to drive and wait at a restaurant. I surely didn't want to give them fast food breakfasts. Also, if the hotel has any amenities like a pool or arcade, it increased its position on my list.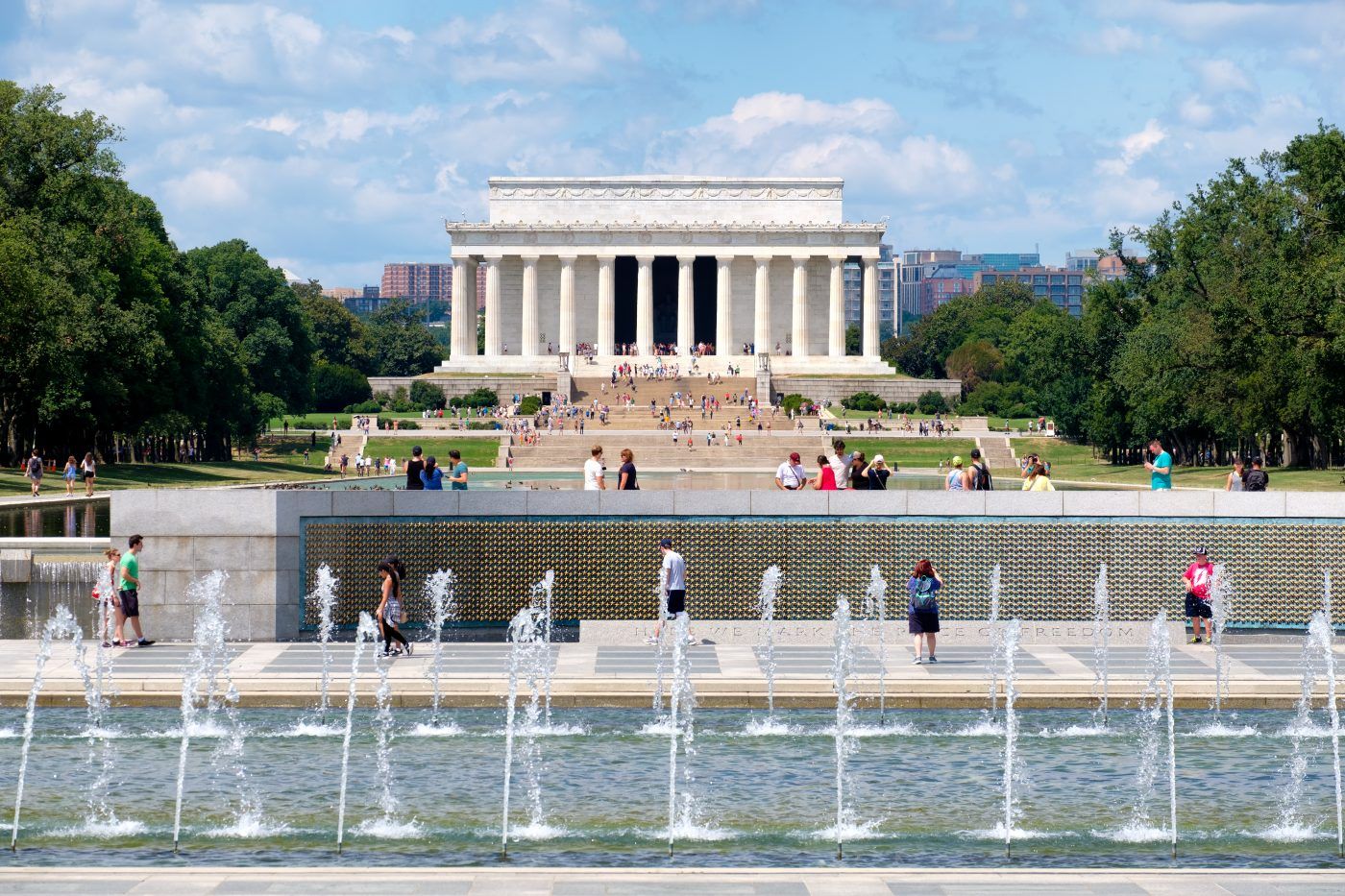 2. All of the Smithsonian Museums are free
Museums are some of the best things to do in DC with toddlers and young kids. There are some museums that you have to pay to enter, such as the Holocaust Museum. Since we were on a budget, we picked only the free ones. By far, our kids loved the National Air and Space Museum the best. They have a great area designed for children with hands-on centers. We spent over an hour in a zone!
ⓘ TIP: Purchase a bag of astronaut ice cream. Kids think it is hilarious!
Aside from not having to pay an admission fee, the other great thing about free museums is that you don't have to worry that your children will be bored. Stop into whatever museum strikes your interest. You may spend three hours or 30 minutes. It is all free.
Besides, if it starts to rain, museums are a great way to wait out the break.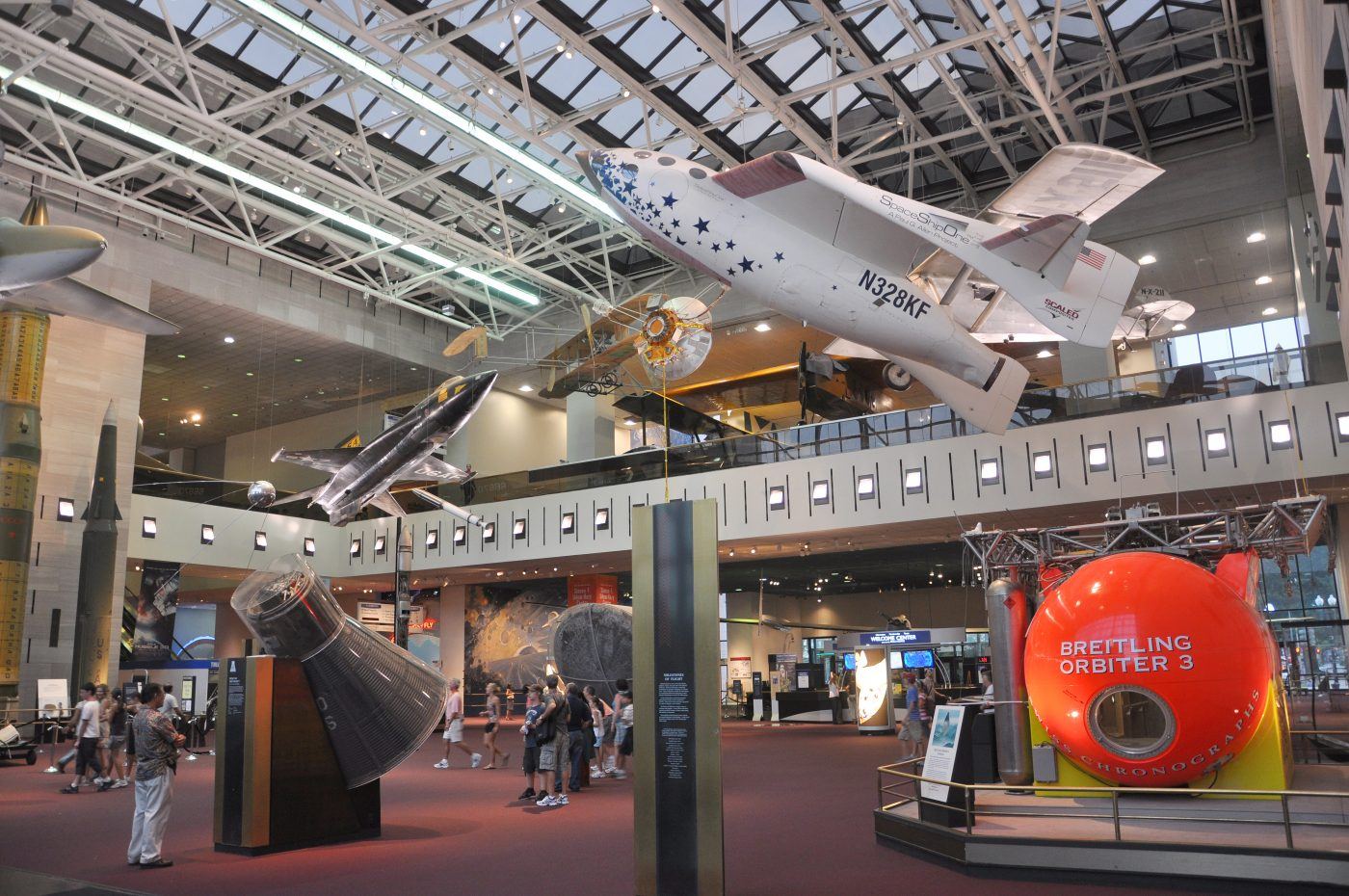 3. You need a stroller
Washington D.C. is spread out. The National Mall stretches for miles. While a young adult can accomplish it by themselves, young kids will struggle.
Getting around DC with a toddler is tiring. If you have young children, a stroller isn't optional. Your kids will have tired legs, and it is best to have a stroller that allows you to push them rather than hear whining for blocks.
ⓘ TIP: The National Mall and museums are super crowded most days. Keep close eyes on your children!
4. Visit the Capitol Building
You can take a tour of the Capitol, but the wait is long. You save time if you can email your state senator and schedule an appointment ahead of time. However, chances are your little ones won't find the tour fun at all.
Instead, we opted to walk around the building and spend time in the visitor center. They have some great displays and plenty of free resources I snagged. We are a homeschooling family, so the free material is a bonus! The gift shops are also located in the visitor's center.
Where to eat near the Capitol: The Capitol Grille is a great place to catch lunch. We scheduled our Capitol visit for the morning, ending right before our kids usually get hungry. We ate and headed to our next place.
Tip: The Capitol security guards will give your kids "official" police badges!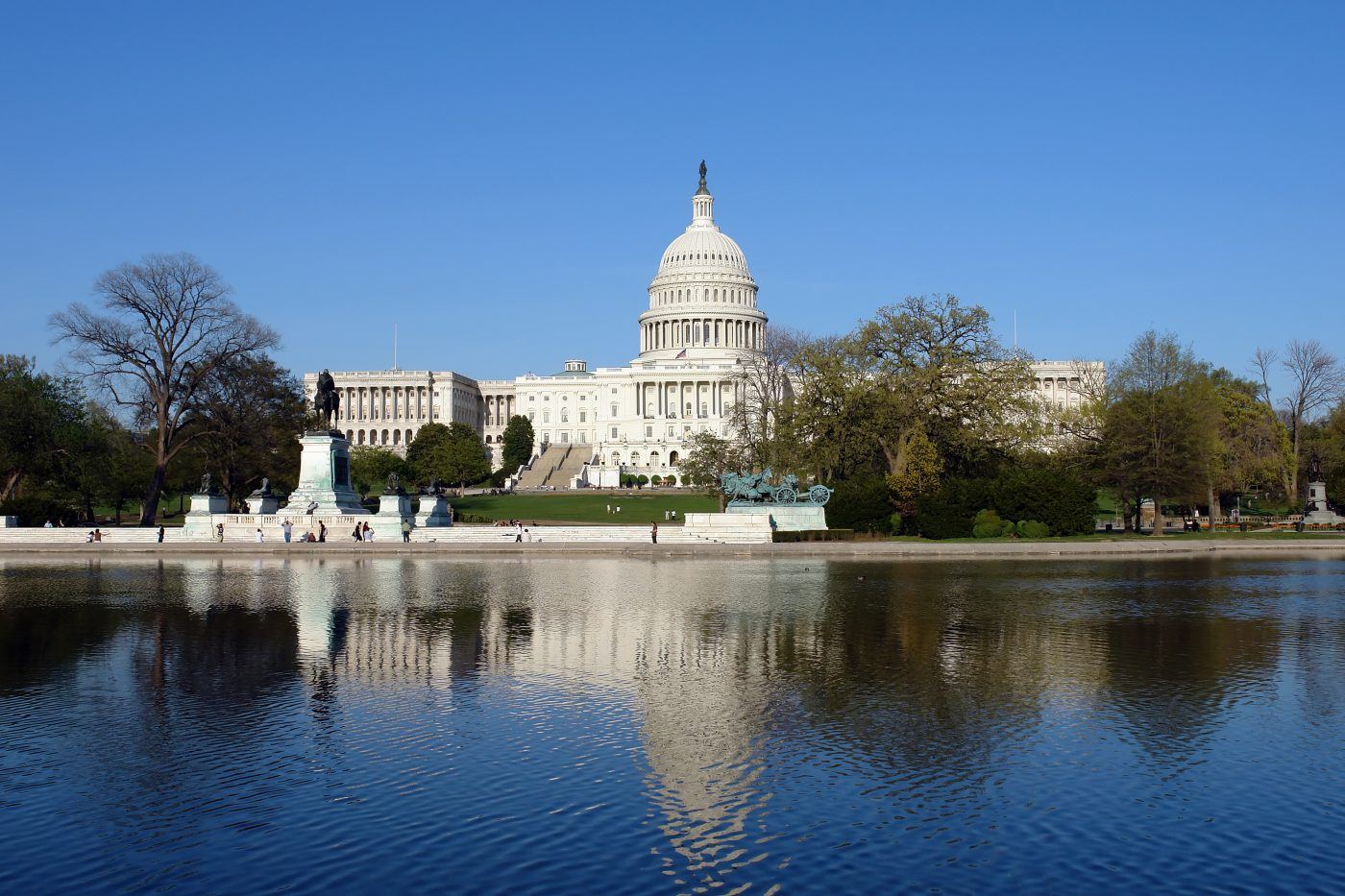 5. Don't tour the White House
I know, the White House is a desired visit for young kids, but I knew my kids would be bored. Plus, you aren't able to bring a diaper bag or a stroller. Instead, we viewed it from the outside.
There are some crazy squirrelsacross the street in LaFayette Square. This small park is a great place to bring a picnic lunch or let the kids relax while soaking in the ambiance of the area.
6. Do visit the Washington Monument
If there is one monument that surprises kids, it is the Washington Monument. The sheer size wowed my kids. Once we left lunch at Old Ebbitt Grill, we followed the street down to the Washington Monument. We opted not to ride to the top; I have a fear of heights.
ⓘ TIP: I would suggest purchasing tickets ahead of time. The lines were insanely long!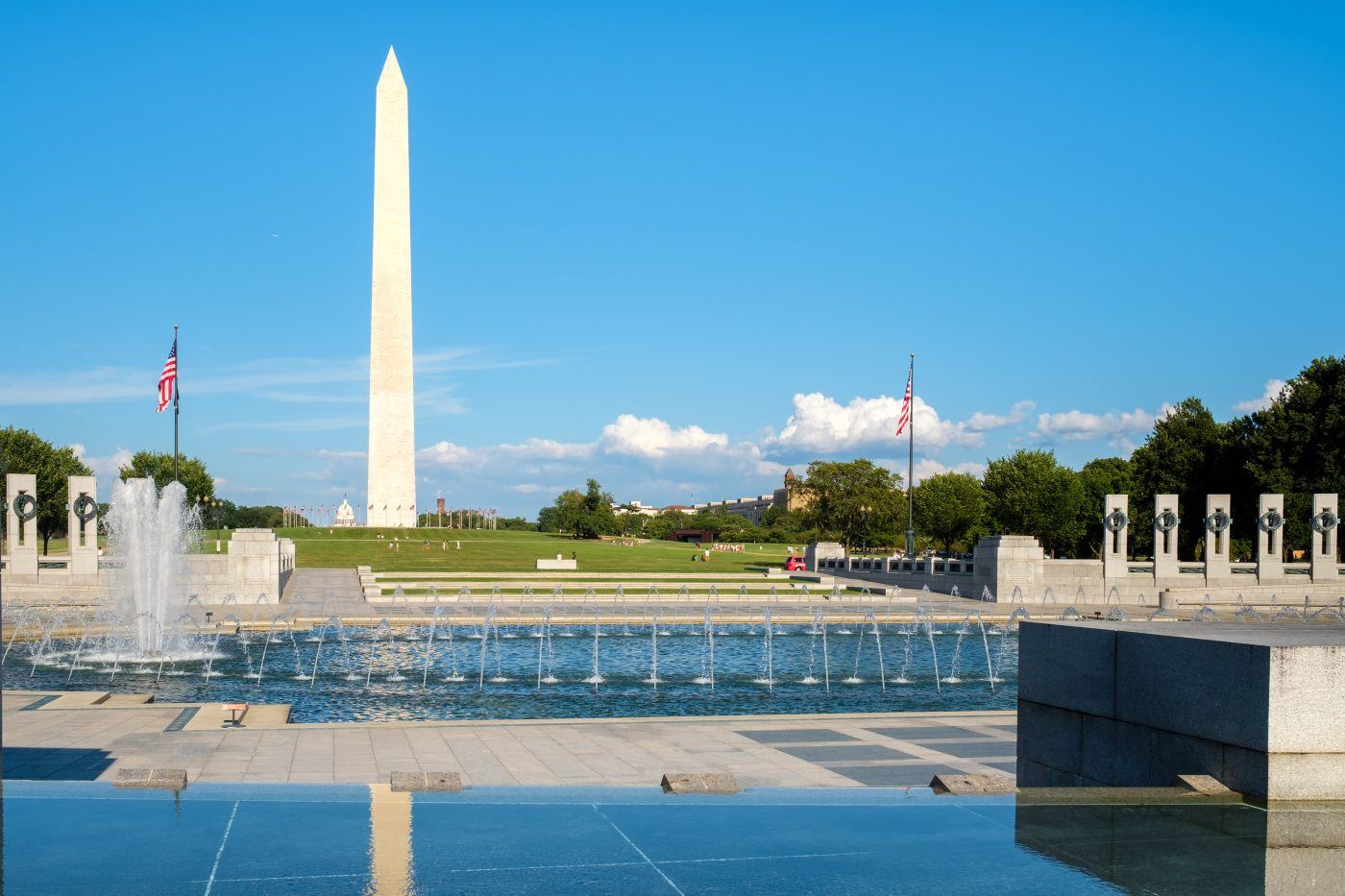 7. Take a tour by boat
There are thousands of tour options in DC. When our kids are older, we would love to do a bike tour around the capital city. Instead, we chose a boat tour with National River Tours. We scheduled the tour before dinner. That was awesome timing! The kids were tired from the day, but still awake and paying attention. Washington D.C. has an active water scene, with tons of boats passing by regularly.
ⓘ FUN FACT: The only way to take a picture of the Pentagon is by boat!
8. Have dinner on the Washington Harbor in Georgetown
Washington Harbour is the happening place to be, with live entertainment, dining experiences at assorted price points, and plenty of special activities for all ages every week.
Your family can enjoy a stroll along the boardwalk – watch the boats, and take in the nation's iconic scenery with views of the Kennedy Center, Watergate, Key Bridge, and across the water to Virginia.
In November, the fountain transforms into the Washington Harbour Ice Rink. At almost 12,000 square feet, DC's largest outdoor rink is open every day for public skating, and you can enjoy it until March.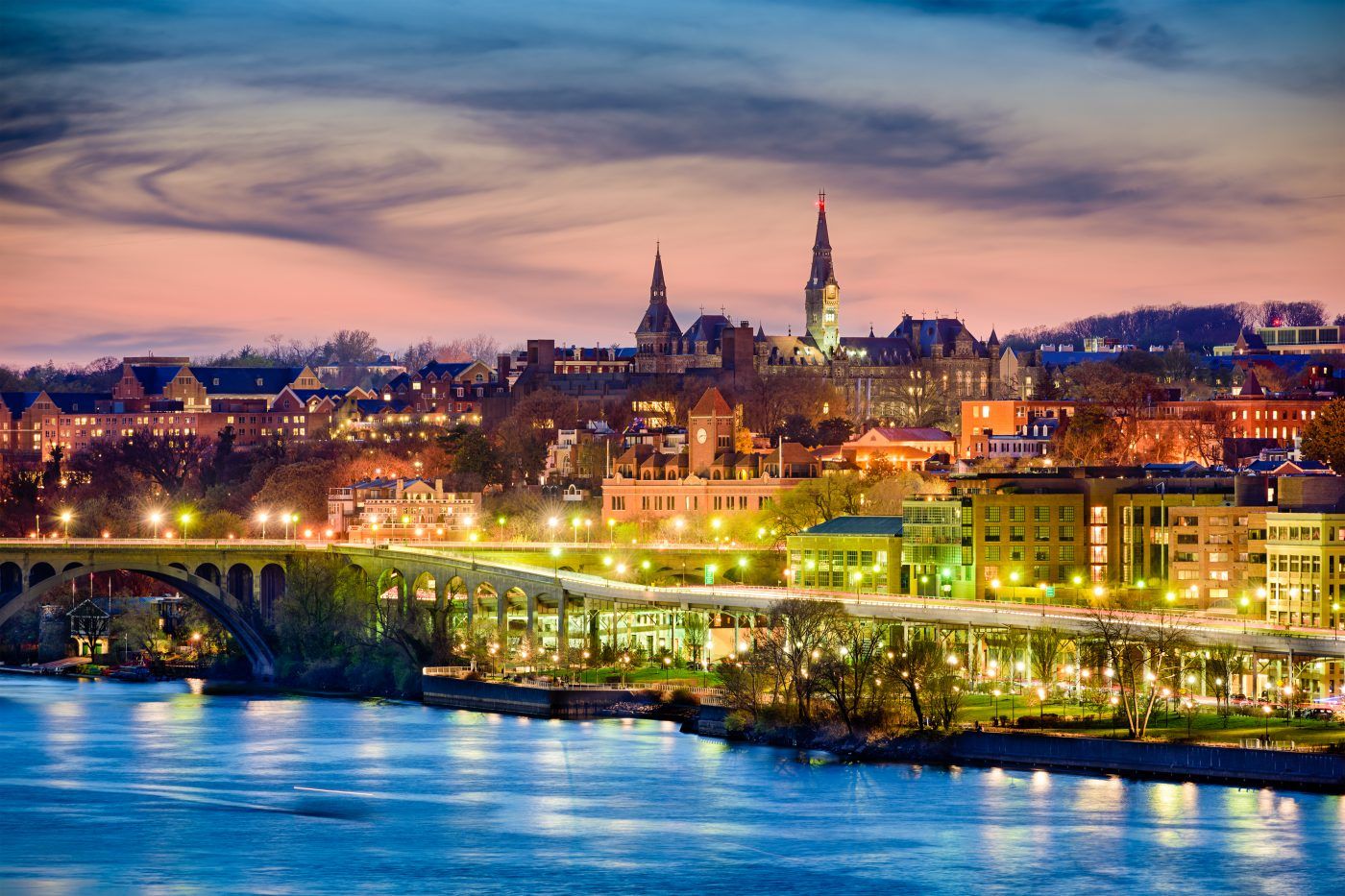 9. Tour the monuments at night
There is no way better to tour the monuments than at night. If your children aren't too tired, find a place to park and walk!
The Lincoln Memorial is breathtaking at night, overlooking the Reflecting Pool that illuminates the Washington Monument. It was one of our favorite memories, including the kids!
If they are running out of energy, a better option is an organized tour. Look for something low key and relaxing, like a trolley tour of the city's most popular monuments like the Monuments by Moonlight Tour. The ride can be a soothing end to a busy day.
Where to eat in Washington, D.C.
When you're visiting Washington DC with kids, food becomes a focus. Fortunately, this huge city has no end of family friendly places to eat.
Near the Capitol Building. The Capital Grille is a great place to catch lunch. We scheduled our Capitol visit right before our children were hungry, then headed to our next place.
Near the White House. Old Ebbitt Grill, opened in 1856, is right near The White House. We caught lunch there on our first day. Even though may appear to be high class, don't be afraid to take your kids. They have a great selection of food for kids. Plus, it is historic!
On the Washington Harbour. Our family enjoyed dinner at Tony and Joe's Seafood Restaurant. The prices are high, but the food is worth it!
Plan your D.C. with kids itinerary
Books about D.C. for kids
Here are some related books about Washington, D.C. that your children may enjoy: