Places where you can stay
There's a first time in Dublin for us all, I suppose, but ours was particularly memorable. When our oldest son was a lad, Dan had promised him that he would someday take him to Ireland. In 2011, "someday" arrived when we had a chance to finally keep that promise. We flew Jimmy to Dublin so we could enjoy ten days exploring the Republic together.
I have never seen anyone so excited about anything as Jimmy was about fulfilling his lifelong dream. Looking back, I would not be surprised if our trip was the highlight of his life. It certainly was one of the best vacations Dan and I have ever had.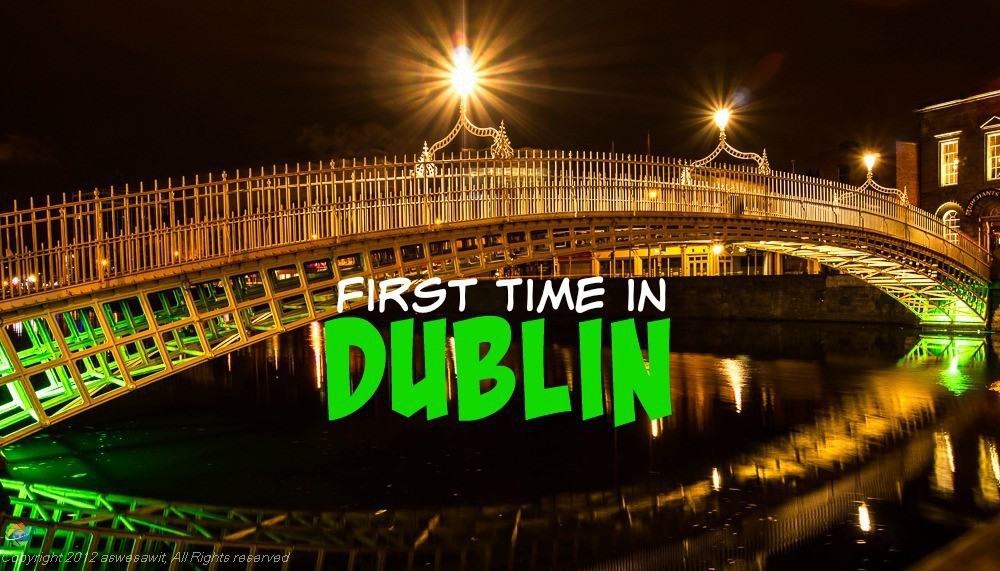 You really must spend some time in Dublin if you plan to see Ireland. Never mind that most planes land there and that's where the country's largest airport is. This is not a fly-in-and-try-to-escape-as-soon-as-you-can type of city. We quickly realized that there are more than enough things to do in Dublin to fill a two-week vacation.
O'Connell Street
Dan and I arrived the day before Jimmy and began our normal routine. Most of our trips begin the same way:
Check in at the hotel, and then leave our bags with the concierge if the room is not ready
Get the local currency (which, in this case, was euros).
Buy prepaid SIM cards for our cell phones so we have access to an affordable data plan (we use a lot of data).
Our quest for those euros and SIM cards brought us to O'Connell Street, a major thoroughfare in Dublin's city center. O'Connell Street has the distinction of being one of the widest streets in all of Europe.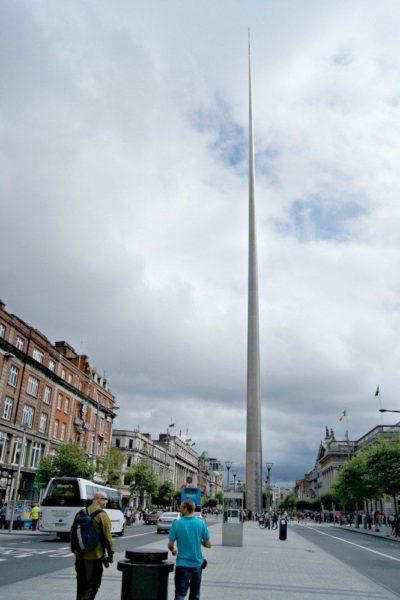 Widest? Perhaps I should also say wildest. O'Connell Street is wide and activity abounds, both with tourists, pubs, shops and buskers. We seemed to find a performer every few blocks.

Ethnic shopping galore
One of the streets that intersected with O'Connell Street was loaded with flower and vegetable stalls, meat shops, and ethnic groceries.
The shop windows were full of so many intriguing foods! I finally succumbed to curiosity and dragged Dan into a shop that sold middle-eastern spices, 25-pound bags of chapati flour, and an assortment of unidentifiable canned foodstuffs. If anyone doubts that Dublin has its share of immigrants, the abundance of ethnic restaurants and shops in the city should change his mind.
Enjoying Irish trad music
When we became hungry we went to look for a pub, but every pub that had both food and Irish music was already full, with nary an available table to be found.
Tip: Arrive early if you want a seat in a pub with Irish music. Seats can begin to fill up an hour ahead of time.
We finally found a table at a restaurant called Darwin's and ordered their specialty, a 10-ounce steak. Dan had béarnaise sauce with his, and I ordered a wine au jus. Both were flavorful, but for us the dinner's highlights were really the desserts: Dan got a bread-and-butter pudding with malt ice cream and I had a cheese tray: Four cheeses (soft, bleu, hard and goat) served with fruit, chutney, and crackers.
More pub grub
Jimmy arrived the next morning. As soon as he settled in, his first priority was to get his first Guinness on Irish soil and order some pub grub. We found one that had an appealing menu and Jimmy wasted no time in ordering a pint of The Black Stuff. The local dishes were good, of course (steak-and-Guinness stew, Irish salmon on brown bread, goat cheese salad), but the highlights for me were the looks of bliss and joy on Jimmy's face when he took his first sip of Guinness. Ohhhh, yeah.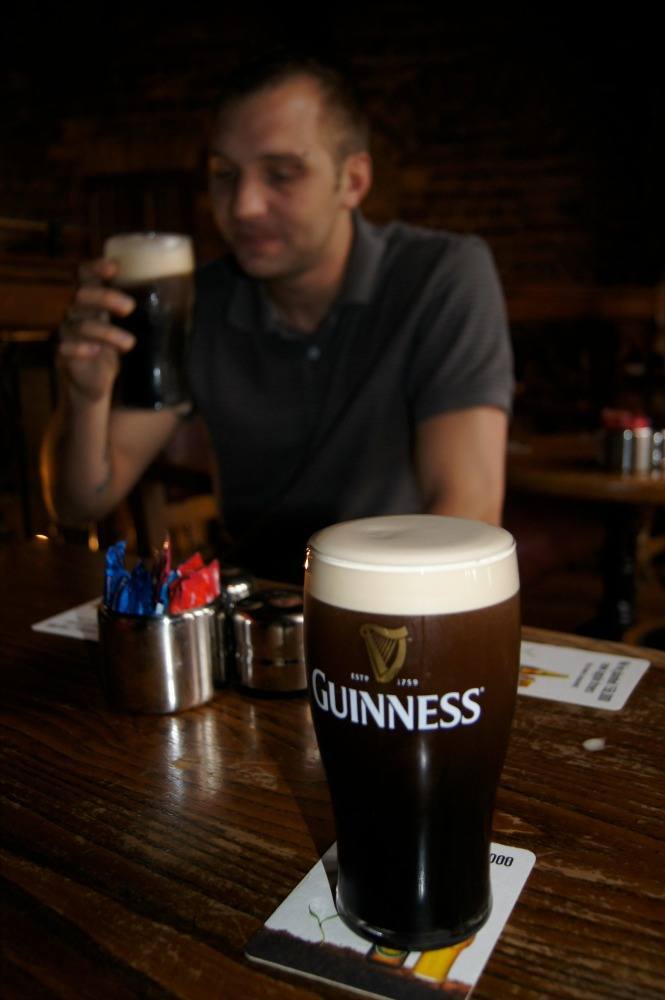 [ezcol_1half]
[/ezcol_1half] [ezcol_1half_end]
[/ezcol_1half_end]
Where we stayed
Our Dublin B & B (bed and breakfast), the Mont Clare, was in a great location on Merrion Square, a mere block or so away from both Trinity College and the National Gallery of Art. It had a classically British, early-1900s, polished wood-and-brass ambiance in its attractive lobby, and their (included) Irish breakfast offerings were quite varied.
All that aside, we weren't impressed. The front desk was spotty in their attention to guests, the rooms were way overdue for a paint job, and the carpets were worn making the private areas feel not quite clean. Also, we became insecure when some cash disappeared from our room during our breakfast. Moreover, while the hotel did have a bar, it lacked a proper restaurant so guests desiring a meal were directed to Mont Clare's sister hotel across the street. (To be fair, we stayed there in 2011. I would hope the hotel has improved since then.)
First time in Dublin starts with a bus tour
We spent the afternoon on Dublin's Hop-on/Hop-off bus, getting a good orientation to the city and overview of its history. We are huge fans of those buses, for so many reasons. I had been unaware of all the ways that Arthur Guinness and his descendants had helped the town over the years, taking a special interest in the people who worked for their company. They felt a responsibility to care for those who cared for their business, to the point that they had even built housing so their employees and their families would have a decent roof over their heads. They also made a big deal about Christmas every year for the children.
When our bus passed through a neighborhood with particularly well-kept row houses, I found myself fantasizing about living in one of them.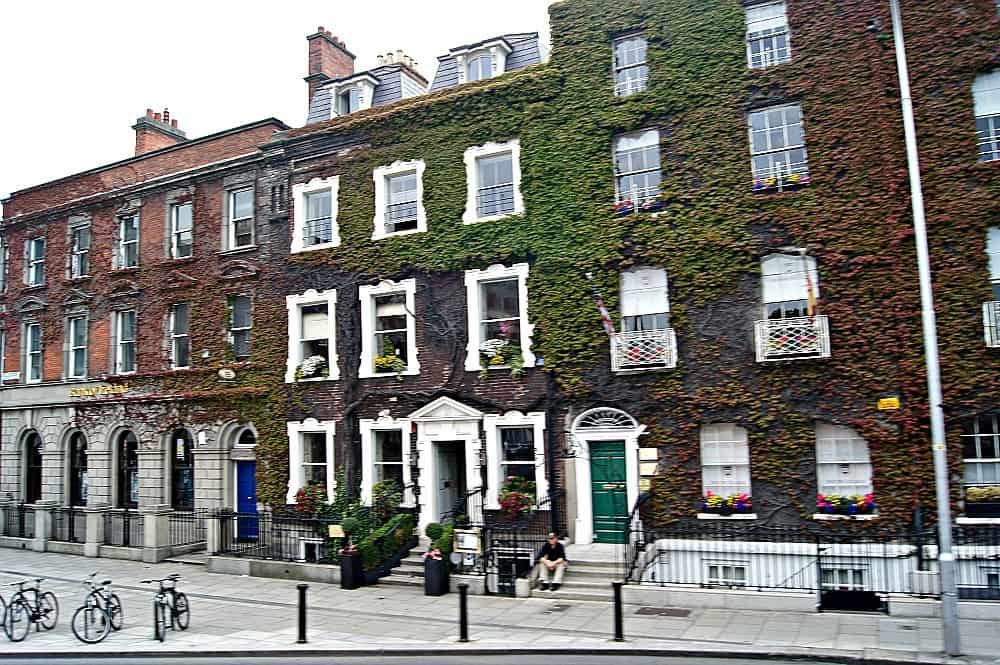 The bus route included a stop in a massive city park that I had previously been totally unaware of, and as we passed the zoo I made a mental note to visit it in the future. (Who doesn't love animals!?) But that didn't interest Jimmy too much. Truth be told, he had his mind rather focused on a particular destination. There was only one must-see thing in the entire city for our son, so we made sure that seeing it was our main priority.
After we had completed our bus tour.
At the Guinness Storehouse
If you are traveling with someone who loves Guinness, as we were, you will probably want to know that the bus stops at the Guinness Storehouse. Built in a building that had once been one of its grain storehouses (hence the name), it is a fascinating multimedia museum of the company's history and products.
Tip: The Guinness Storehouse is open 7 days a week, from 9:30 am – 5:00 pm (6:00 pm in July & August). Skip the ticket line, get a complimentary pint and save 10% by purchasing your tickets on their website ahead of time.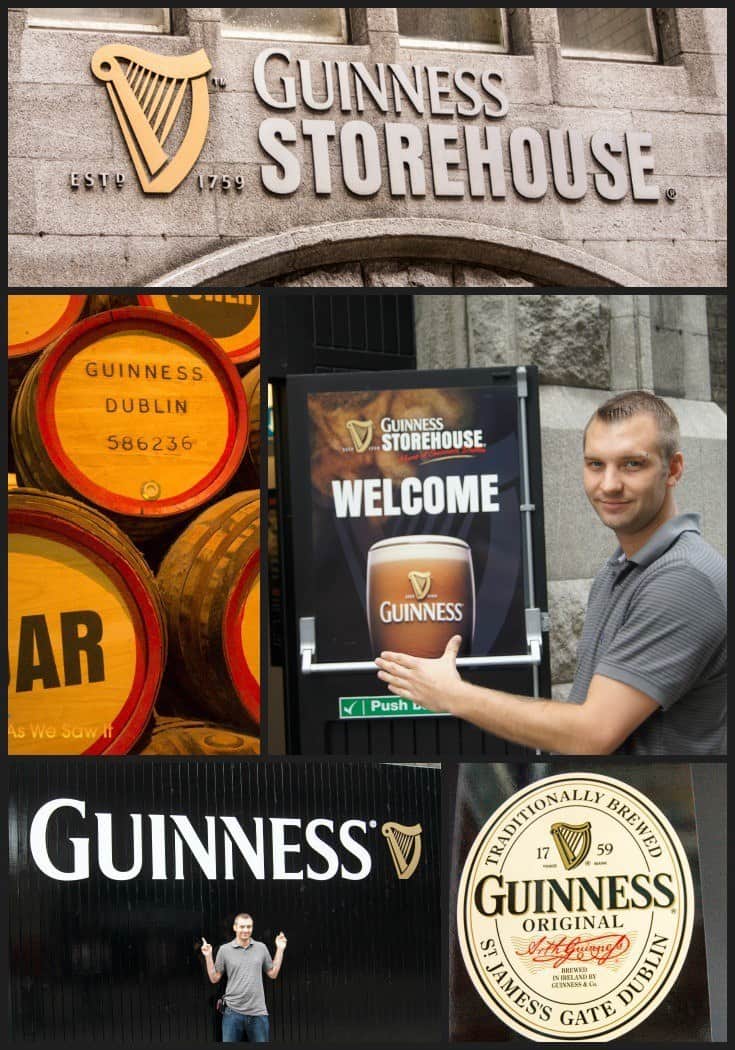 The self-guided tour began with a display of a copy of the 9000-year lease on the property that Arthur Guinness had signed 250 years ago.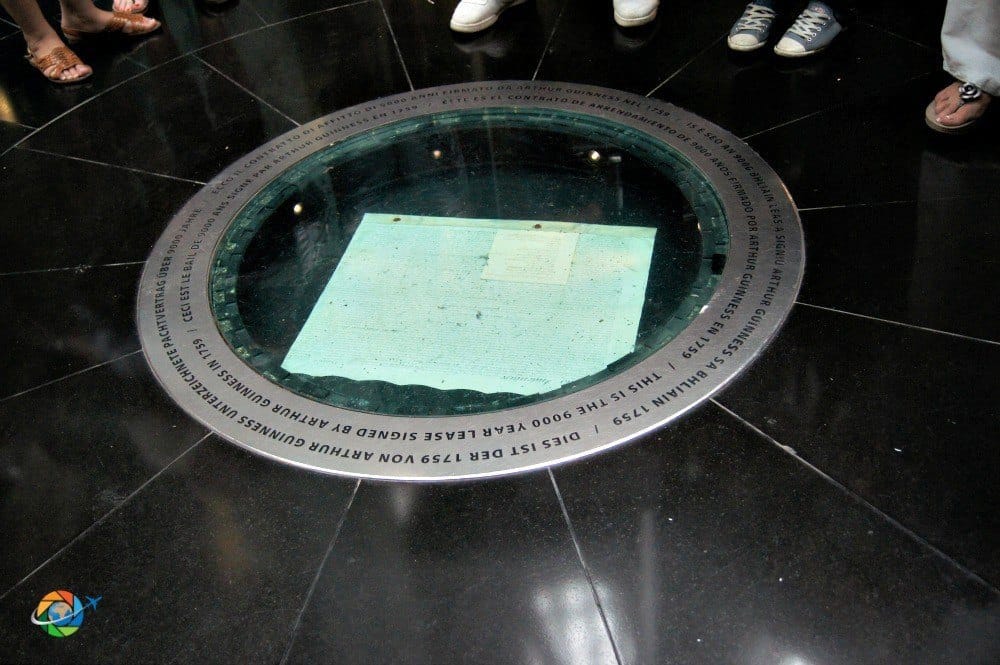 Just like bubbles rising in a pint of Guinness, we climbed level-by-level through the 7 floors of the museum. As we did, we saw hops, smelled and tasted roasted barley, viewed Guinness bottles and labels over the years, and learned more about the company's history and worldwide popularity.
[ezcol_1half]
[/ezcol_1half] [ezcol_1half_end]
[/ezcol_1half_end]
On the 5th floor we were offered an opportunity to learn from a master how to pull a pint of the black stuff ourselves. (There's a science to it!) But the tour only allows for one pint per person, and we weren't ready to surrender our vouchers for the experience. We really wanted to enjoy our pint at the end of the tour, so we heaved a collective sigh and moved on.
The tour ends at the Gravity Bar high atop the Storehouse, where everyone is served a pint of his own. We took plenty of time to savor its cold, malty goodness while we enjoyed a spectacular 360-degree view of the city.
I will confess that when Jimmy and I noticed that the bartender wasn't collecting our vouchers for the brews, we finagled a second round. Dan just rolled his eyes and shook his head at us, then pulled out his camera.
Before we had left the Gravity Bar, Dublin had won our hearts. It had become one of our favorite cities, and not just because of the beer.