Not many people have the Commonwealth of Dominica on their travel radar. The small Eastern Caribbean island is relatively untouched, full of waterfalls and national parks to attract nature lovers and hikers. Unfortunately, when business requires you to spend all of your time in Roseau, its tiny capital, you miss out on all of that. You do, however, get a good idea of what Roseau Dominica is really like.
After a weekend playing in Calibishie, it was time to get down to business. Dan and his business partner had five days of meetings scheduled in Roseau, so we wives were pretty much on our own for the duration. Stuck in Roseau.
Sure, I could have taken day trips and explored the island on my own, but that's not the way I roll. I like sharing new discoveries with Dan; he's my beast friend as well as my husband. And besides, abandoning Richard's wife and toddler to a week worth of nothing to do seemed heartless.
Likewise, I couldn't in all good conscience abandon my poor son Chris, who was stuck in our hotel room with a week's worth of school work.
Plan B: Explore the capital of Dominica and find out what to do in Roseau.
What are the best things to do in Roseau?
Although it's Dominica's capital and its largest city, Roseau is only about maybe 10 blocks wide and deep. Being so small, most of it can be seen in one day, so by the end of the week our daily routine got really old.
Tucked on a narrow strip of land between sea and mountain, Roseau is a quaint town, with a decidedly Caribbean air. It's so obviously different from America that while we were there we almost forgot that we were still in the same hemisphere.
1. Hike to Morne Bruce
The "mountain" side of Roseau is Morne Bruce, and it offers incredible views over the city.
We were told that it's a short hike up, but even so, it doesn't seem wise to do such a steep climb when it's super hot weather. There's no point in tempting fate. It's much easier and faster to go by car.
ⓘ TIP: Are you visiting with a toddler? Be forwarned: Navigating a stroller through Roseau will give you a workout! Few streets had good sidewalks and some had no sidewalks at all. We found it easier to wheel a child around than to carry him everywhere, especially in that oppressive heat.
2. Shop at the Old Market
Roseau's Old Market has a dark history: It once was one of the major slave trading markets in the Caribbean. Today it has received new life as a bustling hub where locals chat and tourists shop.
If you want to buy something that was actually made in Dominica, the Old Market of Roseau is the best place to pick up a souvenir. You can find a variety of arts and crafts, locally sourced spices, and handmade products, like fragrant soaps and oils. You'll also find a lot of the usual tourist stuff, like t-shirts, magnets and post cards.
Which brings us to our best tips for souvenir shopping in Dominica.
Avoid shopping on the bay front. The most expensive stores are right on the bay front, conveniently within view of every disembarking cruise ship passenger. This is expensive real estate, and as a result most of those seafront shops are owned by the cruise companies and contribute little to Dominica's economy. They carry all the usual touristy things you can find in every other cruise port. We're talking everything from jewelry to clothing to overpriced, tacky souvenirs made in China and goofy things like Obama rum.
Check the side streets. Far better deals can be found on Roseau's side streets, where tents will pop up when a ship is in port. Go here to shop: Many of those products are handmade and brought into the city for the day. And in case you're wondering, it's perfectly safe to wander the streets and you'll see a ready smile whenever you pop into a local place.
Astaphan's is a window into island culture. It's the largest store in Roseau, a modern shop with a variety of Caribbean products. Far more interesting than the duty free emporium,. Everyone knows where it is. It's only a few blocks from the Bay Front. But then, Roseau is so small that nothing is very far.
If you're looking for local grocery products made in Dominica, I highly recommend Bello hot sauces, Bay Rum and coffee. All are produced on the island. Buying them at a local grocery store may save you some money. It will also help the economy more.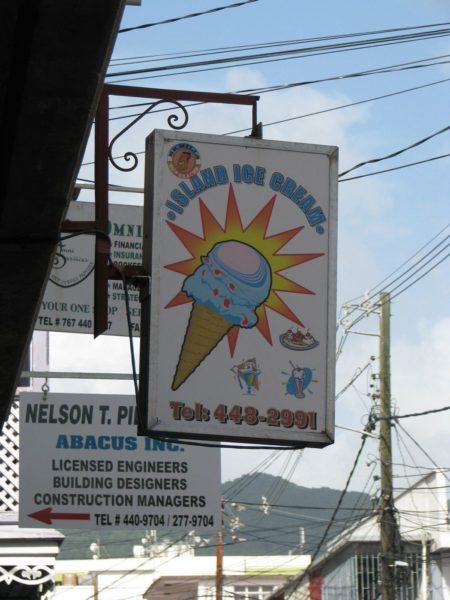 3. Visit Roseau Museum
We were thrilled when Friday rolled around and the men didn't have meetings; it gave us all a chance to show them around the city. We finally visited the Dominica Museum, which conveniently was only steps from the hotel.
The museum is pretty much single-handedly maintained by one man, Lennox Honychurch. He is the foremost historian of the island, and has added an interesting collection of photographs, archaeological finds, and cultural displays.
Open: Mon-Fri 9-4 pm, Sat 9 am-noon, small entrance fee
4. Dominica Botanical Gardens
We also saved the gardens until the men could join us. Once one of the finest gardens in the Caribbean, Dominica Botanical Gardens was the victim of bad timing. In August 1979, the entire island was devastated by Hurricane David and because they had gained independence from England only a few months before, no help was forthcoming.
While the gardens have never recovered their former glory, they are still beautiful and definitely worth a visit.
Open: 6:00 am – 7:00 pm, free admission.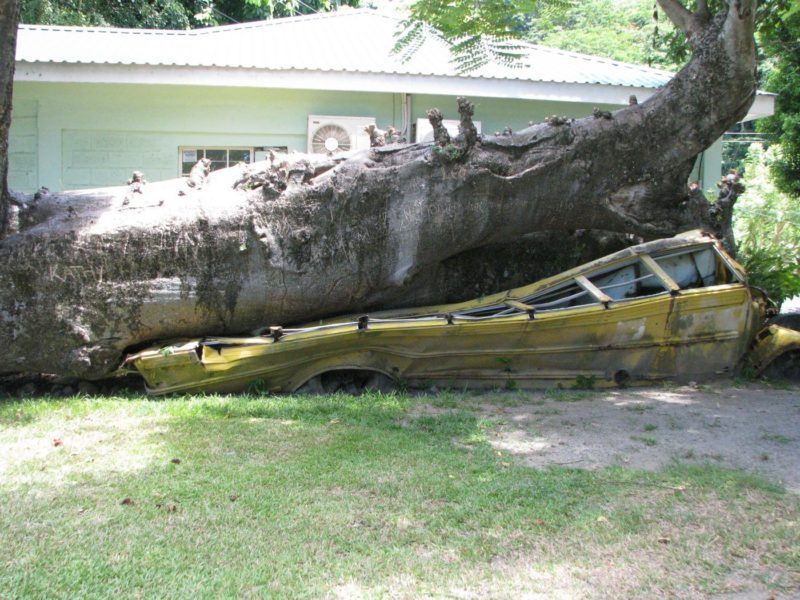 5. Talk to the locals
People in Roseau are friendly and just as curious about you as you are about them. Strike up a conversation and enjoy yourself!
We were there in September, and it was roasting hot. Due to the heat, many Roseau residents spend their days outside in the shade, chatting to each other or selling their wares to passersby. A few of the shops were air conditioned, but most of them were stifling, and no one seemed to mind having only one or two fans.
Except for us. Not being used to the climate, we started looking for fans everywhere we went. When we found one, we lingered in front of it for as long as possible, marveling at how the locals barely seemed to break a sweat.
Like most kids, the little guy never let the temperature get him down. He made many friends for us with his sunny disposition and winning smile. Dominicans are really friendly and although we were of a different color, they never made us feel different.
On the bright side, I'm told that walking in hot weather burns more calories.
5. Find Smoothie Man
Speaking of locals, our first day in town we discovered a simple stand only a few blocks from our door where a very friendly man made yummy smoothies from fresh fruit … so every morning our first priority was to walk over and see if he had opened for business for the day.
For EC$5 (about $2.80), his blender would whip up a refreshing drink, using only the island's freshly-harvested fruit and some ice. We almost always bought one to take on our morning walks.
ⓘ TIP: If he's still there, you'll find his fruit smoothie stand just one block away from where the cruise ship docks. If he isn't there, please let us know.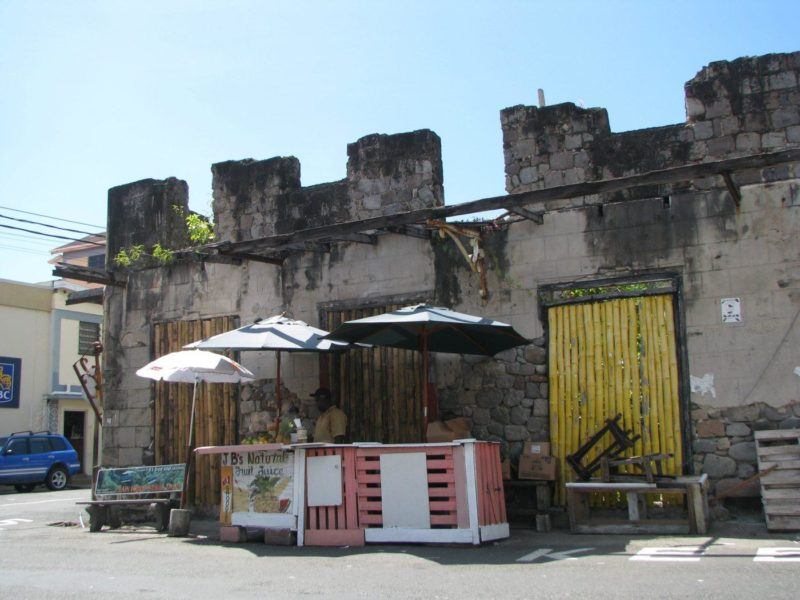 Smoothie or no, by lunchtime we'd be dripping wet with sweat from the heat and exercise, hungry, and ready to return to the hotel for a shower and the air-conditioned comfort of our rooms. Our biggest disappointment of the entire trip was that the Garraway Hotel has no pool; we really could have used it.
ⓘ TIP: Any time you're going to a Caribbean island, make absolutely sure you will have access to either a pool or the beach. Must. Cool. Off.
6. Take a day trip from Roseau
There are a lot of things to do in Dominica, and the creative islanders have turned nearly all of them into cruise ship shore excursions. Whether you're on the island for a day or for a week, here are the ones that get the best reviews.
Cabrits National Park and Fort Shirley
Trafalgar Falls
Emerald Pool
Snorkeling / diving at Champagne Reef and Champagne Beach
River tubing in one of Dominica's 365 rivers (you read that right!)
Morne Trois Pitons National Park, Dominica's only UNESCO World Heritage Site
Titou Gorge
Boiling Lake
Middleham Falls
Whale watching (seasonal)
We can personally vouch for the first five, all of which we did before we left Dominica.
Where to stay in Roseau
If you plan to spend more than one day in Roseau, Dominica's top hotel is the Fort Young Hotel, so named because one wing was actually a fort at one time. For history buffs, their Fort Rooms are housed in part of the original fort buildings. I would have liked to stay there, but I was overruled.
We stayed across the street in the Garraway Hotel, which was reputed to be the best hotel for businessmen. It was not quite as posh as the Fort Young but it was comfortable … and a whole lot more affordable. The staff were attentive, we had air con and our room had fabulous views of the bay front and the city. Not to mention a rooftop to view the luminous sunsets.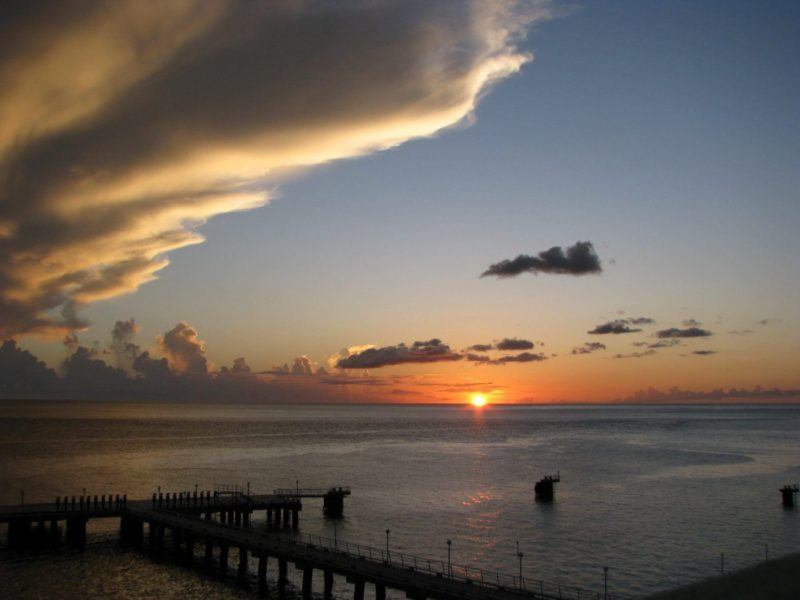 In retrospect, although the Garraway may be a good choice for businessmen and tourists who take day trips into the cooler mountains, it was not the best choice for us. We were there in the stifling heat all day. If we had known that our hotel didn't have a pool, we would have literally begged our husbands to spring for rooms at the Fort Young. Price be damned.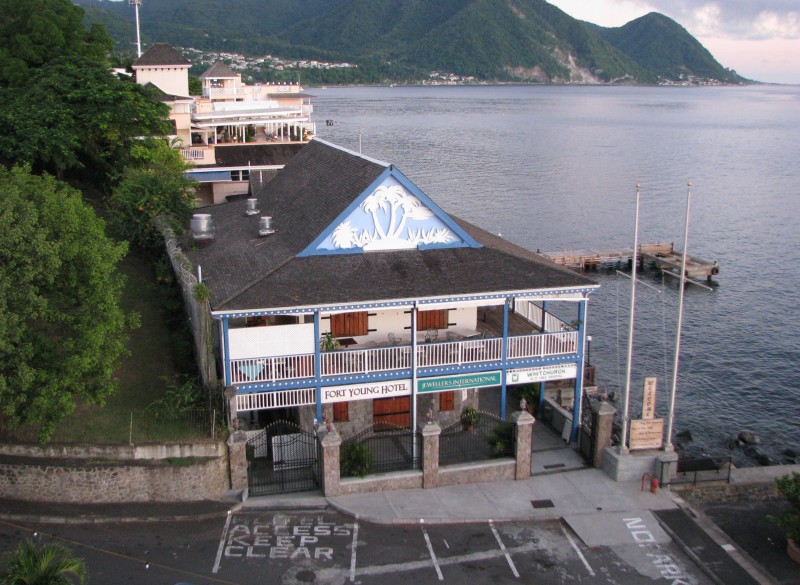 Every morning we would meet for breakfast and savor the island's coffee before taking the little guy for a walk around town. It was our time to explore the town and its many shops. And shopping and walking were about all that we could do, for the city had only one small history museum and no easy access to the beautiful Caribbean waters.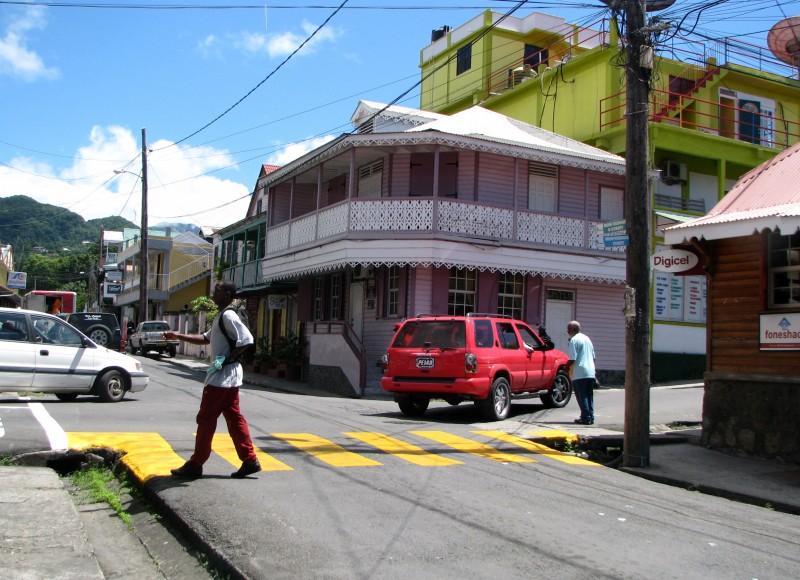 Other insights into Roseau life
Little kids need an afternoon nap, so I spent my afternoon hours on my own with smoothie #2, talking to locals and wandering the streets with my camera. I found some interesting churches and buildings along the way.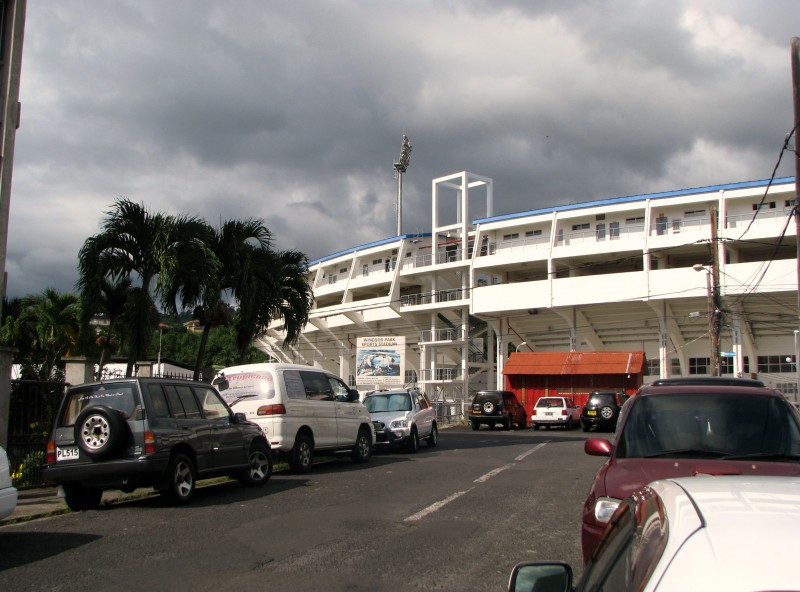 I also discovered Windsor Park Sports Stadium. Used mostly for soccer (football to you Europeans), it was built through a grant made by the People's Republic of China to the Government of Dominica.
Eating out in Roseau
Here are a few things we learned while we were there:
The islanders are very family-oriented, so few shops or restaurants are open in the evening.
Dan and I did manage to find a local pizza parlor one evening. Who'd have imagined that green beans are good on pizza!
We also ate at a Chinese restaurant twice. Even though I'm not a fan of Chinese food, I actually enjoyed eating there. Their dishes tasted nothing like the Chinese stuff we're used to in the States. Perhaps the owners were from a different part of China? Whatever.
Dan and I tried Roseau's KFC on Friday night. That was a different experience! Dominica's KFC doesn't have combo meals; everything is a la carte and they don't know what a "free drink refill" is. Guess that American concept doesn't work here.
It's particularly difficult to find somewhere to eat on Sundays. You most likely will have to eat in a hotel restaurant, as we did.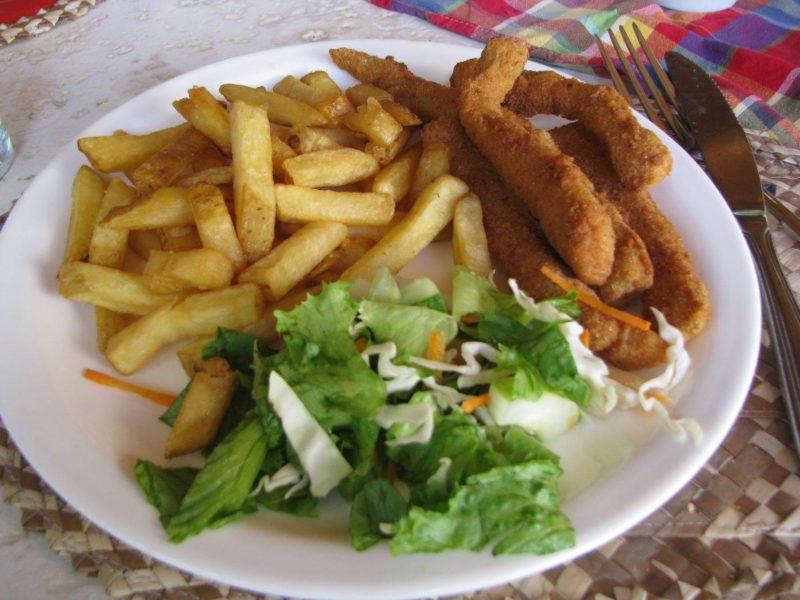 Cruise ships: another side of Roseau
Sleepy little Roseau comes alive whenever a cruise ship comes in. Two ships arrived the week we were there. Our hotel windows overlooked where the ships dock so we had a chance to watch everyone set up their booths for the tourists.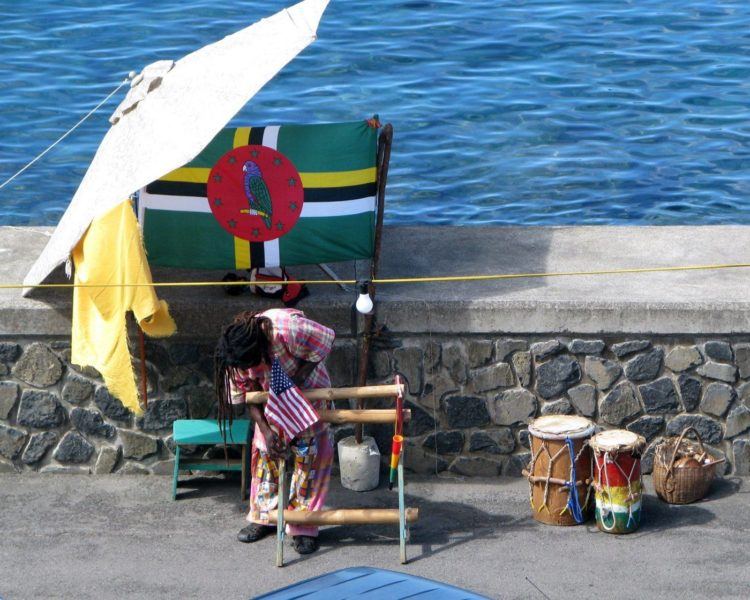 We didn't enjoy our walks as much on cruise days. Shopkeepers who normally left us to look around in peace became fiercely competitive, nagging us for the dollars they assumed we wanted to spend.
Every guide on the bay front offered a tour too, and some of them were quite intriguing. I've listed the best ones above. Had we been in the market, we'd have had a hard time choosing which one to take.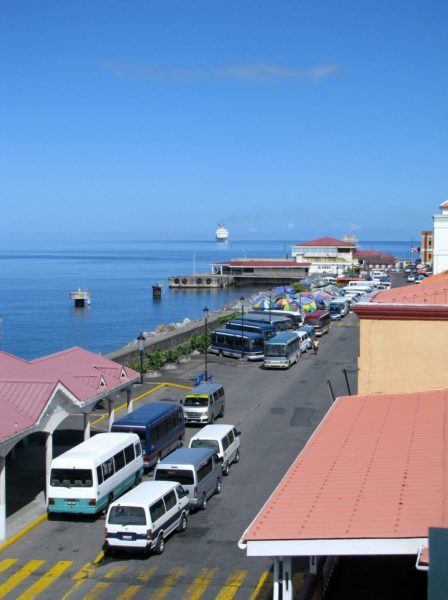 Still, the cruise industry is vital to Dominica's well being. If it doesn't get income from tourism or other new enterprises, Dominica may someday be forced to find its income elsewhere, perhaps building the Chavez refinery it has been resisting. It would be a shame if this island had to sacrifice its greatest resource – its natural beauty – in order to survive.
Plan your Dominica trip
Read more
Online
On Amazon