Sicilian food may have a lot in common with Italian cuisine, but make no mistake: they are not the same. Sicily has been a coveted piece of real estate for 3000 years, and every invader left its mark on its culture and its cuisine.
You might call Sicily the home of fusion cuisine. Every conqueror brought new flavors and ingredients, which were then included in traditional Sicilian dishes. Greeks brought capers and olives, Arabs brought saffron, lemons, and raisins, Romans brought cheeses, the Spanish brought tomatoes and chilies from the New World … the list goes on.
Sicilian dishes you need to try
One thing is sure about food in Sicily: The rich flavor of the island's seasonal fruits and vegetables will overwhelm your senses.
Siciliann cuisine is local and seasonal. Coastal towns prepare dishes that feature locally-caught seafood, while foods from the inland mountain towns highlight local cheeses. The ingredients in Sicilian cuisine include things like melons in the summer, olives in the autumn, chard in the wintertime, and asparagus in the spring.
Unlike Italian cuisine overseas, you'll never find an uneaten dish here – everything tastes so good!
Read on for some of the best Sicilian dishes that you should try. We think you'll be surprised to find that some of your favorite Italian dishes actually originated in Sicily.
ⓘ TIP: If you're heading to Sicily, we highly recommend taking a Sicilian street food tour while you're there! Click here for a fantastic street food tour in Palermo and here for a street food tour in Catania. If wine is more to your liking, then you'll enjoy this 5-hour Mount Etna food and wine tasting tour.
1. Аrаnсіnі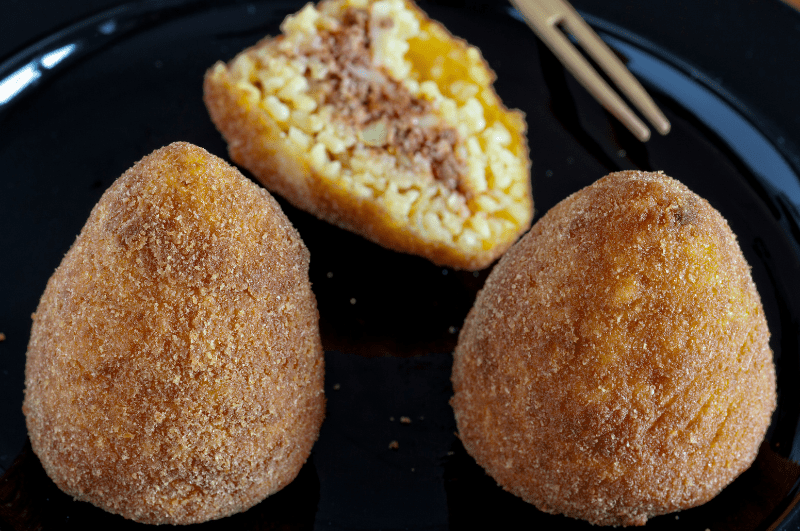 Arancini ("little oranges") are favorite Sicilian food items throughout the island. These not-so-tiny morsels of deliciousness have been an icon of Sicily's culinary culture since the 10th century.
Arancini aren't oranges. They're spheres of creamy risotto stuffed with assorted fillings, that have been coated with breadcrumbs and deep-fried to golden deliciousness. The rice balls can be filled with just about anything – from cheese to meat to pistachios and more. You'll find them at street stalls and in cafes throughout the island.
While nobody disputes that arancini are a scrumptious Sicilian delicacy, we can't say that everyone agrees on the proper name and shape. Catania and Palermo – the island's two biggest cities – have always had a friendly rivalry as to who created it. They also disagree about what this delicacy should be called.
In Palermo and the rest of western Sicily, locals insist that you use the feminine form – Arancina – when you order. Here, arancini are shaped like a ball.
Yet in Catania and eastern Sicily, you'll need to ask for Arancino (the masculine form). Here, the rice balls are either oblong like an American football, or pointed at one end, just like Mount Etna.
Just be prepared to be corrected if you call it by the wrong name.
2. Brioche con gelato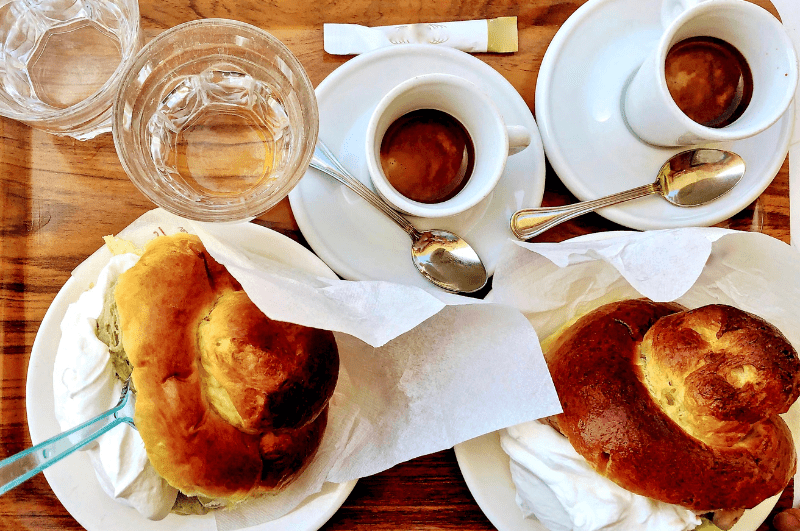 Another rather unusual combination of flavors and ingredients is brioche con gelato, which means "bun with ice cream". Think of it as Sicily's unique version of an ice cream sandwich.
Imagine a brioche bun that is lightly toasted until it's warn on the inside and crispy on the outside, then generously filled with gelato, an Italian-style ice cream. Some shops even add whipped cream (panna) and chopped nuts as a topping.
And while you might imagine something sweet like this would be served as a snack or dessert, Sicilians typically eat brioche con gelato for breakfast.
Typical ice cream flavors to put inside your brioche con gelato are hazelnut, pistachio and stracciatella.
3. Саnnоlі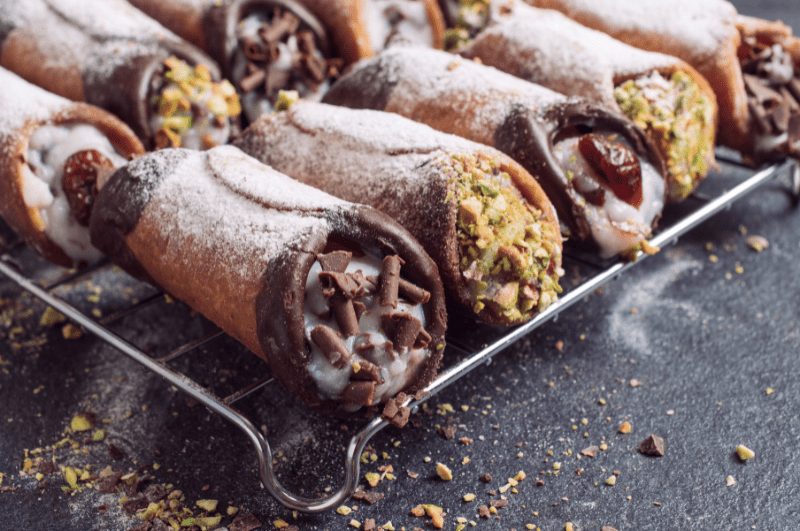 Italian cannoli (the singular is cannolo) are probably the best-known of all Sicilian desserts.
With an outer cinnamon dough casing that is lightly fried and crispy, cannoli are filled with a deliciously sweet ricotta mixture and then sprinkled with melted chocolate or chocolate chips and nuts.
Cannoli can be eaten warm or cold and the mix of flavors and textures is a culinary delight. You'll find these sold in bakeries across Italy, where they are also sometimes called cannoli Siciliani.
4. Сароnаtа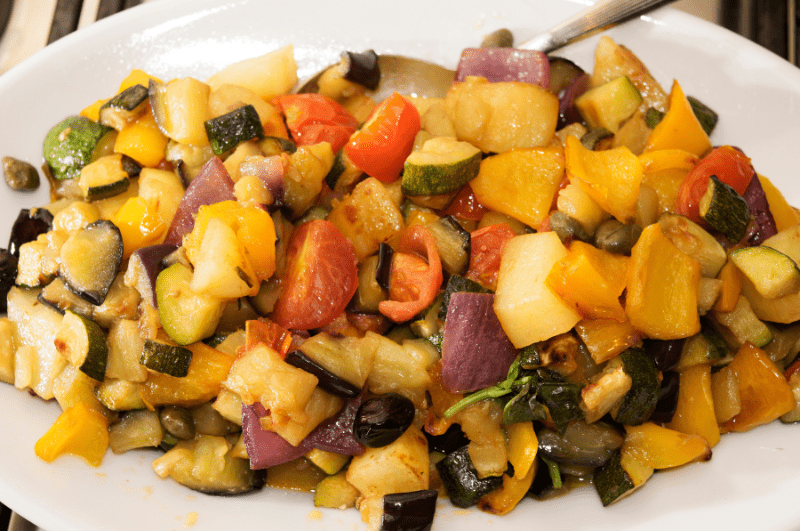 Caponata is a Sicilian antipasto relish that is traditionally served cold or at room temperature. It's a popular appetizer, often spread on crostini or in a bowl for dipping toasted bread cubes. But it's so well-loved that it's often served as a side dish, the main course, or served over grilled chicken or fish.
The dish begins with diced eggplant (aubergine), celery, tomatoes, onions, garlic, capers, and olives, that are stewed with vinegar, sugar, and spices like cinnamon or cloves. Depending on the cook, it may also include pine nuts or raisins. While the ingredients may seem simple enough, caponata is a complex dish with a unique sweet and sour flavor that will tantalize your taste buds.
While the origins of caponata are unclear, it's clear that this dish has been around for centuries. The eggplant was introduced to Sicily by the Arabs in the 9th century, so it's likely that caponata evolved soon after.
You'll find many different versions of this dish throughout Sicily. Each cook has secret ingredients and methods for making it. But one thing is for sure – it's always delicious!
5. Саssаtа Siciliana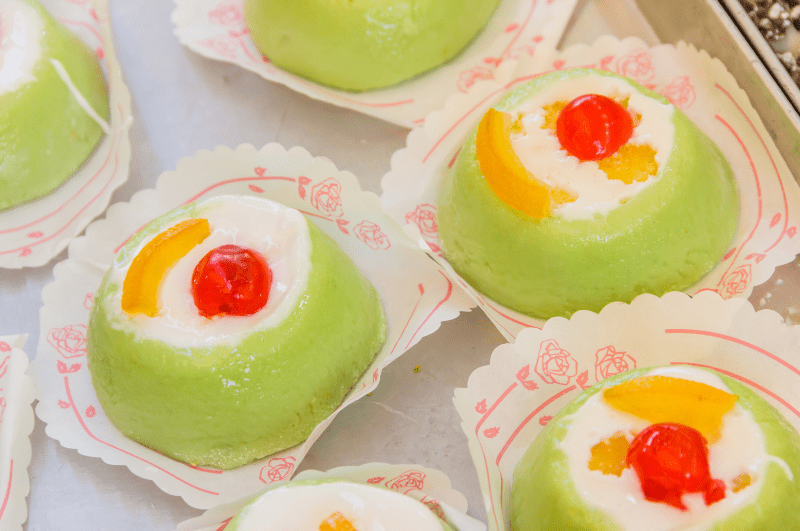 This is a timeless classic and is a traditional sweet dessert that's made throughout Sicily. Cassata Siciliana is made from ricotta cheese, fruits, and marzipan sweets, and can take on various shapes and colors.
Somewhat similar to a trifle, it has a sponge cake base that soaks up the moist ricotta and fruit filling and may also have liquor added to it.
These cakes are often eaten at Easter time and can be colorfully decorated with candied fruit and icing.
6. Cioccolato di Modica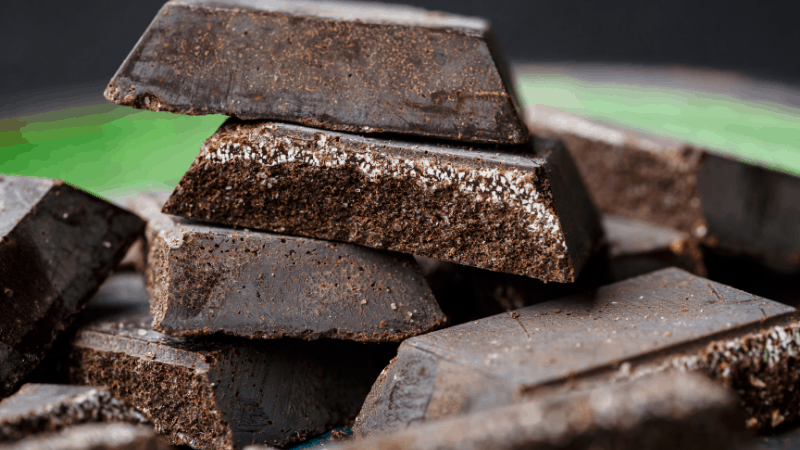 If you have a sweet tooth, then Ciccolato di Modica should fill the gap. Also called "cioccolata modicana," this specialty Sicilian chocolate comes from the town of Modica in southeast Sicily. It is made according to an ancient Aztec recipe that begins with grinding the cocoa beans by hand.
Cocoa is known as a superfood and the process of making Modica chocolate involves melting the cocoa over a low heat to preserve its beneficial properties.
This, along with the fact that the sugar that's added doesn't completely dissolve, gives the chocolate a distinctly crunchy and granular texture.
Unlike most other chocolates, cioccolato di modica doesn't have any cocoa butter added to it, but you'll find a variety of different ingredients mixed in with the chocolate, such as salt, nuts, fruit, vanilla, cinnamon, and even ginger or chili pepper.
ⓘ TIP: Traditional cioccolato di modica is the perfect vegan treat, as it doesn't have any milk or vegetable fats added.
7. Frittula
Another Palermitan favorite is frittula. This dish is made from the leftovers of a traditional Sunday roast. Beef, pork, chicken, or lamb – whatever meat they'd had for lunch – would be chopped up and mixed with onions, breadcrumbs, parsley, Parmesan cheese, eggs, and spices. Finally, it would be fried in olive oil until crispy.
Nowadays, butchers will often make frittula for you (saves you the trouble of doing it yourself).
This dish is often served as an appetizer or a street food snack. You'll find it served in small paper cones from street stalls around the city.
It's also common to see it on the menu of a typical Sicilian ristorante (restaurant).
ⓘ Fun fact: The word frittula is derived from the Latin fritillus, meaning "fried".
8. Orange and fennel salad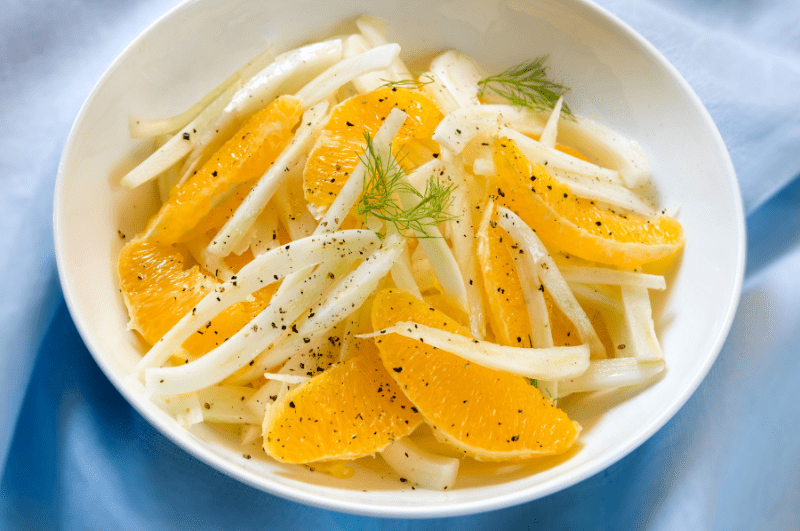 Sicilian cuisine is known for its use of fresh, local ingredients. This is especially true for salads, which are often made with whatever is in season. This orange and fennel salad is a perfect example of that.
The salad is made with oranges, fennel, olives, basil, and olive oil. It's a refreshing, light dish that's perfect for a summer lunch or starter.
The combination of sweet oranges, bitter fennel, and salty olives is a classic Sicilian flavor combination. The addition of basil adds a touch of sweetness and an herby flavor that makes this dish truly unique.
This salad is best when made with blood oranges, which are in season from December to March. When blood oranges aren't available, regular oranges are often used instead.
Want to read this later?
Save this pin on your favorite Pinterest travel board.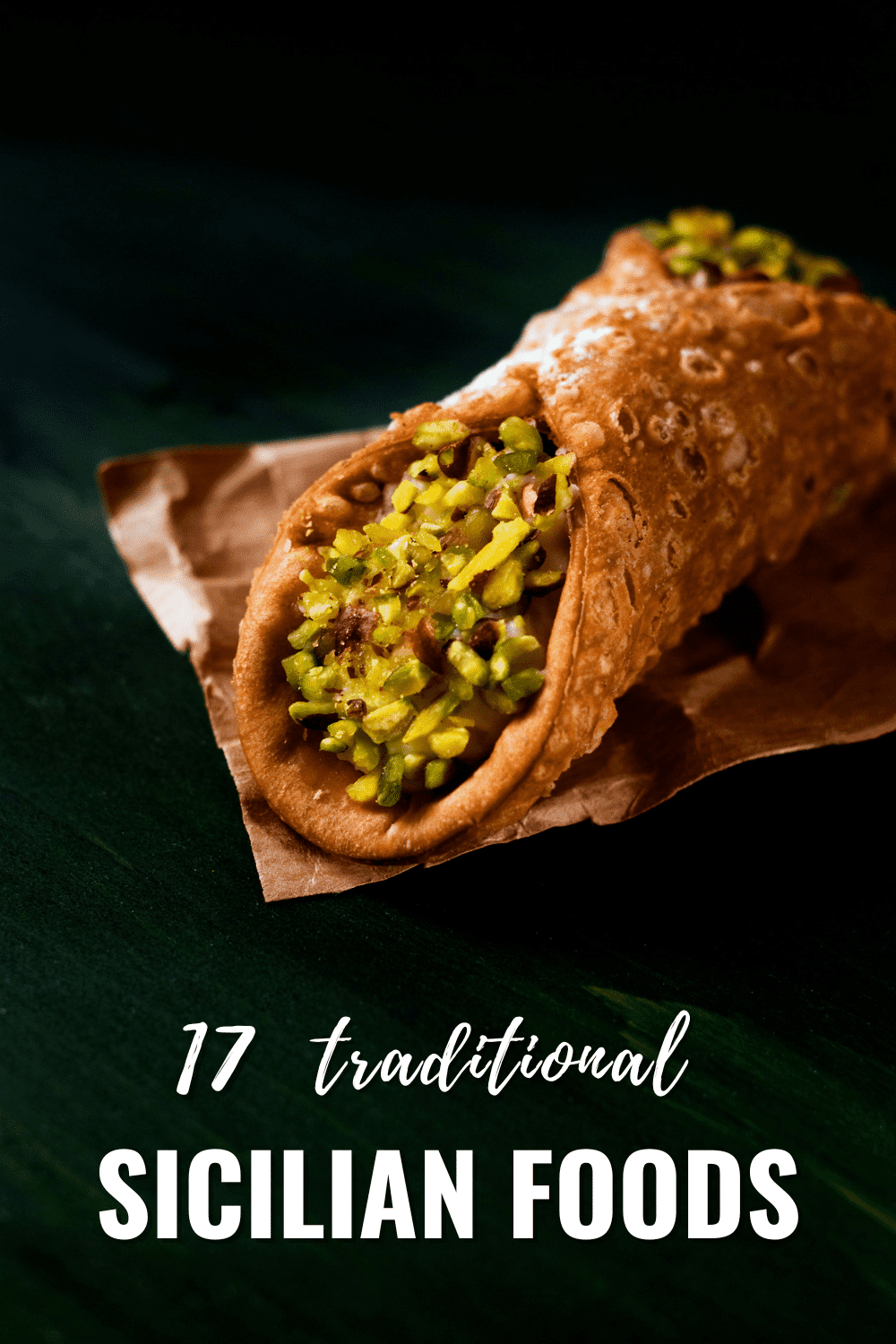 9. Pane e panelle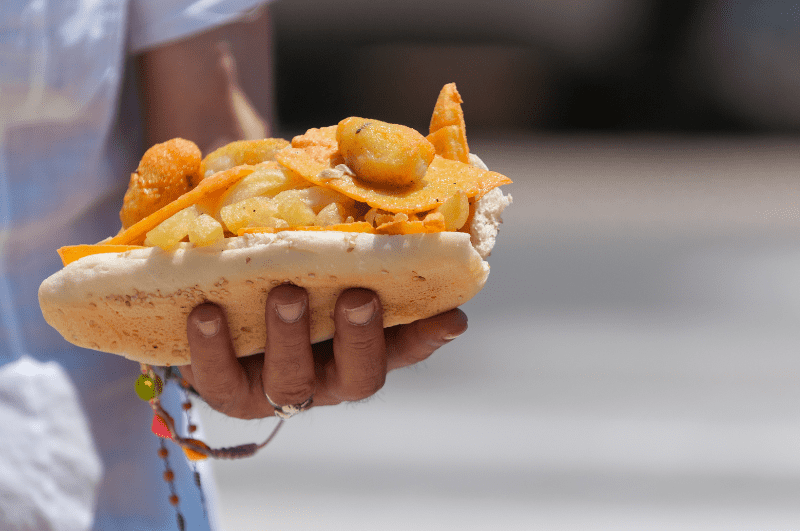 Pane e panelle is often eaten as a snack or street food, but it's also common to see it on the menu of casual Sicilian restaurants. The dish is made with chickpea fritters (panelle) and served on a roll (pane).
The fritters are made by mixing chickpea flour, water, and parsley with spices like salt, black pepper, and chili flakes. The mixture is fried in oil until golden brown and crispy, then placed on a roll and served as is, or with a dollop of mayonnaise or tomato sauce.
This dish is simple but delicious. The chickpea fritters are crispy on the outside and fluffy on the inside, and the roll is soft and chewy. Be forewarned: The combination of flavors and textures is addictive.
10. Pani cunzatu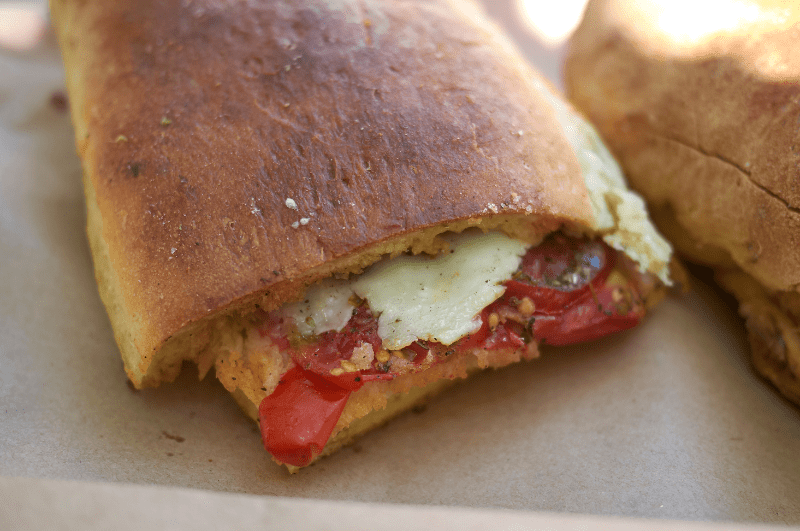 Essentially a lightly seasoned Sicilian bread, pani cunzatu is sometimes nicknamed the "bread of misery," as long ago it had a reputation of being all that the poor could afford.
Nowadays, it's common for it to be served with a range of toppings or other optional seasonings (which vary depending on the region you're in).
This bread is made from flour, extra virgin olive oil, salt, pepper, and oregano. It's baked and cut horizontally, then stuffed with cheese, anchovies, olives, capers, garlic, or other ingredients. Then it's toasted for a few more minutes and served warm.
Although pani cunzatu is relatively basic, it is still quite delicious. The best way to eat it is when it's fresh out of the oven and still warm.
11. Раstа аllа Νоrmа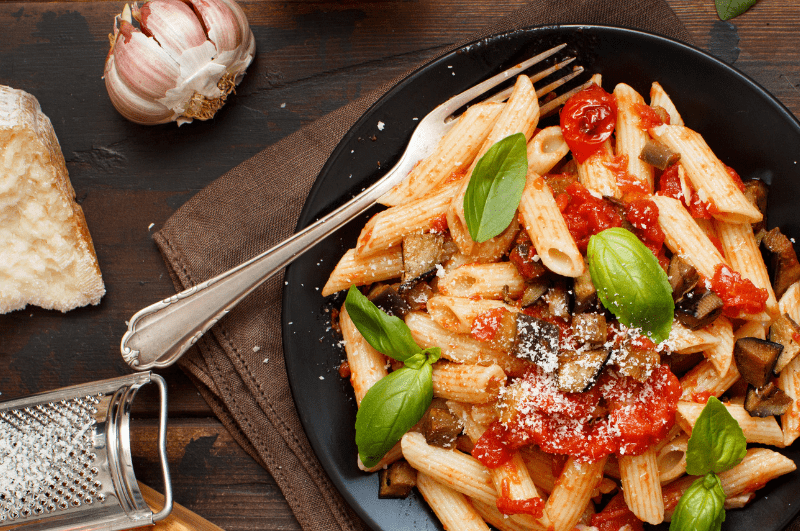 This easy-to-make, vegetarian pasta originated in Catania. The key ingredient in this is eggplant (also known as aubergine). According to legend, the poet Nino Martoglio named Pasta alla Norma in honor of Vincenzo Bellini's famous opera 'Norma', as he was so impressed by this delicious pasta meal.
Pasta alla Norma is flavored with ricotta salata (a Sicilian version of ricotta cheese), garlic, fresh basil, salt, olive oil, and tomatoes … and of course crispy chunks of fried eggplant.
Ricotta salata can be a tricky ingredient to locate outside of Italy, so cooks often use pecorino cheese or Parmigiano-Reggiano as a substitute.
12. Раstа соn lе sаrdе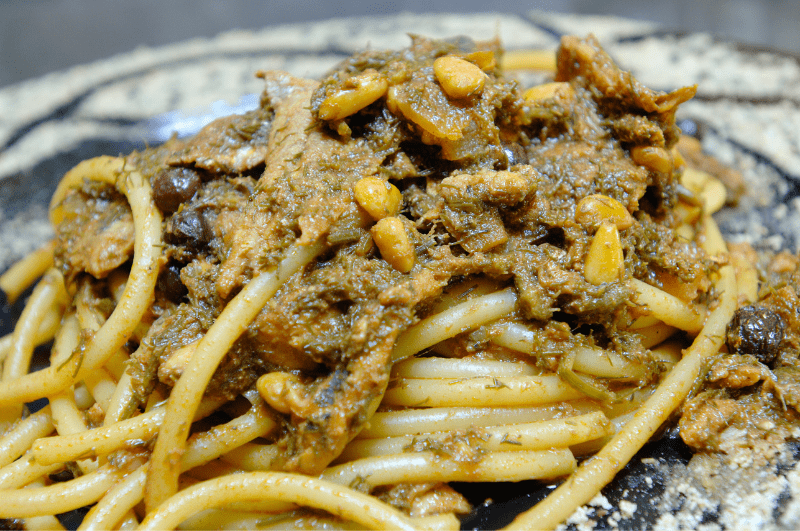 For an authentic taste of Sicily, pasta con le sarde offers a burst of Mediterranean flavor. Its name literally translates as "pasta with sardines." This fishy pasta, made with sardines and other fresh ingredients, originated in the city of Palermo and is thought to have been created as a fusion of Arabic and Italian cuisines.
Suitable for pescatarians, this traditional pasta dish can be made with a variety of different ingredients. You'll typically find that olive oil, onions, and sardines and/or anchovies are used. Other popular local and fresh ingredients that are often added include wild fennel, pine nuts, saffron, and sometimes tomatoes.
13. Sarde a beccafico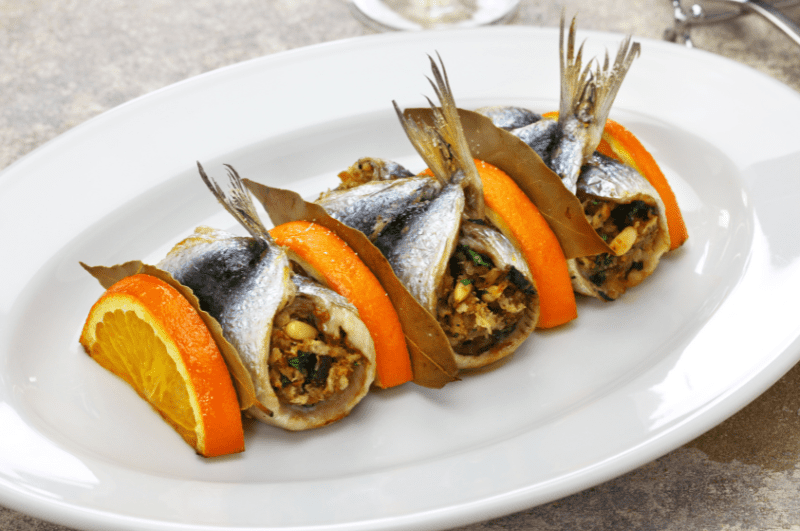 Speaking of fish, rolled and stuffed sardines are the basis for Sarde a Beccafico, a traditional Sicilian meal named after a prized bird which long ago was cooked in a similar way. The beccafico bird was historically consumed by aristocracy, so it's no wonder then that this sumptuous meal is associated with opulence.
Every town you visit in Sicily may have its own way of preparing Sarde a Beccafico, but essentially the sardines are butterflied, stuffed with breadcrumbs, raisins, herbs, and pine nuts, and then rolled up and cooked in bay leaves for extra flavor.
14. Sfinciuni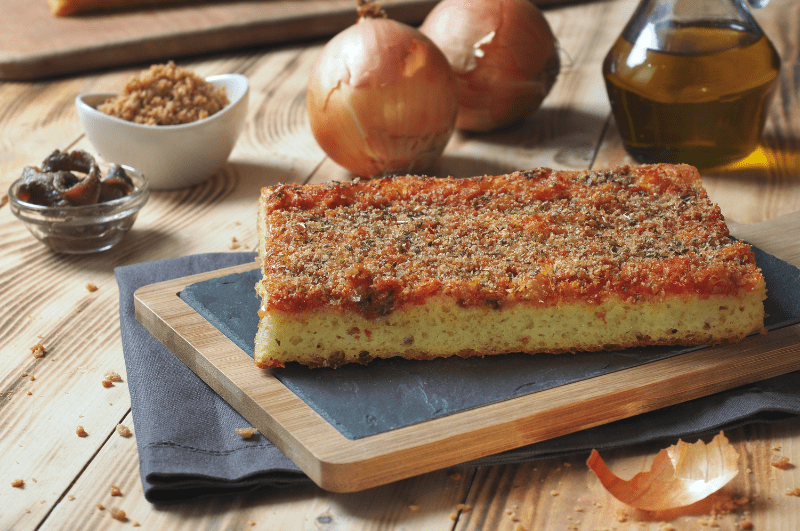 Sfinciuni is a type of rustic pizza made from a soft and thick focaccia bread dough. Unlike the round of Neapolitan pizzas, the Sfinciuni is noticeably different in that it's rectangular or square.
Sfinciuni toppings differ depending on what area you're in. You'll often find onions, tomatoes, vegetables, cold meats, herbs, anchovies, and chunks of caciocavallo cheese on top.
Originating in Palermo, it's also sometimes called Faccia Vecchia. You'll find this spongy pizza bread is commonly served at Christmas time and during other notable events.
15. Sicilian wine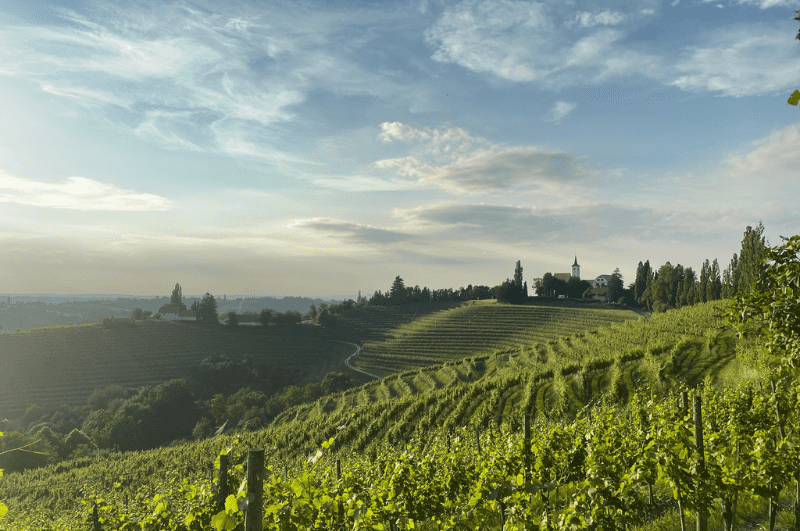 Sicily's mild Mediterranean climate is perfect for viniculture. One of the features that sets Sicilian wines apart, is that many are produced as organic wines. And with fertile volcanic soils and altitudes varying from sea level to the slopes of Mount Etna, the island boasts distinctive and world-class terroirs and has a great diversity of varietals.
The island's long history of winemaking began around 400 BCE. Historically, Sicily was known for its sweet and fortified wines (muscats, Marsala and Pantelleria), but it has now also become synonymous with sophisticated dry table wines.
Sicilian wines are usually vinified from indigenous varieties of grapes. Some of the best known are carricante, catarratto, inzolia, grillo, frappato, nero d'Avola, syrah, and nerello. Wines in Sicily and are produced in red, white, rosé, and orange formats.
There are close to 500 wine producers on the island. Some of the leading brands of Sicilian wine include Benanti, Cottanera, Feudo Montoni, Morgante, Occhipinti, Planeta, Tenuta di Fessina, and Valle dell'Acate.
16. Stigghiola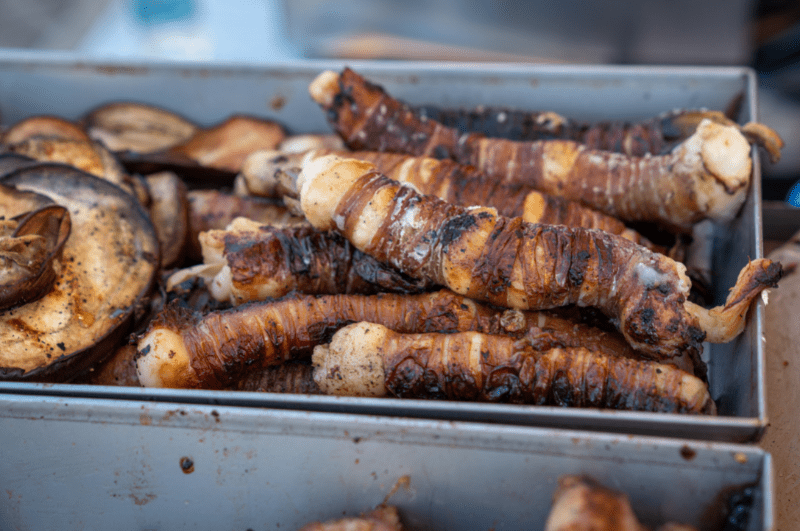 Stigghiola is a speciality street food in Sicily, commonly found in Palermo. Usually made from lamb, goat or chicken intestines that have been cleaned, seasoned, skewered and grilled, stigghiola is a more unusual delicacy. It's often wrapped over parsley or spring onions and cooked on an open fire.
This succulent meat that is sizzling with smoky flavors, makes this a sumptuous and filling snack or meal. You won't find this in many restaurants, but you can buy it pre-made in butcher shops or sold on the streets in most areas.
17. Zabaglione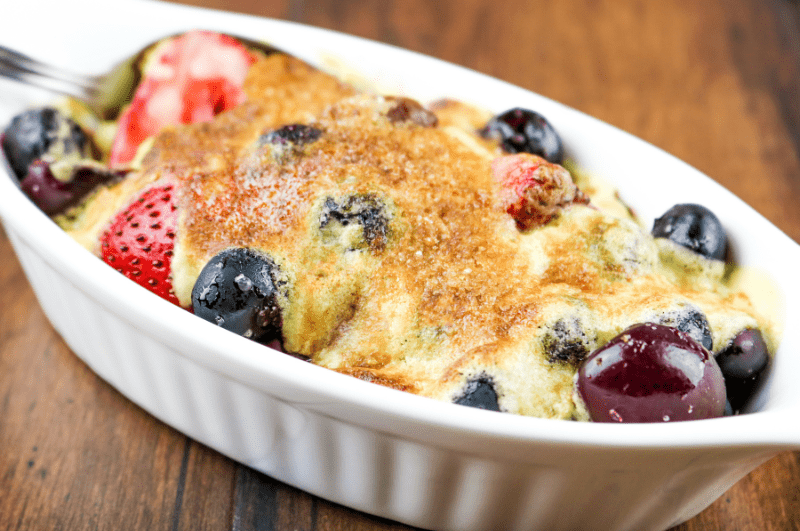 Zabaglione has ancient roots and is thought to have been first made in Florence for the famous Medici family. With a similar consistency and taste to custard, it is also distinctively different and considered more of a "caudle" or filling.
Made from egg yolks, sugar and sweet Sicilian Marsala wine, Zabaglione often has sweet undertones of vanilla and cinnamon. This elegantly simple dessert is usually served warm, although it's equally good cold or even frozen. You'll find Zabaglione served alone, with an accompaniment of berries, or even drizzled over cake or panettone.
ⓘ NOTE TO READERS: While spleen sandwiches are often mentioned as traditional Sicilian street food, they didn't make this list for a reason. We have no problem with eating any cow stuff (spleen, lung, trachea, whatever), but it's fried in pig lard right before they hand it to you. As clean eaters, we don't consider anything that eats garbage – like pigs and shellfish – to be food.
Final thoughts about food in Sicily
And there you have it – our list of Sicilian foods to try while you're visiting. This region has so much to offer, and now you know just what kind of deliciousness is waiting to amaze your taste buds!
What would you try first? Share your thoughts below!