Places to stay overnight
When you think of Ireland, certain things always seem to come to mind, beginning with Catholic churches, pubs, and certain landmarks, like the Blarney Stone. These are those things that always seem to top lists of top things to do in Dublin, and our list was no exception.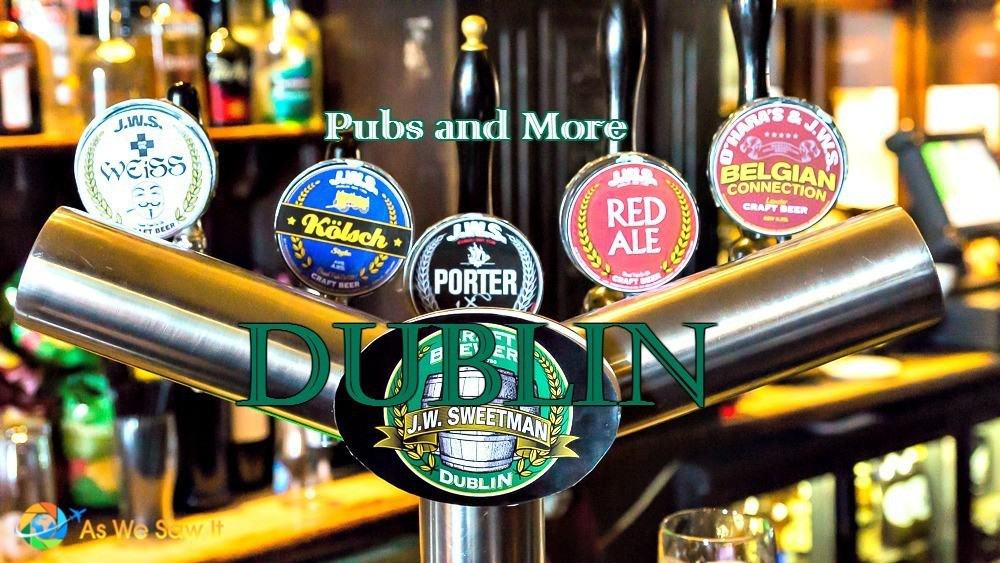 Historic churches
Here's a tip: Check the calendar before you finalize your plans or you may have to make new plans at the last minute. Yep, that was the mistake we made. So here's what we ended up doing on our second day in Dublin.
The plan was to visit Dublin's two largest cathedrals, but we made the huge mistake of putting it off until our second day. As a result, we arrived on a Sunday, just in time for mass, and the place was mobbed. Oops.
The churches had big signs asking tourists to return at a later time. So much for visiting Christchurch and St. Patrick's…

Museums
As we left Christ Church, disappointed, I noticed a sign for Dublinia. "What the heck is a Dublinia anyway?" I asked, and when Dan and Jimmy responded with blank stares, I decided I wanted to find out. It turned out to be a history museum, with some very well done and interesting displays about the city's history from its earliest days through the Viking conquests and Black Death to today.
Pubs with craft beers
Our son Jimmy joined us in Dublin carrying a list of pubs he wanted to visit. We spent the rest of the afternoon walking around Dublin in search of them and managed to find most. Each one had its own character, with a different ambiance and different beers on tap, but loyal brew drinkers can be assured there are always a few standards.
Both of my two favorite pubs served flights of their own craft beers.
Porterhouse Central on Grafton Street has arguably the longest bar in Dublin and a fabulous array of stouts and porters, so we each ordered a different one and tried each other's.
J.W. Sweetman (formerly Messrs Maguire) overlooks the O'Connell Street Bridge, and with its name brazenly painted in huge letters on the side of the building it was easy to find. They offered a flight of their microbrews, five small glasses of assorted beers (ale, weiss, red, bock and porter). We each ordered our own flight. Jimmy very generously offered to finish whatever I couldn' t and I graciously declined.
Ha'penny Bridge
Of all the bridges that span the River Liffey, Ha'Penny Bridge is both the most picturesque and the most well-known. It was built 200 years ago to replace the dilapidated ferries that were in use at that time. The fee to cross was a half penny (ha'penny) and that's how the bridge earned its name.
Dan took a ton of photos whenever we passed by the bridge and this is his favorite.
Me? I prefer the vitality of everyday life on the bridge.
Unfortunately, the love locks craze has caught on here too. It's sad to hear that some bridges are actually crumbling from the weight of all that extra metal.
Temple Bar
Nearby on the banks of the river is a colorful quarter of Dublin City with a bohemian 'Left Bank' character. Temple Bar belongs on the list of Must Visit Places for anyone visiting Dublin. It's full of charming old buildings and cobbled streets that can be found nowhere else in the city. You'll find some of Dublin's best restaurants there as well, serving a wide variety of ethnic and traditional dishes.
We may have missed the stalls at Temple Bar Food Market but we did pass many quirky shops that were selling everything from books to art to fashion.
Temple Bar dates from the 1600s, when a new sea wall along the River Liffey allowed Sir William Temple and his son to build their homes there. Back then Barr' (later shortened to Bar) referred to an embankment. The Temple family's plot became known as Temple's Barr or simply Temple Bar.
It might have been the cobbled streets or the energy of the area, but we found ourselves walking through and eating there quite a few times.
Dublin is full of immigrants and you can now find a wide variety of foreign eateries in the city. After dinner at a delicious Indian restaurant, the two of us returned to our hotel to relax. Jimmy chose to return to Temple Bar to drink some beers in his friends' honor and (hopefully) drink an Irishman under the table.
As it turns out, he did just that. Jimmy proudly reported the next day that the Irishman was enlisted in the army.
Craving more Dublin? Read our post about everyday life in Dublin for more of Ireland's wonderful capital. It includes a slideshow video of street scenes around the city.